---
Court Documentation used in Nigerian Advance Fee Fraud Scams
---
Note: Click on graphic for larger image.
Lagos State High Court of Nigeria
Court House 12-13 Idowu Taylor
Victoria Island, Lagos, Nigeria
Office of the Commissioner for Oath
Power of Attorney, Miss Zainab Abacha
Kosoko Hassan
C & Air Diplomatic Courier Services
Password: ATL/I TRUST
Payment Code: CAS/ST-06/195018
Ministere de la Justice, Minister of Justice
Abidjan, Cote D'Ivoire
In the high court of Cote D'Ivoire Abidjan holden at Plateau
Sworn Affidavit of Truth / Claim, Transfer Authority, Bank of Africa
Barrister Reverend Marcel Odimkpa, Power of Attorney for Ruth Ayoka
Affidavit Fee, Filling Fee, Normalisation Fee, Legal Stamp Duty
ASA Allege, Assistance Chief Registrar, Commissioner for Oaths
Ministere de la Justice, Minister of Justice
Magistrate Court
Abidjan, Cote D'Ivoire
Verdict of the Panel of Judges
Mandamus Fee
Madaki Ouattara, Alhaji Malanfi Guene, Bakary Salifou, Diallo Sekou, Koffi Cisse
High Court of Justice
Dablacca Judicial Division
Cote D'Ivoire
Affidavit of Fund Ownership for Ruth Ayoka
Barrister Marcel Odimkpa of Biko Wetego Chambers, Abidjan
Declarent Beneficiary
---
---
---
---
How Con Artists Will Steal Your Savings and Inheritance Through Telemarketing Fraud, Investment Schemes and Consumer Scams
In-depth fraud coverage of computer crimes such as pyramid schemes make this economic crime library of internet crimes the cyber crime location for the schemes, scams and swindles that con artists and shonks perpetrate.
White collar crimes such as prime bank fraud, pyramid scams, internet fraud, phone scams, chain letters, modeling agency and Nigerian scams, computer fraud as well as telemarketing fraud are fully explained.
This organized crime report by Les Henderson includes credit card fraud, check kiting, tax fraud, money laundering, mail fraud, counterfeit money orders, check fraud and other who's who true crimes of persuasion.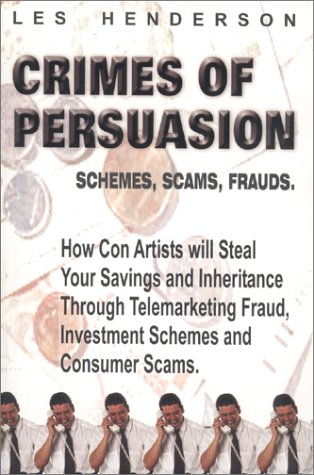 The book is available at Amazon.com