Child Modeling
1. There is little modeling work for children.
"Legitimate modeling agencies say there is little work for children." — Karen Hensel, I-Team, WISHTV, Indianapolis
2. Location is extremely important.
(a) ". . . most jobs are in New York City, Los Angeles, and Miami." — Jessica Hartshorn, American Baby
(b) "[Child] models must live near the agency's headquarters, which is likely to be in New York City, Los Angeles, or Miami." — Deborah Skolnik, Parents
(c) "There is not a whole lot of [child] modeling work available outside New York, Chicago, Los Angeles, Miami, San Francisco, and Dallas." — Parents
(d) "The bulk of advertising and illustration photography takes place in only a few major cities. New York, Chicago, Los Angeles, and Miami are the most active centers. Most children who get work as models live in or near one of these four cities." — New York Institute of Photography
3. Do not pay upfront fees.
"You shouldn't have to pay the agency anything, ever." — Jessica Hartshorn, American Baby
4. Success rate must be determined.
"The best advice I can give is to check out an agency before going for an interview, and during the interview ask who their major clients are and what their success rate is in placing children in jobs. — Elisabeth Smith, Elisabeth Smith Model Agency (Child Model Agent since 1960)
Karen Hensel, "Model Behavior: Don't Get Scammed by Modeling Agencies," I-Team 8 Investigative Report, WISHTV [Indianapolis], n.d.
"Can My Child Become a Successful Model?" New York Institute of Photography, Oct. 1997. [Sept. 20, 2004].
http://www.parents.com/kids/style/modeling/child-modeling-questions-answers/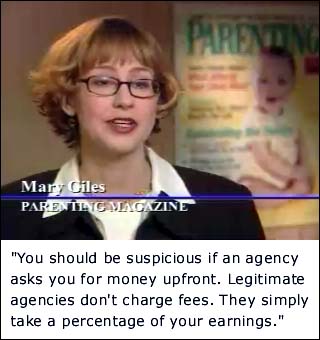 Child Modeling Scams [Video] [Text]
Could My Baby Be in Pictures? by Jessica Hartshorn from American Baby magazine
"Everyone says your baby is beautiful. You think they're just being nice, but after even strangers insist, "Your baby should be a model," you start to think that maybe they're right. Perhaps your child's sweet smile could even fund her college education. But you don't know what's involved or whom to call. We went to the people who work at some of the country's top modeling agencies and asked them a few common questions..."
Mini Models by Deborah Skolnik from Parents magazine
"Of course your child's cute -- but could he or she be a model? Here's a behind-the-scenes peek at what it really takes to be picture-perfect. . . . Flip through any magazine, channel-surf on any given night, even drive by any stretch of highway billboards, and there they are: adorable, wide-eyed babies showing off the latest in kiddie couture or helping hawk everything from juice to Jeeps. If you're like most parents, the sight of these pint-size models inspires three responses: first, "Awwww!"; then, "My kid's cuter!"; and, finally, "How can I get my child a job like that?"
New Jersey: Child Modeling Scam Capital of America: National Talent Associates . . . Screen Test U.S.A. . . . The Legacy Continues...
Kids.com LLC Caught in Web of Lies: Internet Fraud Bust of Child Modeling Agency
Kids.com LLC Loses Lawsuits; Parents Get Their Money Back
"The Phillipses, Wojciks and Bristols all sued and won back the fees."
ATTORNEY GENERAL LAUNCHES INVESTIGATION IN MINNESOTA
FEDERAL TRADE COMMISSION INVESTIGATES KIDS.COM
PHILADELPHIA INQUIRER SAYS KIDS.COM IS BREAKING THE LAW
(Calls it a talent agency; then says it's not licensed)
Ad Kids (adkids.net)
Elen's Kids (Modeling and Talent Management) (aka Ellen's Kids) (elenskids.com and ellenskids.com) [Cranford, NJ]
Public rebuttal to comments by Kids.com LLC appearing on justourkids.com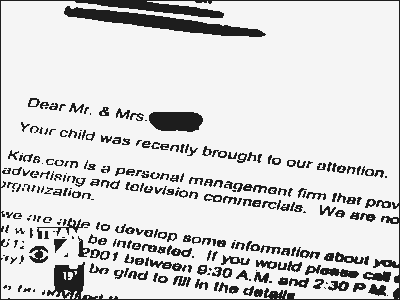 Kids.com LLC sends unsolicited letters to parents in which they state: "Your child was recently brought to our attention."
Reality: Kids.com took the names of babies from birth records! Why don't they say: "The birth records were recently brought to our attention"? (Model Scouting By Birth Certificate? LOL!)
Lawsuit Alleges Fraudulent Solicitation Letter
"Upon information and belief, Defendant obtained vital statistics from Hennepin County and surrounding counties regarding the families they sought to solicit. Defendant would send letters to such families indicating that "Your child was recently brought to our attention" and invited those families to contact Defendant's offices to obtain further information. Such solicitation misrepresented, mislead or otherwise caused confusion and/or misunderstanding with Plaintiffs and other class members about how their children were selected for contact."1
News Anchor: "How are they finding the kids to start with?"
Terri Gruca: "It's interesting. We actually discovered that they are purchasing a list of babies born in surrounding counties. And that's legal, but these parents argue, misleading, based on how the letters are written, and that's one of the things the FTC wants to look into."2
1. Radke, Kleinschmidt and Colston vs. Kids.com, LLC, d/b/a Kids.com, ¶10.
2. "I-TEAM Investigates Kids.com," I-TEAM, WCCO, Feb. 16, 2004.
3. "Parents Upset Over Kids Modeling Agency", I-TEAM, WCCO, Oct.5, 2007
"The boss of one of the country's biggest children's model agencies has revealed she was allowed to set up in business without any checks on her background. Kathy Haslam, of reputable Manchester-based Kidz, spoke out after an M.E.N investigation revealed that a complete lack of regulation means anyone can start any type of employment agency without being vetted."1
"Before starting Perfect Image, Read was manager of the Manchester franchise of an infamous talent spotting company, Wilhelmina Scouting Network--WSN."2
1. "Child models checks shock," Manchester Evening News, Mar. 1, 2004.
2. Ibid.
http://www.manchesteronline.co.uk/news/s/82/82671_child_models_checks_shock.html
(Child modeling agency background checks)
Other
Young Faces and Glamour Model Pageant
Nustars Talent Discovery Network (nustars.com)
National Discovery Network, Inc. (nationaldiscoverynet.com)