Visionary Productions aka Visionary Entertainment fka Visionaire Media, Inc. (Francesca De Tolomei) (Francesca Detolomei) aka Visionare (Francesca Tomei) aka Visionaire Photography (Visionary Photography)
[This company keeps changing its dba name.]
"It appears this company is currently being operated by past principals of Glamour Models, Michael Douglas Sholto, and Francesca De'Tolomei. Although it remains unclear if either of the above mentioned individuals have any ownership interests in the company, current complaint activity would suggest they act as management for both Visionaire, and Visionaire Photography. Similar complaints have been received on both companies. A seperate report is available upon request." -- BBB Southland [Sept. 23, 2004].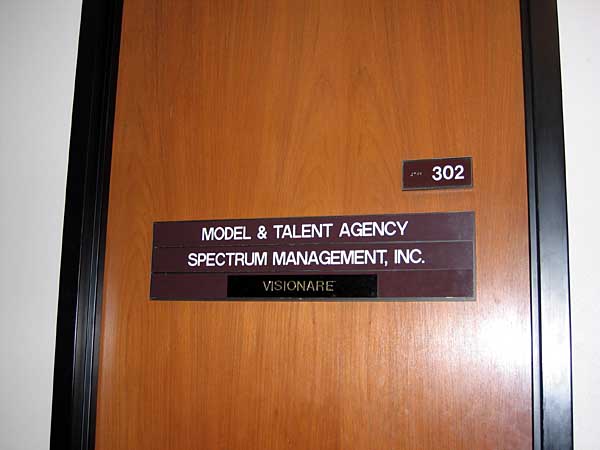 Office Door (315 S. Beverly Drive, Ste.302) [approx. June 15, 2004]
VISIONARE
315 S. Beverly Drive, Ste.302
BEVERLY HILLS, CA
VISIONAIRE
315 South Beverly Drive #302
BEVERLY HILLS, CA
She's been arrested.
Los Angeles District Attorney's Office
Clara Shortridge Foltz Criminal Justice Center
Case Number XCNBA198638-01
Case Number LACBA198638-01
BBB Record for Visionaire Media, Inc.
BBB Record for Glamour Models, Inc.:
---
This is to infom you that Cheryl Murphy – Spectrum Management Inc. was simply a tenant at the location 315 So Beverly Dr. # 305. Beverly Hill, CA 90210. She was not connected with Francesca D'Tolame or Michael Douglas of Visionaire Inc or Glamour Models. Please correct this on your website.
If you have any questions regarding this please contact us at 702-290-9441. or Email spectrummgnt@aol.com
Please fix this immediately.
Cheryl Murphy
May 3, 2007