---
Home Equity Fraud and Home Renovation Repair Scams
While more than $100 billion will be spent on home remodeling and repair this year, you should be aware that home remodeling contractors ranked just behind car salespeople and auto mechanics in generating the most consumer complaints, according to the Council of Better Business Bureaus.
Be especially cautious about using your home as security for a home improvement loan. If you fail to repay the loan as agreed, you could lose your home.
Older homeowners are popular targets of fraudulent home repair financing schemes because they're likely to live in older homes that need repair, they've built up substantial equity, and are less likely to undertake home repairs themselves.
In addition, older homeowners are more likely to be vulnerable to high pressure pitches.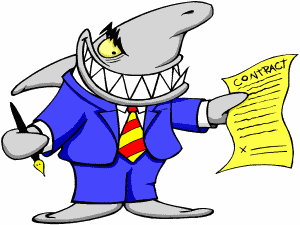 An elderly couple with an outstanding balance on their mortgage of less than $1000 met three men who presented themselves as representatives of a licensed mortgage banker and arranged for a home improvement loan secured by a mortgage on their residence.
The proceeds of the loan were used to construct a fifty-foot decorative fence.
After the refinancing required to pay for the fence, the couple owed $85,000 at 17.99% interest.
In addition, the lender charged them $4,200 in pre-paid finance charges and the mortgage broker charged a fee of $6,800.
These fees were deducted from the proceeds of the loan.
Another couple was approached by home improvement contractors and encouraged to take out a mortgage they could not afford.
One was legally blind and the other was deaf. They were both house-bound. The work was never completed and the couple defaulted on the mortgage payments.
The kindly lender agreed to convert the loan into a reverse mortgage so that the couple could stay in their home until they died.
An 88-year-old woman signed several home improvement contracts totaling over $17,000 for extensive roofing, gutter and chimney work.
When she experienced continued problems after the work was performed, she hired a consultant.
The consultant reported that she was overcharged for each item, that unnecessary and shoddy work was performed, and that in many instances, they failed to perform any of the work specified and paid for in the contracts.
"Predatory home equity lenders target the most vulnerable homeowners - the elderly and people in financial or personal crisis - for high-cost loans secured by their homes," FTC Chairman Robert Pitofsky said.
"These subprime lenders appear to care little about a borrower's ability to pay, so long as they have enough home equity to secure the new loan."
"The lenders are able to prey on homeowners because mortgage transactions are often very complicated and difficult to understand."
"These practices are among the most abusive forms of consumer exploitation that I have seen."
---
Subprime Loans
Subprime loans have become a significant and growing part of the home equity market.
Subprime lending refers to the extension of credit to higher-risk borrowers, at rates of interest and fees higher than conventional loans.
Some companies have made home equity loans to minority, elderly, and low-income borrowers at interest rates as high as 20-24 percent.
As a general rule, loans made to individuals who do not have the income to repay such loans usually are designed to fail; they frequently result in the lender acquiring the borrower's home equity.
The borrower is likely to default, and then ultimately lose her home through foreclosure or by the signing over of the deed to the lender in lieu of such a measure.
---
Title 1 Loans
Title I, part of the National Housing Act of 1934, is designed to make loans available to people who can't qualify for conventional loans because of poor credit history or low income.
Under the program, private lenders offer loans at market interest rates. If a borrower defaults on the loan, the bank or finance company collects 90 percent of the principal from a fund administered by HUD.
The money for the fund comes from fees paid by lenders, who pass the cost on to the borrowers.
Title I lending increased in the 1990s, when finance companies began lending at high interest rates to borrowers with bad credit.
The loans were generally made through home-repair contractors acting as dealers for national lenders.
But some contractors took advantage of homeowners by deceiving them about interest rates, inflating prices and doing lousy work.
---
Equity Stripping
Home-equity stripping is a burgeoning unfair lending practice used to steal the value from consumers' homes whereby an unscrupulous lender talks you into cashing out the money-value you have built up in your homes with a home-refinance loan.
They promise low interest rates and low monthly payments then use sophisticated and deceptive sales tactics to dupe you.
You unwittingly sign loans with thousands of dollars in hidden fees —sometimes as much as 20% of the amount of the loan.
In many cases, consumers have been charged loan origination fees ranging from $12,000 to $20,000.
They rush you into signing scores of documents without first reading and understanding them and you do not receive copies of their documents until after the loans closes.
Months later when you discover the true cost of your loans you may be forced to refinance again.
If you take out a loan but don't have enough income to make the monthly payments, you are being set up and will probably lose your home.
---
Hidden Loan Terms: The Balloon Payment
The loans often are interest-only balloon loans in which, after making payments for the term of the loan, you still owe the entire amount of the loan principal.
These loans are often secured by your home and typically are made based on the worth of the home rather than on your creditworthiness or income.
---
Loan Flipping
A lender calls to talk about refinancing, and using the availability of extra cash as bait, claims it's time the equity in your home started "working" for you. You agree to refinance your loan.
After you've made a few payments on the loan, the lender calls to offer you a bigger loan for, say, a vacation.
If you accept the offer, he refinances your original loan and then lends you additional money.
In this practice the lender charges you high points and fees each time you refinance, and may increase your interest rate as well.
If the loan has a pre-payment penalty, you will also have to unknowingly pay that as well each time you take out a new loan.
The "Home Improvement" Loan
Another abuse involves contractors who obtain your consent for a loan with high rates and fees through the use of deception or coercion.
For example, the contractor and you may agree on a price for certain work but then, after beginning work on the home, the contractor may then present you with loan documents from the lender indicating higher rates and fees than those that were agreed upon.
You are then pressured to sign the papers as drafted —especially when faced with the untenable prospect of leaving the improvements unfinished.
---
Credit Insurance Packing
The lender may tell you that credit insurance comes with the loan, making you think that it comes at no additional cost.
If you notice the added cost and object, the lender may even tell you that if you want the loan without the insurance, the loan papers will have to be rewritten, that it could take several days, and that the manager may reconsider the loan altogether.
---
Mortgage Servicing Abuses
Fraudulent lenders also deceive borrowers during the loan period with:
| | |
| --- | --- |
| | phony charges of inflated monthly payment amounts, |
| | overdue balances, arrears, service fees, and advances, |
| | adding phony charges to the loan principal that were disclosed only at pay-off and only after accruing large amounts of interest, |
| | withholding some loan proceeds while forcing you to make monthly payments for the entire loan amount, |
| | foreclosing on borrowers who were in compliance with their loan terms, and |
| | by failing to release its liens on title to borrowers' homes even after the loans were paid off. |
---
Signing Over Your Deed
Sometime when you desperately need cash flow for mortgage payments a lender may ask you to deed your property to him before he can help you, claiming that it's a temporary measure to prevent foreclosure.
The promised refinancing that would let you save your home never comes through and once the lender has the deed to your property, he starts to treat it as his own.
He may borrow against it (for his benefit, not yours) or even sell it to someone else and because you don't legally own the home any more, you won't get any money when the property is sold, regardless of your equity.
The lender will treat you as a tenant and your mortgage payments as rent and if your rent payments are late, you can be evicted from your own home.
---
What Practices Are Prohibited?
The following features are banned from high-rate, high-fee loans:
All balloon-payments-where the regular payments do not fully pay off the principal balance and a lump sum payment of more than twice the amount of the regular payments is required-for loans with less than five-year terms.

There is an exception for bridge loans of less than one year used by consumers to buy or build a home: in that situation, balloon payments are not prohibited.

Negative amortization, which involves smaller monthly payments that do not fully pay off the loan and that cause an increase in your total principal debt.

Default interest rates higher than pre-default rates.

Rebates of interest upon default calculated by any method less favorable than the actuarial method.

A repayment schedule that consolidates more than two periodic payments that are to be paid in advance from the proceeds of the loan.
---
Creditors are actually prohibited from engaging in a pattern or practice of lending based on the collateral value of your property without regard to your ability to repay the loan.
In addition, proceeds for home improvement loans must be disbursed either directly to you, jointly to you and the home improvement contractor, or, in some instances, to an escrow agent.
---
How Are Compliance Violations Handled?
You may have the right to sue a lender for violations of these new requirements. In a successful suit, you may be able to recover statutory and actual damages, court costs, and attorney's fees.
In addition, a violation of the new high-rate, high-fee requirements of the TILA may enable you to rescind (or cancel) the loan for up to three years.
---
Reverse mortgages are often of interest to older consumers who have paid off their mortgages and are living on fixed or limited incomes.
A typical reverse mortgage is a loan, secured by the house, where the lender pays the homeowner a monthly advance while you continue to live in the house.
The amount of such a loan depends upon the consumer's age, the equity in the home, and the interest rate the lender is charging.
Among the facts to consider before applying are that:
| | |
| --- | --- |
| | Reverse mortgages are rising-debt loans. This means that interest is added to the loan's principal balance each month because interest is not paid on a current basis. Therefore, the amount owed increases over time as the interest compounds. |
| | Reverse mortgages and their associated expenses use up some or all the equity in your home, leaving fewer assets for you and your heirs. |
| | They are providing the loan as an investment, which they aim to collect on, at a profit, not out of goodwill or charity. |
---
Prison Cell Needs Work. I Have Just the Man.
Stanley Rabner, 57, was sentenced in U.S. District to prison for 20 months and ordered to pay $218,145 in restitution to the U.S. Department of Housing and Urban Development for his federal loan insurance fraud schemes.
His company was also ordered to pay $480,000 in restitution to 74 customers and $95,000 in civil penalties and costs.
Fredmont Builders preyed on unsophisticated elderly and poor homeowners in Pennsylvania by inflating labor and materials prices and loan interest rates, misled homeowners about the real amount they were financing for repairs, the true interest rate they would pay, the monthly payments and the term of the loan.
Fredmont was among the prime offenders of this type of abuse, arranging more than 1,000 Title I loans and doctoring financial papers to make borrowers with incomes too low to qualify appear eligible for a loan.
In addition, the workmanship was exceptionally shoddy. The company often didn't complete jobs, and when it did, workers ignored building and safety codes.
Roofs sagged, toilets leaked and replacement windows let in the wind.
---
The Bad Debt Buddies
Seven young men, in their 20's and 30's, were the core group of an alleged $9 million mortgage fraud scam that operated out of the Rancho Bernardo, (San Diego) office of the biggest victim, Ameriquest Mortgage.
They dressed in nice suits, drove fancy cars and took lavish vacations but they got their money, an estimated $30,000 in monthly commissions, by over-appraising homes for fraudulent loans.
Using a hard phone sell the suspects sold refinancing loans on homes appraised way beyond their value.
Forged signatures of reputable appraisers were used to fleece the elderly, the bankrupt and those in debt.
The six-month scam began in 1999 after one individual became an Ameriquest manager then started hiring his old high school buddies for the scheme.
It was discovered during an underwriting review of the loans after Ameriquest sold them to a bank investor.
---
03/02 -- First Alliance Corp., one of the nation's largest lenders to people with poor credit before filing for bankruptcy protection in 2000, has agreed to pay as much as $60 million to settle FTC charges that it deceived borrowers by failing to provide accurate information about loan costs and terms from 1992 through early 2000.
First Alliance offered home loans, usually secured by first mortgages to the "subprime" market of homeowners with poor credit ratings who might not have been able to qualify for conventional loans.
Nearly 18,000 borrowers may receive compensation in a settlement the FTC describes as one of the largest consumer protection recoveries ever.
First Alliance founder Brian Chisick and his wife, Sarah, who were both barred from engaging in home loan originations for ten years in Arizona, Massachusetts and New York and permanently in California, Florida and Illinois, will contribute $20 million to the bankruptcy fund.
---
Uses More Licenses Than Shingles
03/02 -Comal County, Texas deputies arrested 45-year-old Alex Williamson, who ran a roofing and driveway repair business that allegedly preyed on elderly homeowners including one 69-year-old widow paid $3,700 in cash for roofing repairs that turned out to be worthless.
Williamson, using an alias, allegedly went to her home and offered to repair her roof for $450.
He then spray painted half her roof, then rang her doorbell to report that he had discovered a major leak.
After finishing the "repair," he presented her with a bill for $5,700. When she refused to pay, he became angry and threatening enough that she became frightened and wrote him a check for $3,700 which he cashed using a Georgia driver's license with the alias Rojas Kaybeck.
Weeks later, when it rained, the woman saw that she still had the leak, and the substance painted on the roof ran off with the rain.
She informed a relative, who hired a roofing contractor to investigate.
The contractor found that the roof had been spray painted, but no other repairs had been made.
Officials of the Sheriff's office, working with the National Association of Bunco Investigators, then connected a number of aliases and charges to Williamson who was booked on a charge of theft of between $1,500 and $20,000 and a failure to identify himself to authorities as a fugitive from justice.
The theft is a state jail felony punishable by six months to two years in a state jail and a fine of up to $10,000.
Williamson allegedly used these aliases: James E. Miller, Rojas Kaybeck, Allen Taylor, Alex Taylor, and Alex Cord. He operates under the business names of Tri State General Contractors and Pave Pro.
When he was arrested, he was holding driver's licenses from Indiana, New Jersey, Georgia, Ohio, North Carolina, Colorado, and Texas – all with his photo and different names.
The Baltimore-based National Association of Bunco Investigators (NABI) is an association of law enforcement agents who pursue confidence swindlers which can be reached at (410) 752-8150, by fax at (410) 357-5191, or by e-mail at [email protected].
---
Two Men Arrested in Elderly Scam
By KADESHA THOMAS The Ledger (excerpt)
03/28/04 - LAKELAND, Florida -- Two men were arrested Thursday after trying to scam an 87-year-old woman out of $2,700, according to a report from the Lakeland Police Department.
Thomas Patrick Riley, 21, of Seffner, and Michael Joseph Linzy, 26, of Spring Lake, Mich., visited the woman's home in Lakeland and told her they were there to follow up on previous work done on her roof, the report said.
After spending less than an hour on the roof and spraying part of it with silver paint, Riley and Linzy told her the cost was $2,700 cash.
The report said Riley and Linzy followed her to the bank to make a withdrawal, but the woman returned from the teller line saying she didn't have the money.
The two men told her she could pay $1,000, and they would come back next month for the rest.
The report said the two men drove away without the money after witnesses at the bank called the police to report their suspicious behavior and followed the men as they traveled to Interstate 4, where they were arrested.
---
Mother ordered to pay restitution in home renovation scam that bilked widow
The Associated Press - BRUNSWICK, Ga.
05/23/04 - A mother who helped her son carry out a home repair scam that bilked a 90-year-old St. Simons Island widow out of nearly a half-million dollars has been sentenced to pay $57,828 in restitution to the woman.
U.S. District Judge Dudley Bowen Jr. on Thursday also sentenced Brenda Thrift, 52, to five years probation.
Thrift pleaded guilty on July 14 to a single count of wire fraud as part of a plea bargain.
The scam involved billing the elderly woman for repairs and construction that were never done, and to overcharge her for minor and shoddy household repairs. The woman's name was not released.
Thrift was the last of five defendants to be sentenced on federal charges in the case.
Her son, Sean Dylan Olds, 28, of Jesup, was sentenced to four years in prison and ordered to pay $223,225 in restitution after pleading guilty to five counts of wire fraud.
Federal prosecutors say Olds initiated and orchestrated the scam in which the group swindled the woman out of $496,000 from Jan. 1, 2000 through April 20, 2001.
---
Six indicted in alleged senior home repair scam
Richmond Times-Dispatch Jun 24, 2004
A federal grand jury in Alexandria has indicted six people who live in the Culpeper area for allegedly defrauding elderly people in the Washington area with home-repair, yardwork and pest-control scams.
Seven victims, ranging in age from 79 to 88, lost more than $100,000 to the defendants involved in the alleged conspiracy, according to the U.S. attorney's office for the Eastern District of Virginia.
"These people targeted some of the most vulnerable members of our community - elderly citizens living alone," said U.S. Attorney Paul J. McNulty.
"Taking advantage of both their good faith and faulty memory, they defrauded these victims - and dozens more - of thousands of dollars. Predators like these are a menace to the community."
According to McNulty's office, the defendants live in Culpeper or in surrounding towns.
They targeted homeowners likely to have substantial incomes in Washington and its suburban areas in Northern Virginia and Maryland.
The charges in U.S. District Court in Alexandria include conspiracy, interstate transportation of property taken by fraud, money laundering and bank fraud.
According to the indictment, the group referred to their activities as "granny ripping" or "granny hunting."
They would pick victims by cruising neighborhoods looking for "handicapped" symbols on parked cars and by following women home from shopping centers.
The defendants would pressure or deceive the victims into authorizing work that was not needed.
Little or none of the work was done and what was done was shoddy.
- Tom Campbell
---
Man pleads guilty in $97,000 driveway-paving scam targeting elderly victims
09/07 - A man accused of bilking an 83-year-old Sandy Springs woman out of $97,000 in a driveway-paving scam has been arrested 40 times in the past 17 years — usually for targeting the elderly.
Jack Harrison Jr., 37, pleaded guilty to one count of elder abuse and one count of theft Monday in Fulton County Superior Court. He will find out next week if he will get any prison time
Prosecutors Brad Malkin and Sally Butler told Judge John Goger that Harrison was wanted all over Georgia and South Carolina for similar scams and that he had been arrested 40 times since 1990 and convicted 21 times, usually for targeting the elderly.
He also apparently didn't want his record to follow him around because he had used 18 aliases, 10 Social Security numbers and nine dates of birth.
The prosecutors believe Harrison should get the maximum of 10 years. They fear he might get probation, Butler said.
"He needs to do some time," Butler said. "He will go out and do it again if he gets probation."
In the current case, Harrison pleaded guilty to targeting a woman on Dalrymple Road by asking her if she wanted her driveway paved.
The prosecutors contend that the woman said she would think about it but awoke the next day to find Harrison and his crew at work paving her driveway.
Once finished, Harrison demanded several checks from her that totaled $96,900.
Because of the multiple large checks, the woman's bank became suspicious and notified the Adult Protective Services agency of the Georgia Department of Human Resources.
Fulton County police arrested Harrison and determined he worked with a roving band of con artists who targeted the elderly around the country.
It's not clear if the victim's money can be recovered.
Atlanta Journal-Constitution
---
Police on the hunt for home renovation scam artist - again
09/07 - Michigan - After weeks of searching, police finally got their man. But not for long.
The search is now back on for Robert Lee Cooper, a man suspected in a series of home-repair scams dating back to last summer.
His brief stint in custody ended Sunday in what officials are calling a miscommunication between police and hospital officials.
Cooper, 41, is accused of defrauding at least five homeowners in Ann Arbor and Pittsfield Township, using several aliases to dupe local residents into paying large sums of money up front for house work that was never completed.
Cooper also was wanted on five felony warrants for fraud in Florida and one 1991 warrant in Pittsfield Township, authorities said.
He was arrested Friday at a McDonald's restaurant in Wixom, where he was to meet with his four children - ages 18 months to 12 years - before they left to stay with relatives in Florida, Pittsfield Township Detective Lt. Steve Heller said.
After his arrest, Cooper complained of chest pain and said he was having a heart attack, Heller said. He was taken to St. Joseph Mercy Hospital, where doctors determined he didn't have a heart attack but kept him overnight for a stress test Saturday, Heller said.
A Pittsfield police officer guarded Cooper at the hospital until the test was conducted, Heller said.
But physicians determined Cooper needed to stay at the hospital to see a urologist Monday or Tuesday.
Heller said the decision was then made to leave Cooper unattended at the hospital due to staffing issues, but detectives asked hospital security officers to notify them if Cooper was to be released, Heller said.
The decision to stop guarding Cooper was made in part because police don't yet have charges in the recent scam cases, and the 1991 warrant was for a crime now considered a misdemeanor, Heller said.
"We had several people already working overtime due to the (University of Michigan) football game and determined it was unreasonable to keep someone there watching a man on a warrant that he likely wouldn't go to jail for," Heller said.
When it came time for Cooper to be released Sunday, police were never notified. He left in a taxi sometime that day and hasn't been seen since, Heller said.
Lauren Stokes, a spokeswoman for St. Joseph Mercy Hospital, confirmed Monday that police were not called when Cooper was released.
She noted the security office has several shifts and several employees worked during that time period.
It's not the first time Cooper avoided custody, Heller added. He was nearly arrested earlier last week outside a Taylor home that he and his wife rented with their children, but Cooper spotted investigators and was able to escape, Heller said.
Cooper's wife was arrested late last week on a felony warrant from Florida, and is expected to be extradited there to face charges, Heller said.
Anyone with information on Cooper's whereabouts is asked to call Pittsfield Police at 734-944-4911.
Ann Arbor News
---
Lightning Rod Scam - article
---
[Home] [  Up] [Foreclosures] [  Title Theft]
---