Examples and Experiences of Nigerian Advance Fee Fraud Victims
---
Kidnap for Ransom Victims
(04/01) After spending ten days as a hostage in Nairobi, Kenya, San Diego resident Juergen Ahlmann and business associate James Harrell were recently reunited with their families after being rescued by police there.
Ahlmann was in Kenya to meet with a group of investors he felt would assist in his business venture expansion plans.
The investors turned out to be a part of a larger ring of Nigerian criminals who successfully posed as businessmen seeking to lure Ahlmann and others to their location with the following letter and other follow-up conversations.
---
Subject: INVESTMENT PROPOSAL Re: Business Proposal/Joint Venture
I run an international Business Promotion and Consultancy firm and I got your contact through the internet in my quest for a foreign investment for one of my clients.
My client is in the precious stone industry and owns mines in Tanzania and here in Kenya. He also used to deal (buy and sell) in diamonds from Angola and Democratic Republic of Congo (former Zaire) before international ban was placed on diamonds from war torn countries.
Hence he decided to stop his diamond business and diversify his investment portfolio by investing abroad in different sector on partnership basis.
The followings are his specifications for your consideration and immediate attention:
1. Investment capital up to USD $9.5million
2. Area of interest - real estate, hotel, transportation, civil construction, industries, and fisheries.
3. Shares of partners depending on capital input, therefore subject to negotiation.
4. Interested party should be prepared to come to Nairobi Kenya to sign agreement with him that will protect his interest before he releases and remit his capital to the designated account for the project after which he will travel back with the person to finalize and set up the business.
Please kindly note that you need not reply if you are not satisfied with the above conditions as my client will prefer to deal with somebody serious as the entire management and running of this venture will be the person's responsibility, because it will not be possible for my client to be physically present most of the time in view of his time consuming commitments with his mine business.
Kindly give this proposal an urgent attention, as my client needs this information as soon as possible. My contacts are:
Tel: +++ 254 - 72 -721046
E-mail: megaconsult\\hotmail.com
mega_consult\\yahoo.com
I look forward to your immediate response.
Sincerely Yours,
MIKE OTIENO Managing Director
---
Nairobi police ham it up for reporters after arresting several of the Nigerian captors for holding three Americans for a reported $30,000 ransom. Displayed are the chains used to hold the captives along with communications equipment.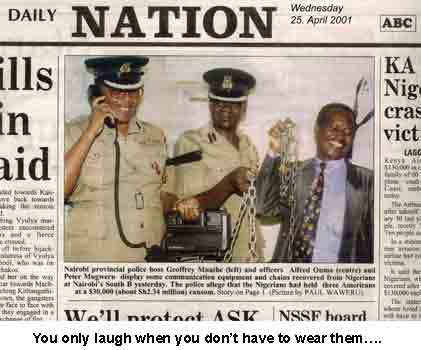 Mike Otieno, the man who wrote the e-mails has a degree in accounting, was a senior business consultant and lived and worked in India for a number of years
---
Anatomy of a Will Scam and Black Currency 419 Operation
Phone Number- (813) 874-2400 (813) 832-4515 Rubycafe1\\aol.com
Nigerian Victim Statement
12/00 - My name is Shahla Ghasemi and my husband is Dr. Ali-Reza Ghasemi, we are American citizens who live in Tampa, Florida.
This is what had happened to us and how we got involved in the Nigerian Advance Fee Fraud. About 3 months ago, we got a phone call from Nigeria by a man named Dr. Ali Abubabker though I don't believe that is his real name.
He introduced himself to us as the director of NNPC and used the number 234-1-774-1703. He said that he had a confidential message for my husband, but if we were to expose this message he could lose his job and his life. He told us that he would receive a very big commission from this.
The story that he told us was that one foreign contractor from our country who died transferred $27,400,000.00 to Dr. Ali Reza Ghasemi. We were very shocked as that is my husbands name. After that, he faxed all the documents and attached all the needed documents.
We looked over everything and they all seemed real, all bore the government's official seals and stamps. Then he faxed us a copy of our bank information, which we filled out and faxed back to him.
On August 14,2000 we received a letter from the bank which stated that we needed to hire a power of attorney. His name is F.A. Williams and his telephone is 234-1-774-0939. We contacted Mr. Williams and he asked us to send him $7,250.00 for the court registration fee through Western Union.
We sent the money with a fee, which came out to be $7,565.00. After they had received the payment, Mr. Williams said that everything was ready but, calling from the bank, asked us for a copy of SEPA.
We had no idea what that was, so we called Dr. Abubaker who said that he didn't have the form and thought that maybe the original contractor hadn't paid for it. They then asked us for $27,400.00 but with a fee we paid nearly $30,000.00 through Western Union.
After two days, Mr. Williams had called and congratulated us. He said that our money had been transferred and he faxed me a copy of the transaction, which stated that our money had left the bank and was on its way into our account.
In that same week, Dr. Abubaker had faxed me his confirmation ticket saying that he was on his way into America, and that we should send him money to buy his ticket.
The following day Mr. Williams called and said that our money had been stopped because of a shorting tax that needed to be paid which hadn't been paid. He faxed me an invoice for $63,250.00 bill for the tax. We transferred this money through our bank to Prism Company at Nigeria.
Two days later he called and said that everything was fine. He said that we should be hearing from our bank representative very soon. Two days later we received a call from Carlos White from Atlanta, Georgia in America.
He introduced himself as a NCB Bank Representative with the phone number of 404-944-1842. He said that our money was ready and that we needed to fly to Atlanta to transfer the account into our account.
We asked why and he said because the money was big and he needed to transfer the money in front us. He told us to bring a copy of our driver license, a copy of the contract, and $11,500 in cash. The same evening my husband, daughter, and myself flew to Atlanta and got a hotel room.
Then next day we called Mr. White to make an appointment with him at our bank, First Union. He said that he had to send a bank representative to our hotel room. When we got back, he sent two men by the names of Mustafa Sharief and Agu Jbreh.
They received all the documents and $11,500 in cash and then they told us to wait for two hours at which time our money would be transferred into our account.
We waited for a few hours and kept calling the bank and they had said that no transaction had occurred. So we decided to head back to Tampa.
While we were in line checking our bags and reserving our tickets, we were contacted by Mr. White by our cell phone. We told him that we were leaving and ready to go back to Tampa.
He got very mad and said that we couldn't go back because the transaction hadn't been closed yet and that he still needed to talk to us. We went back to our hotel and we had to reserve another room.
We called Mr. White and he said that he would be sending two people. After two hours, two people arrived by the names of Mustafa Sharife and the other didn't give his name, but I do remember his face.
They came and told us that the government of Nigeria had approved our payment to be physical cash. We asked them what that meant and they said that it was real physical cash. Then they asked us to go to their car to see the cash and get the cash or to wait and transfer the money into our bank account.
They said that the money couldn't get into our account until it had been cleaned. We asked them what they meant and they went to the car and came back with 5 pieces of black paper. Then they went into the bathroom sink and with some chemicals cleaned the black paper and it turned out to be $100.00 bills.
We told them that it was fine. They could clean the money and deposit it into our account. Then Mr. Sharrif called Carlos White and he said that we had to pay for the chemicals, we asked how much they need and he said it was $185,000.
We asked him if he could take the $185,000 from the money but he said that he could not touch the original money. Then we decided to go back to Tampa.
From that night we decided to contact the Nigerian government and our attorney Mr. Williams. I called Dr. Abubaker and I called Mr. Williams, they acted normal and they didn't appear to know what Mr. White had told me. Mr. Williams told me that he had to go and speak with the president of Nigeria in Abuja and get his advice.
Two days later, he called me and said that we had no choice but to pay the money for the chemicals, but he said that we should send him a copy of the receipt so that after the government received their money from America and Japan in January or February they would reimburse my money that we paid them for the chemicals.
Mr. White was calling me and asking me for money for the chemicals. Finally we wired $150,000 to them. Two days later, Mr. White called me from Atlanta and asked for a Rolex watch for the president of Nigeria so that he could impress the president and get a better job in Nigeria. In addition, he wanted $350,000.
The $350,000 was for the purpose of opening an account for me for a CBN transit account. I told him that he didn't tell us anything about this before, he told us after he had cleaned the money.
That same day I spoke to our consultant and told him what happened to us and he said that we had been involved in a scam. He showed us the many different stories and example on the Internet of this scam and the many different victims that it had happened to.
We lost almost $400,000 on this matter. We are just a middle class family, my husband is a physician and I am a nurse. We borrowed money from many different places to pay to these people. Now we lost our credit and everything else.
I called my bank and I asked them for a refund, my bank requested a refund through the Bank of New York. I got the number for the Bank of New York and asked them where they sent my money.
The representative said that they had sent the money to Lagos in Nigeria and Beirut in Lebanon, I asked for the phone number of the banks but they said that they didn't have it.
They said that they had a representative at Nigeria who works for the Bank of New York. He is at Lagos and his name is Mr. Shay (phone number 234-1-2693327).
The bank said that they sent the money to him and he sent it to the Bank of Omega (phone number is 234-1-2620851). I called to the Omega Bank Director, Mrs. Odunsi. I explained the situation and I faxed a letter of complaint.
She said they got the money from the Bank of New York. She then said the money was sent to the Atlantic Precision LTD (phone number is 234-1-2640120). The manager is Mr. Ikye, Eugwu.
I spoke with Mr. Eugwu and I requested for a refund, I am yet waiting for his action towards this manner. On November 2, 2000, I contacted with Mr. Eugwen Ikye, (director of Atlantic Precision LTD concerning when he was going to refund my money.
He said that he couldn't refund the money because he paid the money to Mr. Ibrahim Bashiru (phone numbers are 234-1-775-3112, 234-1-493-3445, and 234-1-804-3445).
I said "Mr. Eugwn I sent my money from America to the Atlantic Precision LTD and it is your responsibility to collect my money from whoever received it." He then said "I am not a collector and don't call me anymore," after that he hung up.
After that incident I called Mr. Bashrim and I explained what Mr. Eugwn had told me from the Atlantic Precision LTD, he said that he had received the money and would not be refunding it.
I asked who he is and did you give anything in replace of my money, he said that it is their business; this is the way we live. I told him that I am going to call the police at Nigeria and I am going to send a letter to the Nigerian President.
He said that he didn't care and used an excessive amount of profanity towards the President and the police. Then he proceeded on by saying that this is another way of income besides the oil that is coming into the country.
He said that the President and the government knows about this. He also proceeded on by using curses and also by threatening.
Now I believe that not only are Dr. Ali Abubaker ( James Cardoso ), Mr. F.A. Williams ( Ola Michael ), Mr. Carlos White (real name Ojbe, Onokaite and phone number in America is 404-944-1842) but also Mr. Bashiru and Atlantic Precision LTD are also included in this scam.
I have also found the number for the director of CBN from the Internet. His name is Mr. Joseph Sanusi (phone number 234-1-266-0100) to tell him about how the people are using the CBN's name improperly.
I decided to call him and one person who answered his phone proceeded on to tell me to call him at his private number (011-234-1-775-4327). I called him and told him my contract number and he said that everything was fine with my contract.
He also asked me to fax the document to his attention at 44-870-134-9987. I asked him where this is and he said it is at London. It was then where I found out that this is another scammer. I hope that Mr. Joseph Sanusi can read this and find out who is really working for him and answering his calls.
In conclusion, I would just like to point out that these scammers have created a horrible name for Nigeria. The people won't trust anyone from that country and yes there are some wonderful and innocent people out there whom our money should go to, but not to these cons
---
Pig In a Poke Variation
Dear Les,
Since I lost an enormous amount of money in September 1995 I have been searching the web for info on Nigerian scams comparable to what I have on file.
I just found your very impressive web-site by good luck and believe it is the best of all I have seen. It is certainly the most correct and detailed.
I imagined only someone like me with daily experience since 1995 had such information on file. Being contacted consistently, I have gathered between 300 to 500 pages and keep communicating to add more to my file.
Chief Alaneme is the top gangster with Rasheed Mohammed. Alaneme contacted me in 1999 from England under the name Jerry Churchill. Then he went to Switzerland, back to Holland and then to Ghana. After that he may have used the name Idris Kadidi. They seem to change names by the hour.
Rasheed Mohammed has so many bank accounts, he must have a computer to store all the info.
Records indicate he had been in Amsterdam 1998 and 1999. From 1997 till January 1998 he had been in jail for just 8 months, allowing him a short rest to work out new plans.
Another group in Amsterdam, presented as Tam West,  with a bank account in Lichtenstein has connections to O.Y Olatunji Accounting General and his secretary Sonnie Nwaji of CBN in Lagos
There is also a so-called Ben Madu, Econo Financial Consultants with accounts in Jordan National Bank, ANZ Grindlays Bank, Bank of New York, Chase Manhattan Bank.
I have to ask myself why the government can't just seize these accounts. I have provided the Secret Service with many documents over the last 3 years but unfortunately they never reply. I have also sent a huge file to the RCMP, attention Mr. Darryl Ross in Toronto. It seems everything is going into a sinkhole.
I am so upset with these scamming b**tards that if I wrote a book, the title would be "Nigerian Pigs in Human Skin" with a picture of a pig as the head of one of them with a hundred dollar bill in his mouth and a red hot poker stuck in the rear end.
I have a picture of the Accounting General who tricked me and stole my money which you may like to post on your web-site.
Sincerely, Joe B.
---
Hope Balancing Doubt
I have been working on acquiring an overseas package for about five years now. I have been through the State department and the FBI and both seem to have given me a clean bill of health in determining the legitimacy of my claim, but being a cautious man I like to make doubly sure.
I am trying to be as sure as possible before I part with additional fees and after reviewing your very impressive and extensive web site on fraud, you are my last hope. All I need from you is to determine whether this company or this attorney are in your database of cons.
I need your assistance as quickly as possible, as it now appears that I am ready to receive my consignment, and I have a window of only a couple of days in which to make final preparations and to be sure I am not being scammed.
These are the particulars. Chief Jessy Ohanneye Esq. - (Attorney representing this transaction) Amin Udin - (The banker who arranged consignment from Bank of Africa - Cote d'Ivoire to Finance company) Assistance 2000 S.a.r.l. - (A finance company in Abidjan) Domkard Aki - (The representative from the finance company)
I have scanned and searched via the net, personal visits, and other methods, however your site seems to be very intensive. I figure that if I see their names anywhere among your list of scammers, then I can finally shut this down with good conscious and move on.
I just need one more opinion. Good or bad, I don't care! If it's bad news, then it saves me more money, however if you cannot locate something I'll probably proceed with my financial transaction.
Gary J. 02/10/02
---
It is with absolute certainty that I say this is a fraud even without yet tracing the names used. I can not believe that you have gone through my Nigerian Advance Fee Fraud section and still have any doubt.
They have unlimited resources on an international scale to prove that they are real. Documents and verifications are not a problem. Lies are second nature. Only the wealthiest, most cautious individuals get to be victims. Don't join them.
I am convinced that if you go over the section again fully you will find the similarities that will match your offer. Do not do it! Let the good guys win this one. Les
---
I have lost then just shy of under $10k, and have no illusions that I will never see it again. What gets me is the manner by which this group, made it's mark.
About five years ago, when I was president of the local chamber of commerce, I met a man from Abidjan. I remember him distinctly, as he intrigued me simply due to his coming from another country.
Well about three years later, (make it about 1997 or so, I received a call from his son Peter Mutumba, stating that his father had passed away.
During t his conversation, he k new the fact that I am a double amputee, how I lost my legs in Vietnam, and many, many other details, that could have only been given through the conversation that I and his father had, in prior years. So, you see, Peter had all the facts that began the process.
Then when Chief Jessy Ohanneye, the attorney for Peter, got involved, he developed paperwork that would allow Peter to come here and live, along with the money.
As this process grew, I became somewhat cautious and started to poke around into the backgrounds of the attorney, Peter, his father, Mr. Udin the Bank of Africa rep.
I was suspicious of the fact that I could not find any of them on the internet or with repeated phone calls to the bank. At that time, I only had about $4500k spent, and held back on more until more tangible proof was given.
The worst of it all, is that I visited my local FBI, spoke to reps, and within one week I was told that indeed there was a Franklin Mutumba, he had recently passed away, and he had a son named Peter, and was involved in the business by which I knew him from before.
From this point, I asked them to proceed further to check out a couple of legal documents, coming from "panel of judges" of Cote d'Ivoire, and other documents that the attorney Ohanneye had drafted.
Within a week or so after that, they again came back and once again told me that it was valid and yes, this was how they did business over there, by district jurisdiction. So, again I proceeded - and this time when the FBI rep sent it to the State department, they stamped it "Approved".
Once I had received this, I then proceeded to pay fees to the panel of judges to complete the transaction, - which was to be sent within three days - only to find the next hold up with the so- called "Drug Agency" of Africa, who stopped it and wanted additional fees to release it. Small amounts but nonetheless fees.
Arguing against paying "ANY" more money at that time without more tangible proof, I once again tried the FBI, but by this time, the guy I was dealing with was transferred, and didn't get a whole lot of support from there.
I did the best I knew how in doing research then proceeded to fund again a small amount but this time, required Ohanneye the attorney to split the fee or it would break the deal.
I sent the fee via Western Union to have it released within one day but when the next day arrived, again another hold up occurred as another agency, the "African Economic Council" stopped it.
Then word arrived that Mr. Franklin Mutumba had three business associates trying to block the funds from transfer and wanted a bribe.
Again, with the FBI telling me that yes indeed Mr.Franklin Mutumba did have a legitimate business and partners, I naturally assumed that this phase was possible.
They have tried to get me to go from Africa, to Amsterdam, then to Spain, and at each turn, I have simply kept asking for specific proof, such as customs paperwork and the like.
They now want me to send them now $6750 for the finance company for service fees to release the funds. I have told them in no uncertain terms, that they must have tangible, supportive and verifiable documentation before I would even remotely think about sending this.
By this time, I am into them for just under $10k, but I have no desire to be burned further.
It still nags at me about the personal info they have on me, plus the various supportive and approved conversations from my own country, that this was indeed legit, that has kept me going until now.
I have about four US Secret Service contacts but each indicate to call another, and like all government bureaucrats, it goes round and round.
It is now somewhat apparent that even our own governmental agencies are not as well versed in these matters as we are lead to believe or in fact, these scammers are simply that good to be able to cover their tracks, which it now appears to be.
---
I am glad to hear back from you. Often my negative response is the last I ever hear as people either go into denial or depression.
Even if you were to progress to the next stage you would be face to face with the couriers who would show you specially marked or dyed money which would require more money to clean. That is usually the last phase once you find yourself with a box of cut paper.
The other alternate phase occurs should they lure you to Africa for a ransom demand of your family. Neither is pleasant.
Our faith in law enforcement must be buffered by the fact that very few individuals have the big picture on each type of scam. They also do a poor job of sharing this info which I provide freely but at great expense.
The best place to try, no promises, is the U.S. Secret Service who appear to me heading up this program. Keep in mind they have over 60,000 phone numbers of Nigerian scammers on file and I would estimate there are over 5000 individual scammers working for about 50 main fraudsters. It is a monumental task and they get little help in Nigeria.
These people are educated and organized to the n'th degree. It is a major industry there. I wouldn't worry about what they know about you. Even if they just knew your name they will still send you offers from now on which you can just delete or forward on.
Les
---
New Yorker Story of Nigerian Scam Victim
---
[ Home ] [Up] [Nigerian Victims 2] [Nigerian Victims 3] [Nigerian Victims 4] [Nigerian Victims 5] [Nigerian Victims 6] [  Nigerian Victims 2006] [Nigerian Victims 2007] [Victim Arrests] [Bank Debts]