Nigerian Advance Fee Fraud Scam Victim Involving Bogus Counterfeit Checks and Bank Fraud
---
A Permanent Mission to Defraud
I just was scammed - well they attempted anyhow. Here is the email I was sent:
My name is Irena Kovac and I need your assistance. I am the widow of Miodrag Kovac, former Yugoslav Minister of Health. My husband died on April 12 2002. After his death the government seized our properties and froze our accounts.
Things have been bad, but I recently discovered that my husband deposited about 12 million dollars in a safe place outside my country.....
I need your assistance to claim this funds...
Irena
I checked on the internet for this Miodrag Kovac, who was a real person and who committed suicide last April. Well, I was absolutely pulled in by these people.
I felt so sorry for "Irena", who also has a spinal tumor, by the way, and needs to come to America for the surgery.
I was in contact with a "Mr. Charles Watson" who gave me his cell phone number and fax number as well as a "Mr. Blake Woods" who was in contact with me by email.
Charles Watson - International Credit Consultancy in New York
CELL: 917-498-6023 FAX: 800-203-9440.
Blake Woods - crdept\\ifmcorp.org
I was sent a huge check to pay for the fees to bring this money over for Irena. (She insisted I would get 10%) I put the check for fees in the bank and waited, as my CPA told me too.
It bounced, of course.
I guess I was suppose to write a check out on it and then be stuck for the almost $29,000 with my bank. I am fortunate that I listened to people who are smarter than I, and waited to see what the check would do.
I was sent two impressive forms, faxed a copy of the check for $12,000,000, and was given a bank in England to call to verify the certified check. I did as much due diligence as I could on the side.
I even wrote the Permanent Mission of South African to the United Nations (by email) and requested they verify the memo I was sent. They never responded which makes me wonder if someone there is working on this also?
"Irena" was going to pay me by sending the payment due to her company to me instead. ( All her accounts in Belgrade were frozen.)
Anyhow, these people are SLICK!  Since I am not a greedy person (about money anyhow), they really had to work the sympathy angle instead.
I am a counselor by profession so the "Help me!" is what lured me in and then kept me there.
LB 10/18/02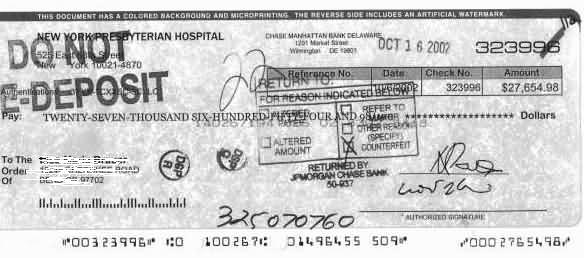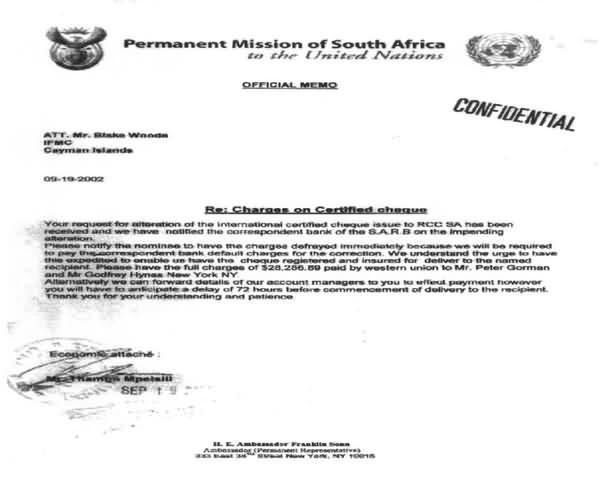 Permanent Mission of South Africa to the United Nations
Peter Gorman / Godfrey Hynes of New York, N.Y
---

South African Reserve Bank
Messrs RCC Contracting Company SA
Standard Chartered Bank of England 516-242-6491
---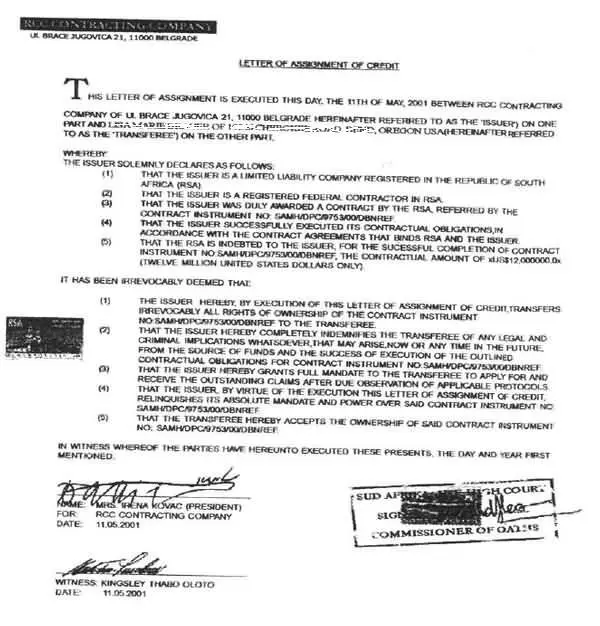 Kingsley Thabo Oloto
Irena Kovac, RCC Contracting Company, Belgrade
---