---
Scams Targeting Businesses and Institutions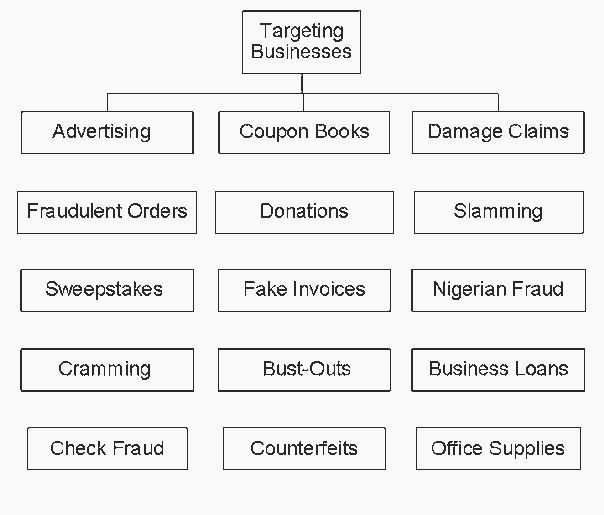 ---
According to the Council of Better Business Bureaus, the most aggressive scams against businesses include:
* Bogus Billing for Yellow Pages advertising
* Fake Directories
* Questionable Advertising Specialty Product Promotions
* Fraudulent Telemarketing Offers for Office Supplies
* Advance Fee Loan Brokers
* Phony Promotion/Prize Offers
* Fundraising Appeals from Fake Charities and Nonprofit Organizations
A recent U.S. study indicates that nearly 29 percent of office managers in businesses say their organizations have been targeted by some form of mail fraud.
Yet when asked what they would do if they found that they had been victimized, only 29.5 percent of businesses surveyed indicated they would contact the United States Postal Service.
Less than 10 percent said they would report it to a national consumer protection organization. Interestingly, nearly 82 percent of businesses indicate they never even ask companies to stop sending mail solicitations for Yellow Pages advertising or any other product or service.
---
Businesses are often asked to support youth by paying for ads in school yearbooks which are never published. Telemarketers also call wishing to have you advertise your business on place mats, calendars, etc.
They say that time is urgent because only the last few spots are still available. Usually the items are never produced or of such limited distribution as to be worthless.
Ask how to reach the salesperson if you decide to advertise after getting local business references who can vouch for their past work. Then shop around for local comparisons. Insist on a written detailed contract and refuse to pay up front, at least hold off most until satisfied.
---
Seller's Remorse
Sent in by Donald Miller 11 Oct 2001
I used to work for a company in Texas that sells advertising on phone book covers and unauthorized high school sports schedules.
I once sold out the space on a phone book cover that was supposed to have 3,000 copies printed for the target market of people aged 50 and over, then found out that they actually printed only 300 copies.
When I confronted the general manager, I was told that the home office had only shipped enough copies to our satellite office location for "initial distribution".
It took a year for me to find out exactly what was truly going on. They were selling schedules from high schools by first pretending to be an independent scouting organization that worked for a lot of smaller colleges, and then selling advertising on the posters.
They would then claim to be printing 3,000 copies of the posters, but would usually only print up 300.
When I told head office about this, they said that they would talk to the person involved, but it kept continuing. This company still manages to sell advertising to people by pretending to be associated with the high schools.
It still burns me to think that I had left an extremely reputable company that produced high school sports program books and race programs with contractual agreements to go to this company.
---
08/06 - Toronto police released the name of an alleged mastermind in a multimillion-dollar advertising scam. After arresting a William George Fisk, officials later identified the man as Michael Robert Petreikis from the U.S..
Believed to have several aliases, Petreikis is accused of sending fraudulent invoices to companies in the United States and Europe.
The invoices, which had a billing address in the Greater Toronto Area, demanded payment for advertisement placements in business directories.
People filed complaints with the Competition Bureau, Phonebusters and the Better Business Bureau, saying they were being billed for something they never requested.
Charged with fraud of more than $5,000, he is also wanted in Minnesota for mail fraud and making false statements. Police are continuing their investigation and said that further Criminal Code and Competition Act charges will be laid.
The arrest was made by the Toronto Strategic Partnership that includes the Toronto Police Service Fraud Squad, the OPP Anti-Rackets division, Phonebusters, the RCMP-GTA Commercial Crime Section, the Ministry of Government Services, the Competition Bureau, the U.S. Postal Inspection Service, the Federal Trade Commission and the U.K. Office of Fair Trading.
---
Coupon Books
For a promotion, one company purchased travel coupons for $200 which were supposed to save its customers $800 in travel costs for a trip. However, it turned out the travel agency didn't even exist.
The Vanity Pitch
"Dear Business Executive" begins the letter. "You are a potential candidate for a free listing in our next edition of Who's Who in the Business World. Please accept our congratulations for this coveted honor."
All too frequently, such pitches for "Who's Who" type publications, biographies of successful people, or nominations for awards or special memberships have a catch to them.
"Since inclusion can be considered recognition of your career position and professionalism, each candidate is evaluated in keeping with high standards and we think you may make an interesting biographical subject."
The executive who is flattered into providing the details of his or her career may be stuck with a subscription fee, a charge for the listing, or an inflated price for buying a publication that does not receive the widespread distribution implied in the initial offer.
If they actually produce a directory they may only distribute it to fellow advertisers and not to your potential customers.
---
Stop the European City Guide Scam - bogus business directory with high-pressure payment tactics
---
PLEASE TELL US A LITTLE ABOUT YOURSELF
I received, by post, a hand-written scam letter from Nigeria with all of my details after only 6 months from establishing a brand new company name and address.
The funny part is that the letter had my Canadian company name on it with my United States address.
The only time I had filled out something with those particulars was on a form I received by email months ago about a free international professional guild listing.
Charles T. Miller Complimentary Listing # 7715
Daniel Ratté 05/21/02
---
Registering for Consumer Protection Affiliation
Businesspeople who wish to have their website given an accreditation for fair business practices by paying to be evaluated in order to get a seal of approval should be aware that such approvals and the value of the registration are based solely on the organization offering the service.
The BBB has a reputable history and is recognized by consumers as a leading force in this area.
Pat Kelley 08/10/02
---
Being Taken "Ad"vantage Of
You consider yourself a public-spirited business so when you get a call to advertise in publications such as Area Drug Abuse, Child Safety Guide and Fire Prevention Review, you see it as a meaningful opportunity to support important causes in your community, such as fighting crime and preventing drug abuse.
It doesn't hurt that you are also told the publications containing your advertising will be widely distributed to local organizations and specially targeted audiences within your community. When you request time to think about it, one or more of the following events likely happens:
- they phone you back and say that an ad you agreed to place in their publication is printed and needs to be paid for, even though you never agreed to an ad;
- they obtain the name of a person at your business, and say that that person has previously authorized the ad;
- they send a collector every week to your business who says that your business has approved an ad and that it must be paid for;
- they send an envelope, Cash on Delivery (C.O.D.), to your business. You or your staff pay the COD and, upon opening the envelope, discover an invoice for an ad in one of their publications that you never authorized. You are so convinced that you, or a staff member, have somehow pre-approved the ad that you pay them.
If you refuse to pay for unordered advertising, they threaten to turn your bill over to a collection agency, or to take legal action to collect payment. You are convinced by these threats and, believing that your credit records may be adversely affected, pay the bill.
Using these tactics they get individual businesses to pay hundreds and even thousands of dollars for advertising in their publications using these methods.
---
Advertising scam for bogus publications nets defendant 2 years
By Sara Eaton - The Journal Gazette
04/24/04 - U.S. District Judge William C. Lee sentenced a Fort Wayne man to two years in prison Thursday for operating a phone scam selling advertisements for non-existent publications during a seven-year period.
Dean R. Thomas, who was 43 when he was indicted in October 2001, pleaded guilty to one count of devising a scheme to obtain money by means of fraudulent representations.
Seven other similar charges were dismissed as part of a plea agreement, calling for Assistant U.S. Attorney David H. Miller to recommend the low end of the sentencing range for Thomas.
Lee sentenced Thomas to two years in prison, three years on supervised release and ordered him to pay a $100 special assessment fee, a $5,000 fine and $95 restitution.
Thomas was allowed to leave the courtroom Thursday and will surrender himself to the Bureau of Prisons on a selected date in the next 60 days.
Lee recommended Thomas be placed at a prison with educational opportunities that is as close to Fort Wayne as possible.
The indictment alleges Thomas developed at least five publishing companies, under which he was named as the sole stockholder, president, director and secretary.
He then hired telephone solicitors to call individuals and businesses to obtain advertisement purchases for the publications.
Solicitors promised the ads would appear in a certain publication, which never existed, the indictment alleged. Solicitors would sell the ad to one employee saying that another employee had already approved the purchase.
Thomas began the phone scam in 1990 and continued through April 1997, according to the indictment.
Thomas, through his employees, also told businesses that he incurred the cost of the publishing on the promise of payment from advertisers.
At least three businesses, one in Iowa, another in Illinois and a third in Ohio, received collect-on-delivery packages with invoices of advertisements never authorized by the recipients, the indictment said.
It was not clear how much money Thomas took.
( The sentence was just as criminal as the crime, which likely netted millions.)
---
Damaged Goods Scam
The damaged goods scam that is all too familiar to the restaurant industry, is often carried over to other businesses.
The scam begins with an individual calling or writing to your business falsely claiming that a member of the staff has damaged his/her clothing, automobile, jewelry, or other item.
The scam artist encloses a bill and requests reimbursement to repair the damaged item.
To avoid this scam, request the following information:
Ask the individual to list time, date, and location where the damage occurred. Ask the individual to describe the staff member responsible for damaging the items and be sure to examine the supposedly damaged items.
Then, even if you feel a payment is justified, insist on gathering their full ID info on the back of the cheque, "for insurance purposes".
Officers with the Kentucky Vehicle Enforcement are warning about a recently reported phone scam in which someone impersonating an officer calls businesses and tells them he/she is representing a citizen whose vehicle was damaged by debris falling off of trucks belonging to that particular business.
The person then requests payment for the damages the vehicle sustained.
---
A planned bankruptcy is basically a merchandising swindle based on the abuse of credit.
In this type of scheme, credit that has been legitimately obtained is used to purchase inventory to sell, or otherwise dispose of, at a pure profit.
Meanwhile, the perpetrator plans to defraud creditors by not paying the bill, loan, or other form of credit, eventually filing for bankruptcy, either voluntarily or involuntarily.
In a typical planned bankruptcy scheme, the perpetrator creates a new business, opens a bank account, and leases operating space to create a front of legitimacy.
In some cases, a planned bankruptcy operator will simply purchase, on a delayed payment basis, an existing business with a favorable credit rating, thereby eliminating the need to establish a credible business front.
Operators then begin to order merchandise. The bills for initial purchases are either pre-paid or paid promptly to establish a favorable credit rating.
The operators often invent credit histories and provide false financial statements and trade references.
The names, addresses and phone numbers of the references are developed with relatives, business associates and friends.
The references are often other "bust-out" operators at work. As well, many of the references turn out to be "legitimate" merchants who are buying the defrauded goods from these bust-out operators.
Then the operators begin to purchase additional merchandise from new suppliers, while beginning to slow payment to old suppliers.
Eventually, increasingly large orders are placed with all suppliers. The increased inventory is then quickly sold, often below cost.
Once the perpetrator receives payment for the sold, but unpaid for, merchandise, he or she either absconds with the profits or files for bankruptcy.
The individual creditor ends up just writing it off as a bad debt, rarely pursuing the claim past the "no assets" statement filed with the bankruptcy court.
Cons often use trade shows to target many companies simultaneously and place multiple orders. This way they avoid prosecution under the U.S. federal mail and wire fraud statutes, since they don't use the mail or telephone lines to transmit the fraudulent information.
---
Long Firm Fraud and Illegal Trading
Businesses should watch out for:
* companies that have established credit over a period of time with small orders and then use the excuse of expansion to justify huge increases in ordering;
* trade references that include comments such as "acquainted with management," since these references are often co-conspirators in the scam;
* answering services that ask if the trade reference can call back or a reference that gives an immediate glowing report without looking into records. When you receive a return call, ask if you can call back; if you are given the service number again, ask for the number at the current location, saying that you will call back shortly;
* a credit reference that uses a post office box, or references in the same city or area as the applicant; a reference with no business telephone listing or with a telephone number but no address. Verify listings with reverse lookup services such as www.555-1212.com.
Closing Out Sale
In one planned insolvency the object was to enrich themselves by using a wholesale tool distributor to obtain merchandise on credit fraudulently; retain the merchandise and proceeds from the sale of the merchandise for their personal benefit; and render the business intentionally insolvent and unable to pay those companies supplying merchandise to the corporation.
In this type of scheme, known as a "bust-out" fraud, persons purport to sell a legitimate company to a "strawman" while retaining a hidden interest.
They had the strawman dramatically increase the company's credit purchases using fraudulent credit references, and then sold the merchandise "off the corporate books" for the benefit of the hidden owners, leaving the corporation insolvent and its creditors intentionally unpaid.
Using the company as a front they ordered in excess of $2.5 million worth of merchandise on credit with the intention of converting it to cash for their personal use without ever paying for it.
Bust-out Bankruptcy Fraud - link
Commonly Targeted Victims of Business Scams
Merchandisers, lenders, and others who extend credit for the purchase of goods and services (such as print and ad vendors, office equipment suppliers, etc.) and business owners who sell their businesses (and good credit rating) to con artists, then fail to get paid for the business.
---
A U.K.-based group that is defrauding businesses in Canada and the U.S. targets office supply companies and computer distributors by placing orders by phone or fax. The most common products ordered have been Intel Pentium processors and ink cartridges.
They pay for the orders using fraudulent credit card numbers; sometimes requesting that the order be equally divided and billed to several credit cards in order to escape minimum card verification requirements.
At least thirty U.S. furniture dealers in three states have fallen victim to schemers who deliberately place orders with companies who promise to ship merchandise within 24 to 48 hours.
A Mr. Green orders office furniture and gives a credit card number from Midland Bank in London as payment.
The individual later places two more orders. The con artists then cancel the orders, but by that time, the merchandise has been shipped and lost.
---
A New Record For Fraud
A man has pled guilty to an information charging him with fraudulently obtaining more than 26,000 audio compact discs, valued at about $425,000, from two mail order companies.
Under an information, a defendant waives the right to have his case presented to a federal grand jury and, instead, pleads guilty to charges presented by the government.
Over a five year period he opened 2,417 customer accounts—each in a different false name—at BMG Music Services and Columbia House Music Club.
By taking advantage of offers for new customers, which typically provide nine free music CDs with the purchase of one at regular prices, he received through the mail 26,554 CDs, valued at about $425,000. He later sold them to vendors at flea markets.
He rented sixteen boxes at post offices to receive the CDs and knowing that he would avoid fraud-detection thresholds as long as none of the addresses was identical, he slightly altered letters, numbers, punctuation marks and spaces in the addresses.
For example, he created hundreds of variations of his home address by deliberately adding fictitious apartment numbers, creating the impression that his single-family home was an apartment complex.
He faces a maximum sentence of five years in prison and a $250,000 fine, and may be ordered to pay restitution and costs of prosecution.
In an similar earlier case, the accused pled guilty to fraudulently obtaining 22,260 music CDs, valued at $350,000, from BMG and Columbia House by using 1,630 false names to establish fake accounts, and was sentenced to a year in prison.
He as well deliberately added fictitious apartment numbers and suite numbers, and inserted unnecessary directional abbreviations and extra punctuation marks and spaces to post office addresses.
---
Five Letters Worth a Thousand Pictures
A recently resurfaced scam involving online auction winners of a digital camera indicates the scam artist likely has access to a huge database of credit card numbers and has found a way to outsmart credit card companies' anti-fraud measures.
The original scam worked like this: An online auction bidder wins an auction for a digital camera, almost always a Sony Mavica.
The scam artist sends an e-mail to the winner offering him or her a chance to evaluate the merchandise for a few days without paying for it —all the scamster wants is a mailing address. If the winner likes the camera, only then they are asked to wire money.
But the scam artist doesn't own the camera that's just been sold. Instead, it's ordered with a stolen credit card from an electronics store and delivered to the mailing address provided by the winner.
So if the winner wires the money, they now appear to have stolen the camera. The victim has lost the money and faces charges.
The store has given away a camera it hasn't been paid for and must seek to recover, and the scam artist walks away with hundreds of dollars and no trace of the money transfer which is usually wired to a bank in Latvia.
The original scam had one drawback — most U.S. retailers now employ a simple fraud-screening tactic called AVS —address verification service which compares the credit card billing address to the merchandise shipping address, and if they don't match, raises an alarm bell.
But the new scam is designed to get around this system by making sure the two victims —the credit card victim and the auction victim share the same ZIP code.
He has figured out that AVS systems generally only check the ZIP code and the first five digits of a mailing address.
So, in a flurry of recent orders to a New York City electronics retailer, the scamster filled out shipping address forms with a bogus first line that included only the first five characters of the credit card victim's real billing address.
The rest of the shipping address, including ZIP code, belonged to the auction victim. This gave an awkward appearance to shipping labels but generally didn't interfere with delivery or raise alarms.
What's most alarming about the updated routine is the idea that the scam artist apparently has access to so many stolen credit cards and their account info that they can find one to match the ZIP code of any winner.
---
Calling Cards
All someone needs to make unauthorized calls using your calling card is the numbers, not the actual card.
Number thieves hang around airports, hotels and other locations where long distance travelers, especially business people, congregate.
They will use binoculars or less obvious zoom lens cameras as well as close proximity to observe while you input your codes manually or verbally.
Try to shield the numbers dialed or speak softly if reciting numbers to the operator so as to hamper their efforts.
---
Donations - see also main Chapter
One group states that as a business donor your charitable contribution will be acknowledged with an ad in a yearbook or other publication which will be distributed to local law enforcement officers, local fire fighters, or local businesses.
Should you consent, or even hesitate, they will send you a package via UPS, demanding payment of the amount of the donation in exchange for delivery of the package.
This package contains decals, a tax receipt, a brochure, and in some cases a return envelope for your business card, to supposedly be used in the acknowledgment ad.
---
Slamming - see main Chapter
---
Fax Cramming - see also main Chapter
Crooks will take advantage of your perception that fax transmissions are inexpensive by inducing you to call fax numbers which are billable at high rates.
One version of this scam is to send requests to a company asking for information, which usually require pages and pages to be faxed back - again at a premium rate cost.
In the U.K. the fax-back operators make a large part of their estimated £28m annual turnover from hotels and restaurants, which are asked to send menu and booking information on £1-a-minute lines, and unsolicited offers of sport and concert tickets to any corporate fax number they can get hold of.
A perfect example is a couple phoning up a hotel, saying they are getting married and asking for information to be faxed to them.
What the happy couple forget to add is that the line is an 090 premium rate number and, oh, they don't actually have any intention of getting married.
Another example is a make-believe company phoning an estate agent, saying it is planning on relocating to the area and asking for its property lists to be faxed.
Larger estate agents have tens, if not hundreds, of properties on their books, and run up big phone bills fulfilling these requests.
Fit To Kill Afterwards
Hot on the heels of the latest high-school shootings you get a fax from the "National Gun Control Poll" which asks: "Would you like to see more effective gun control laws?"
You can "vote" by faxing your reply to one of two 900 numbers. The total time to fax a reply is not disclosed, nor is the $2.95 a minute billing charge.
"We are faxing out over 3 million voting forms throughout the country," the fax states, with claims that results will be reported to U.S. officials.
However the "poll" is not from an independent research group or government agency, but from a for-profit business called 21st Century Fax Ltd. in London, England. The company's Web site shows that they also sell information on exercise and weight loss tips like the "Yummy Yum Yum Diet."
---
9021 Oh My Phone Bill!
Dear Sirs,
I am general manager in a gallery which is candle...Specially Scented, aromatic candles (cinnamon, vanilla, lilac) liked to much. We have 25.000 customers in a year.
We want to buy 10.000 different candles. We hope to do good business with you. But, We need your print catalogs, wholesale pricelist and only one sample for our customers review. We look forward to your information.
Regards
Sedat Kaya
General Manager/Show Gallery
Phone: +902122769638
Fax : +902122769639
Our mailing Address:
ACARLAR ATLANTIS KONUTLARI
E-35 BLOK, DAIRE: 12
SARIYER, ISTANBUL, 80900
TURKEY
---
Your business gets a request for detailed information on your products, services and prices but the return address is only a fax number. You transmit enough material to warrant the expressed, immediate and profitable interest.
The number turns out to be an international long distance call or pay-per-call number resulting in expensive charges.
The scammer, who never had any intention of doing business with your firm, shares a portion of your charges with the foreign phone company.
If you notice this charge when you check your billings, your phone company may reverse it on a one time basis.
---
You get a call from a company offering you a free, 30-day web site including web design and hosting services to help expand your small business. They say you can continue the service for a nominal fee, say $25 or $30 a month, and cancel at any time.
Some service providers state that you'll be billed automatically after the 30-day period; others claim you won't be billed after the 30 days unless you tell them you want to continue the service.
The provider says that your free web site will be up and running within a week, and that you'll receive a welcome package, which may include a printed copy of the web site, instructions for accessing the site, and a phone number to call to make changes or cancel the service.
Before or after explaining the offer, the provider asks for basic information about your company: the address, contact person, business hours and a brief description of the business.
If you refuse to accept the free offer, but agree to receive an information package, you are still charged for the "free" trial.
Even though you were told that no charges will be incurred unless you ordered the web site on a permanent basis and approved future charges, you may be billed repeatedly, month after month.
In fact, unscrupulous service providers bill you, whether you authorize the services or tell the provider that you want to cancel. Also, many of the services have little value.
That's because these providers design and host sites that contain limited information about the business, include misinformation or misspellings, and lack important features.
Moreover, most of the sites are not listed with major search engines. If customers can't find your site, it's worthless to your bottom line.
In addition, you probably won't see the welcome package, but you will see the bill - either on your phone bill or as a direct invoice.
Unless you review your monthly phone bills or invoices carefully you could end up paying unauthorized charges for months before you notice the scam.
"Internet cramming has focused on small businesses like a laser," said Jodie Bernstein, Director of the FTC's Bureau of Consumer Protection. "Thousands of small businesses have been ambushed by Internet crammers and it has cost that community millions of dollars in less than two years.
These operations rely on the fact that small businesses, in particular, may not have the rigorous ordering, accounting and bookkeeping procedures that larger businesses have put in place."
To avoid problems, avoid negative option services, get a full written contract and pay in stages of completion.
---
---
INTEROFFICE MEMORANDUM
TO: All Corporate Employees
FROM:Diane Johnson, Corporate Travel Division
SUBJECT:Today's Special
CORPORATE SELLOUT
BAHAMAS CRUISE AND ISLAND VACATION ONLY $79.99 PP
FIRST 50 CALLERS
---
This fax, sent to many departments in large companies, implied it was inter-company sent and sponsored. It lured many people to respond to the scams presented in the Vacation Section of this book.
---
Government Compliance
One company played on fear of the government by sending out unsolicited faxes and direct mail in an attempt to sell their grossly overpriced posters used for displaying government regulations to employees.
These contained information which must be posted in offices stating the correct minimum wage and other state and federal requirements.
Such companies use scare tactics such as, "if your company does not display this compliance poster, it will face a fine of $7,500 and be put on a "hot list"." Another scare tactic is the claim that they have insurance against errors in the posters.
The truth is that if you have one of the "free", government-issued posters you will not be fined for any such errors and regulators are happy to provide assistance for related concerns.
---
PBX Systems
Just Testing
Your switchboard secretary receives a phone call from an individual claiming to be a phone company service technician. The technician says he is testing phone lines and that she needs to press 90, then the pound (#) key and hang up to complete the test.
She obliges and later you find that by pressing 90#, you may give the caller full access to your commercial PBX telephone line, including having long distance calls billed to your number, if your PBX system is vulnerable.
AT&T says this scam has apparently been traced to many local prisons. Check with your service people about deterrents and have a policy in place for usage of this feature.
---
Just like the seniors, business people are regularly taken in by the phrase "You've just won one of five great prizes!" "All you have to do is buy some promotional items."
Sadly, the items are shoddy and overpriced and the prizes are cheap, over-hyped misrepresentations.
The employees of Finer Images would tell business owners that they were eligible for valuable prizes, such as cars, cash, a home entertainment center, and/or jewelry.
To claim your prize (or prizes), you were told you needed to buy advertising specialties, such as pens, T-shirts, and key chains, which proudly displayed your business name, address, and phone number.
These purchases were said to both eliminate gift taxes by making the fabulous prize a promotional award rather than a gift and provide you with a business deduction. If you ordered once, you were subjected to additional high-pressure sales pitches, with promises of even more valuable prizes.
An employee of one boiler room testified that no customers had any chance of receiving the valuable grand prizes of cars and cash. The evidence presented at trial showed that they awarded only inexpensive watches or jewelry.
Although they claimed these prizes were worth over $1000 apiece, the wholesale value was actually $38-49 for each bracelet and $69 for each watch.
---
Montreal Directory Sales Scam
Two Montreal-based telemarketers that sell listings in business-to-business directories, W.W.S. World Wide Source Publishing, Inc. and Ameri-Source Publications, Inc. will together pay a total of $125,000 in penalties in fees and costs to the State of Vermont and provide refunds to all of their Vermont customers in a settlement with the Vermont Attorney General.
An 11/01 lawsuit alleged that WWS, using a Vermont return address but calling from Canada, solicited orders for two-year listings in its "American Business Index" business directory for $399.95 but violated the Consumer Fraud Act by:
* Misrepresenting that the company offers renewals of listings in the local Yellow Pages, when in fact it offers primarily new listings in a non-local directory of limited circulation.
* Overstating the circulation of the directory as 1 million, when in fact it is closer to 35,000.
* Misrepresenting WWS' location by using local Vermont addresses in all dealings.
* Billing many customers without their authorization.
* Failing to provide customers with their legally-required three-day right to cancel.
* Overcharging customers for a directory that is of limited value to most businesses.
Over 100 of those customers complained to the State of Vermont.
Ameri-Source, a company which shares common management and ownership with WWS and uses a return address in New York State, also telemarkets listings in a business-to-business directory.
Although they have denied any wrongdoing, WWS, Ameri-Source and their President, Pavlos Angelatos, are barred from doing business in or into Vermont, or using a business address or facilities in the state.
Out-of-state customers of WWS will have until September 30, 2002, to send a written complaint to the Attorney General's Consumer Assistance Program (CAP) at Morrill Hall, UVM, Burlington, VT 05405, and receive a refund.
---
A Moody Con Man
Back in 1999 I was at the NY Food & Restaurant show with a vending & amusement distributor I worked for.
A guy walks up to the booth and we strike up a conversation. He calls me the following week at my office and we arrange to meet in a hotel lobby in Manhattan.
He tells me that he has an "in" with the Chinese government and is exporting containers of high-end liquor to China.
His wife wants him to go into semi-retirement and he needs a partner to manage everything in exchange for 10% of all profits.
I thought it was too good to be true, but since I was meeting him on company time I decided to go along and see where it was all leading.
We met again a week or two later in the same hotel lobby. He brought some authentic looking letters and purchase orders from China and a catalog of the different liquors they purchase.
He also told me an interesting story about a trip to Africa many years prior where he made a deal to export mood rings because the natives thought they had magical properties and they all wanted one.
In the end he asked me for $5,000 as a sign of commitment to the partnership. I told him to give me a letter of intent and then a contract I can have my attorney review. He became very nasty, I guess in order to get off that subject. Needless to say I never gave him any money.
Jerry Hocek 04/10/02
---
Husband And Wife Teams Cheated Russian Businessmen
Two couples, one Russian and one British, induced some 700 businesses in the former Soviet Union to pay travelling and accommodation costs for senior personnel to attend non-existent management seminars in California in the summer of 1996.
On various dates in January and February 1998 S.K. and her husband I.F. and Michael and Maria Newman (aka Mikhail Butkov) pleaded guilty at Isleworth Crown Court, Middlesex, to their parts in a £1.5 million fraud on Russian businessmen.
They put a lot of time and money into setting up the fraud, purchasing the Bermudan off-the-shelf company "Investco Corporation" with the sole aim of using it to commit the fraud. Many thousands of glossy Russian language brochures printed in Reading were used to entice businesses in the Ukraine and Russia to part with their money.
The brochures told lies about who would give the seminars. The people did not exist and the organisations they were said to belong to (some of them renowned educational institutions such as Yale University) had never heard of Investco or the planned courses.
In response to the brochures, Russian businesses sent money to Investco accounts in London, Jersey and Geneva and to the UK account of a Reading-based company owned by the Newmans called Lincoln Marketing Ltd.
Correspondence from the victims was directed to mail drop addresses in California, Luxembourg and Belgium from where it was forwarded to mail drop addresses in Reading and London.
K and F operated only from mail drop addresses and used only mobile telephones.This made finding them difficult. They were eventually caught when they were stopped in the City of London driving a car which was known to be of interest to the Thames Valley Police.
When caught K and F were in the process of laundering the proceeds of the fraud via accounts in Guernsey into accounts in Andorra where they were planning to live. F was the first SFO defendant to be prosecuted on a specific money-laundering charge. He pleaded guilty. K (F's wife), who was the principal organiser of the fraud, pleaded guilty to conspiracy to defraud.
During the early stages of the investigation the Newmans went to live in Spain. Michael Newman was arrested in August 1997 while visiting Switzerland. He was extradited from Switzerland in September 1997.
He pleaded guilty to furnishing false information for accounting purposes. His wife, Maria, returned voluntarily to the UK from Spain after her husband's extradition. She admitted to helping in the preparation and mailing of documents.
This case arose out of an investigation with the Thames Valley Police. On 3 April 1998, I.F. and Michael Newman were sentenced to three years' imprisonment. S.K. was jailed for two years.
Maria Newman was sentenced to eighteen months' imprisonment, although, after the year end, this was reduced on appeal to a suspended sentence of nine months. Also after the year end, on 30 April 1998, almost £1.2 million was confiscated from the defendants with a view to reimbursing the losers."
(Editor note: Russian couple in England requested removal of names on assurance of repentance.)
---
Follow the links at the bottom or top for more business-focused scams such as supplies, loans, and Nigerian money-sharing offers.
The San Antonio, Texas Police Department has a great listing of current scams affecting businesses in that area.
---
Marketplace for International Trade Services - Knowledge and service resource directory for businesses.
---
---
---