Nigerian Fraud Victims Arrested For Bank Fraud, Embezzlement, Check Fraud and Forgery Involving Altered Cheques After Being Scammed
---
09/06/02 New Hampshire - Already serving a sentence of five to 10 years for a 2001 conviction on embezzling funds from the Portsmouth Country Club, Charles Brewster, 51, has more possible jail sentences hanging over his head as a deterrent to any future crimes.
Senior Assistant Attorney General Will Delker said the message the state wanted to send was that Brewster's greed got him involved in Nigerian oil scams and that "People have to realize these scams are illegal, dangerous and not only we will investigate the scams, we will prosecute anyone who gets involved." "Mr. Brewster participated and dug himself deeper and deeper into debt."
He pleaded guilty to three Class A felony charges of embezzling while a fourth charge, that he forged his name on a $120,000 check and deposited it into his account, was dropped as part of the plea bargain.
Brewster pleaded guilty to charges that he embezzled $20,000 from the Towle Office Park, and a total of $53,000 in two separate charges from Batchelder's Pond Development Co., firms with which Brewster had been associated.
Judge Kenneth McHugh sentenced Brewster to 1½ to three years on each of the three charges, the sentences to be served concurrently but consecutive to the current time Brewster is serving.
The three new sentences were all suspended for a period of 10 years, beginning after he is released from prison.
Brewster was ordered to pay restitution totaling $46,889 or face a contempt charge from the court though he has already repaid about half the funds taken from the three companies.
The fact that Brewster is currently in bankruptcy proceedings will have no bearing on his order to pay restitution and should he not complete payment by the time he is released from parole, the debt will remain until it is paid in full.
McHugh also ordered Brewster to have no contact with his Nigerian contact or with any other fraudulent investment scheme or face the additional jail time.
Brewster's testimony indicated he was convinced the Nigerian scheme was legitimate.
According to testimony Brewster gave to the FBI about the check forgery, he was approached by the Nigerians after his conviction for additional money to make final payments so that the Nigerians could release to him money previously promised.
Brewster said he told them he had no money, so the Nigerians promised to arrange a loan.
When a check from Connecticut General Life Insurance for $120,487.53 arrived, Brewster says he brought it to his attorney because he was suspicious. It had been altered to make Brewster the payee.
---
11/01- In American Samoa, a Congregational Church treasurer awaits sentencing in connection with losing more than $200,000 in a Nigerian money scam.
Originally charged with misappropriating $207,000 in church funds former Congregational Christian Church of American Samoa Treasurer Rev. Laufuti Ta'afua entered a "no contest" plea recently to two amended counts of forgery after he agreed to provide information on the Nigerian scam to local and U.S. federal officials.
---
Ripe For Picking
2000 - Graeme Kenneth Rutherford, aged 57, a leading figure in the New Zealand kiwifruit industry and former Citibank executive, fell for a Nigerian investment scam, then ended up defrauding his friends out of $7 million to sink into the scheme over a two year period.
Known as a good, trusted and competent adviser who performed well while at Citibank he has since been described by prosecutors as a slick, ruthless, cold-blooded swindler who duped close friends out of millions.
Though he claimed that his intention had always been to reap huge profits for his friends, he ended up losing everything: his farm, his funds, his friends and his reputation. He was also recently declared bankrupt.
After retiring from Citibank in 1997, and placing an ad in The Economist offering his services as a financial adviser, he was contacted by a man called Davidson Onyeka who wanted him to manage proceeds from a $US50 million contract with the Nigerian National Petroleum Company, provided he was first able to raise enough money.
It was suggested that if he paid "several million" in fees and shifted the money to a tax haven in Europe, he could reclaim his expenses and receive 1% a year for his skills.
Claiming to be aware of Nigerian swindles, he attempted to check out the scheme and managed to confirm some details with the Worldwide Directory of Banks.
Eventually convinced the fund was real, he claims he pumped $600,000 of his own money into a contract completion certificate, a transfer fee, taxes, another $300,000 just to obtain a copy of a contract - all backed up by documents, all followed by another fee request.
During the process the Nigerians asked for payments to be split up and sent to accounts around the world so they could avoid "exchange control regulations" which would force them to declare the money if it came in lump sums.
One "banker" he dealt with, Dennis Frederick, even asked for $US15,000 to be sent in the name of his driver, who was going to pick it up.
The fees involved a Director of International Remittance, Government departments, cash transfer operators, firms in Belgium and Norway, and other organisations.
At one point he was offered 4.2 million barrels of oil if he could come up another $US110,000 fee.
Rutherfurd soon needed more cash, so, in 1997, he began approaching wealthy childhood friends and people he met while he had been a vice-president at Citibank about investment opportunities.
Six of them, all of whom had known Rutherford for at least 10 years, in some cases for more than three decades, were swayed by their friendship and invested or lent him money.
They saw him as an honest extrovert, a high-roller with a luxury yacht who loved to entertain and was respected for various business deals.
He had made a lot of money for a lot of people in the past just by manipulating funds from one place to another.
He must have suspected that none would touch Nigeria, so he told them he had stumbled on an amazing deal in Europe with a locked-in profit, which he would back with a personal guarantee and a mortgage on his orchard.
One man whom he had known since primary school lost about $2.5 million, while the toastmaster at his wedding lost $670,000.
A company director who invested $2.68 million in what he thought were funds controlled through a European bank expected repayments of $15.4 million.
Though skeptical, a bank manager also provided Rutherford with a $140,000 overdraft so he could send money to Nigeria, trusting the man's background and experience.
This opinion must have been somewhat diminished after an amateurish cheque for $US30 million from the Nigerians bounced.
One individual even lent his friend $800,000 from a charitable trust that he controlled, on the understanding that the trust would receive $920,000 back. Yet another influential friend is said to have been swindled out of $5 million.
His defense attorney asked the jury to consider his state of mind and the fact that he was just as much a victim of the scam as anyone else.
He had gained nothing from sending the money to Nigeria, and could easily have fled to Europe and kept the money if he had wanted to.
Rutherfurd said he was under extreme pressure at the time and the taking of both antidepressants and strong painkillers for back problems made him unable to tell right from wrong.
This excuse was apparently not good enough for the jury who also heard that on July 1, 1998, his doctor visited Rutherfurd at home and found him lying in bed choking on vomit, with several empty bottles lying nearby.
There was also a letter to the doctor and several others to relatives. It was deemed most likely that he would have died had the doctor not found him.
---
From Victim to Criminal in One Easy Payment
04/02 - California - Though most people usually delete e-mails that promise vast riches through a Nigerian investment Shirley Elaine Hannings responded, lost thousands, ultimately defrauded a Riverside bank and will pay the price in state prison.
After she pleaded guilty to grand theft, she was sentenced to 16 months in state prison for the $228,260 theft stemming from a bogus check processed by Provident Bank in Riverside, which she deposited into their personal account last September claiming it was an inheritance.
The 57-year-old Blythe woman and her husband, Danny, succumbed to the widespread "Nigerian Advance Fee" fraud but then committed fraud of their own when they deposited, perhaps unknowingly, a stolen and altered check given to them by the scammers.
Danny Joe Hannings, 47, was granted probation because he played a lesser role in the theft.
They had invested ( lost ) somewhere between $30,000 and $70,000 in advance fees pertaining to Nigerian water wells that do not exist, totally believing they would be getting $21 million back.
Safeway Stores in Arizona had sent the check to a vendor, Standard Fruit and Vegetables in Texas, but somehow it was stolen along the way by someone in the Nigerian syndicate and forged to make Danny Hannings' contracting firm the payee.
The altered check cleared long enough for Shirley Hanning to wire $200,000 to an account in Hong Kong opened by people claiming to represent a Nigerian company.
As far back as 1999, they apparently had some information that the investment might not be legitimate because authorities found in their home a magazine clipping about the Nigerian advance-fee scam.
Ronald M. Weiss, who heads the U.S. Secret Service's Riverside office, said the Nigerian perpetrators are seldom caught.
Only about $8,000 of the money has been recovered from the Hanningses' accounts, and Provident Bank is out the rest.
---
Nor The Last
I am a licensed private investigator in Arizona. Several months ago I received an E-Mail message offering me a percentage of twenty million dollars which had gone unclaimed in a bank account in Nigeria.
The sender of the message claimed to be a vice president of that bank. I forwarded it to the Phoenix office of the FBI.
Amazingly, today I was contacted by one of the criminal defense lawyers that I work for regularly, to assist him in representing a gentleman (senior citizen) who has been charged here in Yavapai County Arizona with forgery.
This client had received the very same type of E-mail message that I received and had responded.
The client, who is out about one hundred thousand, sent thousands of dollars to these people and after much complaining to his Nigerian contact he received several checks amounting to about $34,000, which he deposited in his bank account. He withdrew most of that amount two days later and sent it Western Union to Nigeria to cover fees.
The bank, which learned the checks were worthless, arranged for the County to file criminal charges against him. I don't know why the bank didn't have a three day hold on the checks.
I have suggested to the lawyer that our client certainly isn't the only person in Arizona to have fallen for this scheme but not being familiar with this fraud I am wondering if you have any information of other victims being sent worthless checks.
The last names involved with this are: Robert Cole of Infinity Finance, Aheed Mohamud of Nigeria, a company named AquaChem, and Steve Douglas of Nortech Finance LTD.
Kenneth Hamilton
Prescott, Arizona 09/19/02
---
I am a Toronto solicitor representing a man who has been charged with fraud over $5,000 and uttering a forged document.
The case in a nutshell is this: he worked in Africa as an engineer many years ago on major projects and his corporation was owed a substantial debt. However, he received no payment.
He returned to Canada and is now in poor financial straits. He was contacted by an official from Nigeria stating that they would collect his account receivable and forward a cheque. They required up-front money which was paid.
He eventually received a cheque drawn on the National Bank of Nigeria for $30 million which he attempted to deposit in a new account at the Bank of Hong Kong in Toronto.
The Bank required confirmation of identity which he presented including his passport. He was asked to return the following day to sign bank documents. On arrival at the bank, he was arrested and charged.
I advised the Crown Attorney that he appeared to be another victim of the Nigerian scam (After all, what fraud artist would present personal ID?) However, the Crown had never heard of this scam.
Would you agree to attend as an expert witness? The case was given publicity in the Toronto media when the arrest was made and I suspect a great deal of media interest when it comes to trial.
Yours very truly,
John L. Hill 01/26/01
---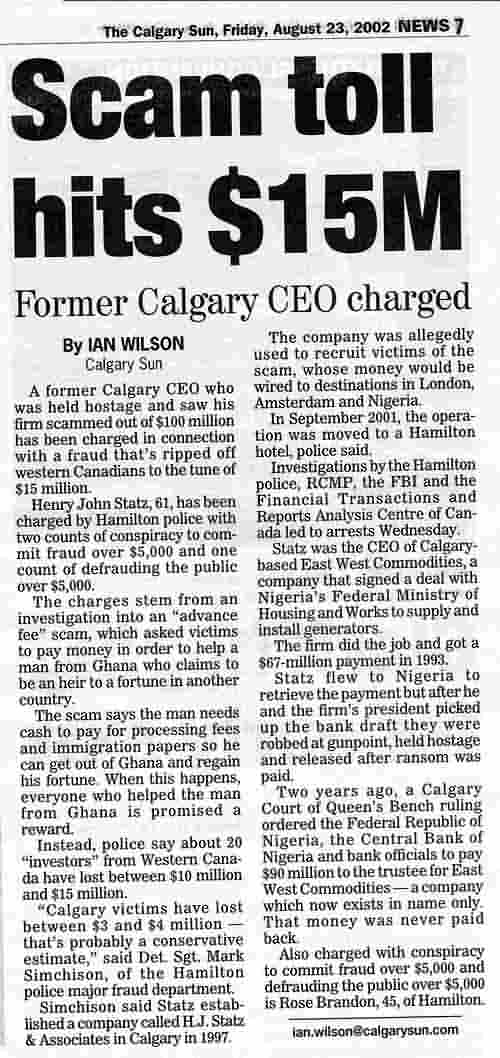 ---
09/02 - A bookkeeper has been charged with embezzling $2.1 million from the Detroit-area law firm for which she worked and wiring the money to offshore accounts.
The Detroit Free Press reported that Anne Marie Poet, Rochester Hills, MI, fell for such a scam when, according to the FBI, she was offered $4.5 million if she helped transfer $18 million from a bank account into the United States.
Ann Marie Poet's new business partner called himself Dr. Mbuso Nelson, and said he was an official with the Ministry of Mining in South Africa.
From February to August, Poet is alleged to have wired amounts ranging from $9,400 to $360,000 from the law firm's account to offshore accounts in South Africa and Taiwan.
The alleged scam ended Sept. 4 when the Olsman, Mueller and James law firm was informed that a $36,000 settlement check to a client had bounced.
Poet quit coming to work after Sept. 4 and was indicted last week by a federal grand jury in Detroit on 13 counts of wire fraud. Each count carries a maximum penalty of five years in prison and a $250,000 fine.
Jules Olsman, president of Poet's law firm, said he plans to sue Bank One for approving the wire transfers and allowing Poet to drain the firm's accounts, according to the Free Press.
A manager at Bank One apparently approved all of the wire transfers even though Poet was not authorized to conduct such transfers.
According to statistics presented at the International Conference on Advance Fee (419) Frauds in New York on Sept. 17, roughly 1 percent of the millions of people who receive 419 e-mails and faxes are successfully scammed.
The Secret Service receives 10,000 letters, faxes and e-mails monthly from people reporting the scam.
---
Bank Fraud Bombshell Ticking Away
I have a friend who claims that a member of the Nigerian government has contacted him about investing in the US.
He claims to have been working with them for the last four months and that they have transferred $195,000 into his bank account this is the first of what is eventually going to be $26,000,000.
He claims the money is to be sent back to the Nigerian government to clear the funds which will eventually get sent back to him.
I told him about this web site and others yet he continues to claim that he has not yet sent any money and they are legitimate.
When is the other shoe going to fall and how are they going to try to milk him of his money?
10/03/02
---
04/03 - Minneapolis - With his wire-framed glasses, silver pompadour and sport coat, 59-year-old Carl August Fratzke, Jr. looked like he belonged at the Rotarians' pancake breakfast, not in criminal court. And if his appearance was vaguely incongruous, his offenses were doubly so.
In this tightly knit river town, Fratzke has played the part of the respectable salesman/family man for most of his adult life. For years, he served as the president of the Winona Glove Company.
When the domestic apparel manufacturing business tanked in the early '90s, he set up shop as a glove wholesaler, running Fratzke Sales, Inc. out of his home. Occasionally, he lectured for business classes at the local college.
But, as many in Winona's business community learned, Fratzke is a more complicated creature than he appeared, a peculiar amalgam of victim and perpetrator, sucker and swindler.
In a brazen, if poorly conceived, scheme, he conned seven local businessmen out of approximately $250,000--only to be hustled out of every ill-gotten penny.
"Carl Fratzke is a liar and thief," wrote one of the victims. "And Carl Fratzke is only sorry that he got caught."
Fratzke's appearance before Judge Collins represented the culmination of a sorry misadventure that commenced about 15 years ago, when he received an intriguing business proposal via fax from Nigeria.
Fratzke's swindler claimed to be a treasury department official with the Nigerian government which had millions of dollars of outstanding debt to a foreign company. For an up-front fee, the official promised to put in the fix to have the debt reassigned to Fratzke's company.
Fratzke swallowed it whole. From the late 1980s until 2001, he regularly wired money to the scammers.
All totaled, Fratzke poured an estimated half-million dollars of his own money into the deal. Despite draining his IRAs and savings accounts, he never saw a nickel in return.
By the winter of 2000, Fratzke was desperate. He still believed in the Nigerians, but needed more money. So he hatched a plan.
Between March and April of that year, Fratzke contacted friends, business associates, and family members to invite them in on a more traditional deal.
He told prospective partners that he had a line on a $500,000 lot of closeout gloves, which he had arranged to sell to Wal-Mart for $1.2 million.
The problem, he said, was that he didn't have enough money to make the buy. If people invested, though, he could double their money in 30 days.
Within a month, Fratzke had raised at least $200,000 from seven investors. According to prosecutor MacLean, the real amount was probably higher, because Fratzke also solicited money from family members and others who declined to press charges.
There was no glove deal.
Fratzke simply poured the proceeds back into the Nigerian con, wiring the money overseas and waiting for a return that never came.
Amazingly, he was able to keep his creditors (and his own doubt) at bay for the next year.
According to court records, he offered a variety of excuses and explanations for his failure to come through with the promised returns.
By the winter of 2001, Fratzke had grown increasingly reckless. That February, he wrote approximately $50,000 of worthless checks to pay for wire transfers to his Nigerian "partners."
The proprietors of the wire transfer service, Yellow Cab of Winona, knew Fratzke, so they didn't demand that his checks clear before wiring the money. As a result, Yellow Cab nearly went bankrupt.
As it turned out, that was Fratzke's last con. By May 2001, five of Fratzke's victims had finally had enough, swallowed their embarrassment and marched down to the Winona Police Department to file complaints.
As the legal net began closing in on him, Fratzke realized that he too had been taken, even though it required a fair amount of persuasion for the message to sink through.
"We didn't find out about any of this until about four months before it all came to a head," the family member says. "Finally I did some research and showed him all the articles about these Nigerian cons. After reading all that stuff, he just said, 'Oh, shit.'"
How could Fratzke, by all appearances a reasonably intelligent, educated and competent businessman, fall for the con in the first place? That remains a mystery.
No one, even in his own family, seems to have much insight, other than to suggest that he had a gambling streak and liked the idea of a big score.
Having squandered his life savings and stolen from his friends, he simply kept believing.
In one journal entry written shortly before his arrest, Fratzke despaired, "At least three times I was within a hairs breath [sic] of getting my money."
According to FBI special agent Paul McCabe, it is not uncommon for victims of financial fraud to turn to crime themselves.
"We see it all the time. When you arrest these people, they know they've done wrong but they're frustrated because they've lost so much money," he observes.
In the end, Fratzke pleaded guilty to one felony count of theft by check and two counts of felony theft by swindle.
Judge Collins sentenced him to a minimum of 240 days in the Winona County Jail, placed him on 20 years' probation, and ordered him to adhere to an as-yet-unspecified restitution schedule.
Whether he will be able to pay off his debts is unknown. After his arrest, he and his wife divorced. She got the house in the settlement.
The rest of his assets were squandered in the scam and Fratzke has only worked sparingly since the fraud was uncovered two years ago.
Ironically, the Fratzke family member says incarceration may prove to be something of a relief for Fratzke.
"This pretty much destroyed him, so I don't think going to jail is going to be that big a deal for him," he says. "For the last three years, he's been serving a prison sentence in his house.
You know, Winona is a small community. After you've had your name plastered all over the newspaper, you don't even want to go out in public any more."
---
Getting a Bad Rep
04/03 WEST PALM BEACH - The U.S. Secret Service says that the Nigerian scam netted $24 million last year for its perpetrators, many of whom reside in the country where the complicated fraud originated two decades ago.
But Joel Feinstein of Pompano Beach is far from Nigerian. He is a 68-year-old semi-retired condo dweller. And he was indicted this week as the "American representative" of the Nigerian scam artists on one count to commit wire fraud.
The federal government alleges Feinstein received more than $77,000 from September to January from victims in Denmark and the United States.
The victims were sent false documents on letterhead of the Central Bank of Nigeria, according to court documents.
But Feinstein said he was a pawn of the Nigerians, that he conducted his business in good faith only to find out that he had become embroiled in a well-known scam. He even consulted an attorney to make sure he was acting legally.
"I didn't have any complaints until the fourth deal. That's when I started realizing something wasn't kosher," Feinstein said.
He said the Nigerians contacted him after getting hold of his résumé. He said he has done marketing consulting for years and never has been arrested. He has been in Florida since 1983.
He said his job was to help companies collect on debt owed to them by Nigeria. "The people who did come to me were very anxious to receive their checks," Feinstein said.
---
2 area residents warn of cashier's check scam
By RAD SALLEE -
Houston Chronicle
02/07/04 - Cashier's checks, drawn on a bank rather than an individual, are widely regarded as the next best thing to cash.
But two Houston-area women learned the hard way that, to a crook, fraudulent cashier's checks are just another scamming tool.
College student Lawanda Hall of Katy and Tomball resident Janet Stramrood joined Texas Attorney General Greg Abbott here Friday to warn Texans about a common fraud involving cashier's checks and the Internet.
Hall, 21, spent four days in jail after being arrested at her bank for fraud when she tried to cash a bogus cashier's check.
She admits being "a little skeptical" after putting her computer up for sale on the Internet at $500 and hearing from an overseas buyer who wanted to pay with a $5,000 cashier's check.
The buyer claimed that an associate in this country owed him money, and instructed Hall to deposit a forthcoming cashier's check from the associate and wire the $4,500 excess to the buyer.
"I didn't think anything about it, because everyone knows that cashier's checks are supposed to be legitimate and authentic," Hall said.
She presented the check to a teller, who went to a back room. Within a few moments, the law arrived.
Charges against Hall were later dropped, and she never got a chance to transfer any money, but the experience shook her.
"I'd never even been in the courthouse before," she said. "I never even had a speeding ticket."
Stramrood, 34, was more cautious but got burned anyway.
With a new baby, she and her husband, Morné, wanted to sell their sporty Mustang and buy a family car.
"We advertised on the Internet and got a response from a very nice-sounding guy, who said he was in Amsterdam and likes Mustangs," Stramrood said.
"He said he had a client in America who owed him money."
The buyer said the client would provide a cashier's check to cover the cost of the car, and the Stramroods would transfer the excess to the buyer, who would pay to have it shipped.
The Stramroods were determined to "make 100 percent sure" the check was valid before they transferred any funds, she said.
When she deposited it at her bank, she said, "I asked the cashier, `How long will this take to clear? We don't want any problems.' "
Stramrood said the cashier told her: "Don't worry, it's a cashier's check. It will clear tonight."
She went back to the bank the next morning and asked again, she said, and bank personnel told her the funds were already available in her account. With that, Stramrood said, she transferred $7,000 to the buyer.
The next day, he sent her another e-mail, saying the man who provided the check needed an operation and that "his life was in my hands." Would she please send $5,500 more?
Stramrood decided better, but two days after her transfer, the cashier's check came back as fraudulent. Stramrood said she asked her bank how they had validated it before assuring her that it was good.
"They said they were not obligated to tell consumers that the bank that issued the check has got 48 hours, if not more, to refuse it," she said.
Stramrood said she fears that her bank might sue her if she gives its name. Recovering the money is not likely, Abbott said.
Stramrood's advice: Don't take a check for more than the amount of sale, wait seven days, and then fax the check to the issuing bank for validation in writing before transferring funds.
Or, in short, "Be very wary."
---
Melbourne adviser falls for Nigerian scam
Lucie Beaman - moneymanagement.com.au
03/22/04 - Australia - A Melbourne financial adviser has been permanently banned from the industry after falling for a Nigerian letter scam.
Robert Andrew Street, who operated the Box Hill-based financial planning business called 'Making Dollars & Sense', and who until October 2002 was a securities representative for Grosvenor Securities, has been committed to stand trial in the County Court of Victoria on charges laid by the Australian Securities and Investments Commission (ASIC).
ASIC alleges that between April and August 2002, Street obtained more than $700,000 from several clients by misrepresenting the nature and risk of the purposes for which their money would be used.
ASIC alleges that Street, through his company Tira Pty Ltd, transferred the money to various overseas destinations after falling for a Nigerian scam letter.
Street received a proposal from a person purporting to be the Reverend Sam Kukah, Chairman of the Presidential Payment Debt Reconciliation Committee in Nigeria, who offered to transfer US$65 million to Street upon payment of certain upfront fees.
"This type of proposal is commonly known as the Nigerian letter scam. We urge all investors to avoid putting money into unsolicited get-rich-quick offers of this type," ASIC executive director consumer protection Peter Kell said, when Street first consented to ASIC orders relating to the scam.
Street was committed for trial on five counts of obtaining financial advantage by deception, under the Crimes Act (Victoria), and pleaded guilty to all charges.
ASIC had previously obtained orders in the Federal Court, appointing liquidators to Street's companies, and also accepted an enforceable undertaking from Street that he be permanently excluded from the financial services industry.
Street is to appear in the Victorian County Court on 24 June 2004.
---
More Research on Nigerian Fraud Was Needed
BOSTON, April 1 (UPI) -- A Harvard researcher accused of conning $600,000 from coworkers lost it all to a Nigerian e-mail scam, the Boston Herald reported.
Weldong Xu's lawyer described his client as "a gullible guy" at Xu's trial for larceny in Roxbury, Mass., after entering a not guilty plea.
Xu, 38, until his arrest last week did cancer immunology and AIDS research for Dana-Farber Cancer Institute and was a professor at Harvard Medical School,
Xu reportedly solicited the money from 35 people, saying it would go to research into SARS.
Police said Xu confessed there never was any plan to study severe acute respiratory syndrome and he "lied" to investors, including fellow researchers.
However, his lawyer Arnold Abelow claimed Xu had every intention of doing the research until the fateful e-mail arrived.
"He got sucked in," Abelow said.
When police asked where the money went, Xu allegedly told police he lost it to a Nigerian e-mail scam promising him a $50 million return on his investment.
"He fell for it," Abelow said.
Xu was ordered held on $600,000 cash bail, the newspaper said.
---
Nigerian Check Scam role puts man in prison
By Curtis Lum - Advertiser Staff Writer
A 67-year-old Honolulu man has been sentenced to two years in federal prison for his role in an Internet bank fraud scheme that has been associated with Nigerian con artists.
Federal prosecutors believe that Yoshiki Fujimoto is the first person convicted in Hawai'i for his involvement in the Nigerian scam.
The scheme involves people who often claim to be with the Nigerian government who send letters or e-mails, saying they are willing to share large sums of money in return for bank account information or a person cashing fraudulent checks and wiring the Nigerians money.
Fujimoto pleaded guilty to one count of bank fraud. On Monday, he was sentenced to two years in prison by U.S. District Judge David Ezra.
Fujimoto was contacted by a Nigerian in the summer of 2002 who offered him a large sum through a third person, according to court documents. Fujimoto was sent a $245,000 check, payable to himself, that was drawn on a New York bank.
But prosecutors said the check was stolen, "washed" clean and then made payable to Fujimoto.
They said he attempted to deposit the check in his Territorial Savings account on July 19, 2002, but was told by a bank official that the check was fraudulent and part of a scam.
Fujimoto ignored the warning and used the check to open an account at another bank, prosecutors said. He then wired $100,000 to accounts in New York and Indonesia, prosecutors said.
Federal Deputy Public Defender Michael Weight said his client pleaded guilty because "he accepted responsibility for his involvement." Weight said that Fujimoto had just lost his printing business and that he was financially desperate.
"He sunk every nickel he had into the business to try keep it afloat and lost everything, including his house," Weight said. "When you're desperate, you don't want to listen to reason. You want to believe that this was real and it was going to happen and it was OK."
Weight said he hopes this case serves as a warning to others who receive similar Nigerian correspondence by mail or e-mail.
Assistant U.S. Attorney Michael Seabright said many cases involve individuals who lose money, but in the Fujimoto case it was a bank that lost money.
Seabright said it's nearly impossible to retrieve the money once it is wired to someone out of state.
"These are fraud artists —they understand the banking system," Seabright said.
When the scheme surfaced years ago, people were contacted through the mail. Recently, scam artists have flooded personal and business e-mails with the offer.
---
Cheque washing scam hitting businesses
LOUIE ROSELLA - THE MISSISSAUGA NEWS
04/25/04 - Organized crime groups in Mississauga are targeting residents and big businesses in what Peel Regional Police are calling a "lucrative cheque-washing scam."
"There are a combination of people involved in this crime, and some of the methods aren't even very sophisticated," Det. Sgt. John Betts, head of the force's Fraud Bureau, said yesterday. "Some of these rings are pretty rudimentary, but they're getting away with a lot and leaving naive residents on the hook financially."
Fraud officers say the scam started this year in Peel and has already bilked close to $1 million from businesses here and as far west as British Columbia.
Betts said the culprits are intercepting cheques during the delivery process, using cleaning chemicals to "wash off" the dollar amounts and names of the cheque recipients, and then using computer software to insert their own dollar figure and a bogus company name to have the cheque cashed.
"What we're looking into is how and from where, are they stealing these authentic cheques," Betts said.
"We believe it's within the Region (of Peel)."
Recently, Betts said, a $1,300 cheque from a B.C. hospital was stolen and modified into a cheque for $86,000 that the thieves were able to cash.
In some of the 15 cases Peel police have seen thus far, the suspects have simply deposited the fraudulent cheques in an account they opened at a local bank using a false identity.
Under Canada's Bank Act, all you need to open a bank account is a social insurance number and a bank card.
In other cases, the perpetrators have used residents to cash their cheques. Betts said people who are either selling over the internet, or applying for a loan online are the primary targets, but the ring has also been known to select people at random through the phone book.
Betts used the example of someone selling a car over the internet.
"These guys will tell you they'll buy your car for $4,000, but they'll send a cheque for $30,000 and ask you to keep $4,000 and wire them the remaining $26,000," said Betts.
"It's amazing how many people have fallen for this."
Two Mississauga residents who fell for the scam last month were apprehended when they went to deposit the cheque and it came back as stolen.
Police subsequently charged them with uttering a forged document and fraud over $5,000. Betts said police aren't releasing their names because their cases are now before the courts.
"No matter how naive people claim to be, it doesn't release them from the financial responsibility and the possibility of being charged criminally," he said.
"We'd love to catch the brains behind this operation, but we're not there yet."
Canadian Bankers Association spokesperson Maura Drew-Lytle said banks are "well aware of the cheque-washing scam," and staff work regularly with Peel police when this type of crime occurs.
"Our tellers are trained to look for anything suspicious on cheques," she said. "But a lot of cheques these days don't go through tellers. There are Automated Teller Machines."
---
Law Professor Learns Legal Lesson
01/05 - A/P - MIAMI -- A University of Miami law professor says he is an innocent dupe in a complicated Internet scheme that allegedly resulted in $1.68 million being stolen from a major truck-leasing company by scam artists in Nigeria.
Pennsylvania-based Penske Truck Leasing claims in a lawsuit against Fleet Bank and a credit union that Professor Enrique Fernandez-Barros, 73, obtained the "stolen" and "altered" check and helped steal the money from the company. He is not being sued and no criminal charges have been filed.
According to the federal suit filed last week, a $1.68 million check Penske mailed Freightliner in December 2003 to buy tractor-trailers never made it to the truck manufacturer's bank account. Another Penske check for $1.68 million, apparently counterfeit, was sent via FedEx to Fernandez-Barros' home. It was made out to him.
Fernandez-Barros said he had received an unsolicited e-mail from someone supposedly with the Nigerian government asking him to do some legal work, primarily reviewing public-works contracts and helping a Nigerian businessman receive $1.68 million from Penske for a stock sale.
He would be paid $200,000 when the businessman received the Penske money.
The professor, who holds three doctorates, says that when the check arrived, he followed the Nigerians' instructions to deposit it in his account at University Credit Union, an independent institution that serves University of Miami employees and students.
He says he then wire-transferred the entire $1.68 million to the Nigerian government, the businessman and two of the businessman's associates in Maryland.
"I never altered the check, I never knew I was cashing an altered check, and I never took the money," Fernandez-Barros told The Miami Herald. "I'm 100 percent innocent. I've been used."
He says he was never paid.
The trucking company is suing its own bank, Fleet, and University Credit Union, saying they should have prevented the theft.
The company also says Fleet -- which has since been merged into Bank of America -- didn't reimburse its loss and would not go after the credit union to recoup its money.
The credit union says it did nothing wrong.
It "processed that check in the way it was supposed to process that check," said Michael Lozoff, the credit union's attorney. "They received three separate verifications. . . . They relied on Fleet."
Telephone calls to the Nigerian Embassy in Washington were not returned Thursday.
The U.S. Secret Service is conducting a criminal investigation into the case, which has been referred to the U.S. Attorney's Office in Miami.
The U.S. Attorney's Office would not comment on the investigation.
---
Dead Relative Scam Creates Bogus Check Charges
By Paul Ferguson - Daily Register wiscnews.com
01/05 - PORTAGE, WI - The Columbia County District Attorney's office has filed charges against a Portage man for allegedly altering a check's amount from $1,300 to almost $30,000.
Freeman W. Decorah, 30, allegedly cashed the check for $29,928.94 in September at Associated Bank, according to the case's criminal complaint.
Portage police began investigating the fraud in October when the Bank of Montreal completed a declaration asserting the check was originally for $1,328.94 in Canadian currency and issued to Honeywell LTD.
Decorah told investigators "that he had been contacted on the Internet and was told that he had an inheritance from a relative in Canada," the complaint stated.
Decorah also said the person who contacted him about the alleged inheritance told him to cash the check to pay a Canadian attorney $30,500 for finding him and for other fees.
Decorah said he turned over the cash from the check and $600 of his own money to a man in Madison, but as of Oct. 19, he hadn't heard anything further from the people who supposedly had an inheritance.
Employees at Associated Bank, however, said Decorah asked about opening an account and specifically about business accounts when he first attempted to cash the check. He also told a bank employee he needed the money to cover a down payment for a house.
Decorah allegedly took the check's entire amount in cash despite an employee's advice for him to take the money in a cashier's check.
According to the complaint, police wanted Decorah's computer to get information on the senders of the check and read Decorah's correspondence with them, but he said he'd given away the computer.
Police conducted a search on Decorah's Portage home, and found receipts from purchases Decorah made in October totaling $975. He also apparently opened an account at Amcore Bank with $800 cash, according to the complaint.
Police found marijuana during the search as well, which landed Decorah in jail on charges of second-offense marijuana possession, a felony.
In jail, however, Decorah negotiated his release by saying he knew where the computer was that would have his correspondence with the check's senders.
Decorah claimed he hid the computer to protect himself and be able to prove he wasn't responsible for the check scam.
Decorah arranged to turn the computer hard drive over to police, but then refused unless the marijuana charges against him were dropped.
Detective Dan Pionke of the Portage Police Department said because Decorah didn't cooperate with the investigation, it's unclear whether he actually got caught up in a scam or if he fabricated the story.
Decorah is charged with theft by false representation, and faces up to 10 years' prison and a fine of up to $25,000 on the charge.
He is currently free on signature bonds in both the theft and marijuana cases.
---
Check Cashing Internet Scam
03/05 - Houston - A Perry businesswoman, who works out of her home, was asked to deposit a $26,000 check and $4,000 in money orders into her bank account by a Nigerian businessman who contacted her through her business Web site.
She was asked to cash the check and money orders and wire him $28,000. For her trouble, she would be allowed to keep $2,000.
But after she had wired the money, the check turned out to be stolen and forged, and the money orders turned out to be fake. She's liable for the full $30,000.
The other woman was asked to deposit $7,000 in money orders in her credit union account and wire the cash to a Nigerian man she'd met in an Internet chat room.
The money orders were counterfeit and the woman is liable for the $4,000 that was paid out by the credit union and wired to the man before the scam was discovered.
They're left holding the bag. Neither was charged with any criminal offense, but have agreed to repay the bank or credit union.
---
[ Home ] [Up] [Victim Arrests 2]