---
Dazzle International Talent Agency
President Bob Hanson CEO Mary Foor
Dazzle International Talent
6391 De Zavala Rd Ste 221
San Antonio, TX 78249-2159
(210) 561-1226
[Vid caps courtesy: WOAI - News 4 San Antonio]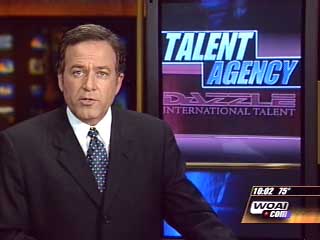 Dazzle International Talent Agency in the news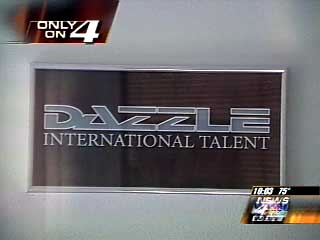 Dazzle International Talent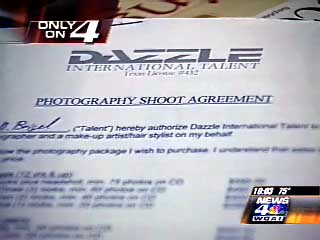 Photo Shoot Agreement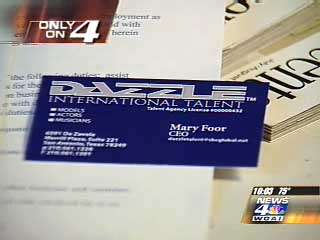 CEO Mary Foor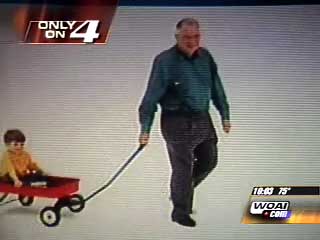 President Bob Hanson
Talent Agency Closes without Telling Clients
Only on 4
9/8/2004
WOAI - News 4 San Antonio
A talent agency closes up shop, and now former clients are wondering what's
going to happen to their hopes of becoming famous.

Debora Beigel had dreams of her 6-year-old daughter Brianna becoming a star.

She was shocked when she went to get her daughter's modeling pictures from
Dazzle International Talent Agency, because all she got was a litany of
excuses.

"No, she didn't have them, that Bob had them. It kept going back and forth.
Then Bob called me and said that he didn't have them, that Mary was
mistaken, that she had them. And it was just back and forth. Back and
forth," said Deborah Beigel.

News 4 WOAI went to the Dazzle Agency looking for its president Bob Hanson
and CEO Mary Foor.

The place was locked up and nearly empty. But we did find Bob Hanson on a
Via bus commercial. He's shown pulling a boy in a wagon.

"I think I made the mistake of paying them in-full up front, and they said
they couldn't book the shoot unless they were paid in-full. At first I
though, well, but then I didn't get any bad vibes from them," said Beigel.

But the Beigel's aren't the only victims. Freelance Photographer Earl Croft
says the Dazzle Agency owes him $1,200.

"I just kinda figured there wasn't much I could do about it. It's a
freelance deal, and unless I want to go to small claims court and stuff like
that, it's one of those things I write-off and say that's just the way it
is," said Croft.

Deborah Beigel says she paid Dazzle nearly $300 for their services.

She'll file a formal complaint on Wednesday with the Better Business Bureau
about Dazzle's business practices.
http://www.woai.com/news/local/story.aspx?content_id=B6495D14-0DD1-4D40-8018-BBD4EA5A9AFF [Sept. 14, 2004].
---