---
Diamond Productions, Inc. aka Diamond Productions Talent Booking aka Commercial Cast (http://www.commercialcast.org/) by Christina Aston
Superb "Magazine"; Animations "International"
March 15, 2005
[Last Updated: September 13, 2005 ]
Addresses
5602 Baltimore National Pike Suite 200
Catonsville, MD 21228
3500 Dolfield Ave.
Box 68012
Baltimore, MD 21215
2226 MADISON AVENUE
BALTIMORE, MD   21217
Inquiries
Several people, both parents and aspiring models and actors, have asked about Diamond Productions, wanting to know if it is legit. The following information was developed in response to public interest.
Report
March 15, 2005
[Last Updated: September 13, 2005 ]
Ownership/Leadership
Diamond Productions Talent Booking is owned and operated by
Christina Aston, an aspiring actress in Baltimore, MD.
Website
The Diamond Productions website is not www.diamondproductions.com, but www.commercialcast.org.
Licensing/Bonding
It was confirmed in March 2005 by the Maryland Department of Labor that Diamond Productions does not need a license (state licensing requirement was repealed in April 2003), but it does have to pay a surety bond in the amount of $7,000, and it has paid this fee. Diamond Productions, therefore, can do business as a modeling and talent agency in Maryland.
However, one of the prohibited acts under the employment law for talent agencies is charging registration fees or advance fees: An employment agency may not. . . . charge a client a registration fee or collect in advance from a client a payment for service to be performed for the client to obtain employment."
Consumer Comments
Consumers have reported Diamond Productions asked them to pay a registration fee in the amount of $75.00. This was called a job guarantee fee.
BBB Report on Diamond Productions
The Better Business Bureau (at the time of writing) received complaints, but it has no unresolved complaints. However, the BBB also noted Diamond Productions has not been forthcoming about basic business information: "The Bureau has requested basic information from this company. The Bureau has not received a response."
Comments
Before doing business or giving money away, consumers should ask Diamond Productions what information they refused to give the BBB and why. The BBB's standard request for information is not invasive and only intended to protect the public, and most companies provide the requested information.
Background
Diamond Productions claims it has been in business for 10 years (http://commercialcast.org/sys-tmpl/faqaboutus/) [March 15, 2005]. The website of the
Maryland Department of Assessments and Taxation, however, records it was registered in 1998: "Date of Formation or Registration: 09/10/1998." The record also showed DP's status was "Forfeited," which means "its existence has been ended by the State for some delinquency." The details for DP:
" THE ENTITY WAS FORFEITED FOR FAILURE TO FILE PROPERTY RETURN FOR 1999." "Good standing": "No."
References
All of the references or "Testimonials" DP provided on its website were html text which could not be verified. You cannot tell if they were made up. The About Us page did not provide the names and testimony of any industry leaders or major clients recommending CommercialCast and its unusual practices.
Unusual Practices
Diamond Productions aka CommercialCast is not your typical modeling and talent agency. In fact, after reviewing many different modeling companies, it is fair to say there is nothing like Diamond Productions. It is quite unusual, and not in an obviously good way.
For example, DP says it is not an agency (even though the Maryland law defines an agency as a company that "provides a client with information to enable the client to obtain employment"), but it has paid the surety bond, which is required of every employment (modeling/talent) agency. A model on one modeling website, CurvyChick.com, sarcastically called Diamond Productions a "'non-agent' agency."
It is also called Diamond Productions Talent Booking, according to the BBB. Booking agencies for modeling and acting jobs typically charge no fees for anything before talent works. DP charges a registration fee and charges talent for several extra services. Typically modeling agencies always take a commission, usually 20%; whereas DP says it does not collect any commission.
DP says it also does "a phone audition service which guarantees talent participation in on-the-spot auditions." (http://commercialcast.org/sys-tmpl/animationsinternational/) [March 15, 2005]. This is highly unusual. Unknown talent receive notices of guaranteed bookings or "Booking Confirmations" for commercials, etc., when they have never even met with the client.
Normally, talent goes to an audition or more than one audition, actually speaks in front of the client or casting director, who can evaluate their look and discern their talent. You have to wonder what kind of clients book talent they have never met. Telephone calls are no substitute for meeting one-on-one.
Fees, Fees, and More Fees
Diamond Productions charges talent advance fees. After they are "booked," they are asked to pay a $75.00 "job guarantee" fee.
I recently replied by sending a head shot and resume for a casting call to a website called  www.commercialcast.org.  I received a response stating that I had been selected to appear in a television ad for XXXX.  A speaking role for a spec commercial.  It seems pretty detailed with an address, the amount of pay and shooting date.  They do however require a $75.00 job
guarantee fee.  Here is all the information that was emailed to me.  I am supposed to pay and respond by XX-XX so if you have any information it would be greatly appreciated.
This socalled job guarantee fee is not common of modeling/talent agencies and it is widely regarded as unethical to charge talent any registration fees, no matter what terms, phrases, or words are used to conceal or blur the fact they are registration fees.
Talent, further, are asked to pay audition fees. "To participate in the current auditions, you will need to pay a one-time access fee of $60 to Diamond Productions to obtain full access for a period of one year." Reputable modeling and talent agencies do not charge audition fees. (http://commercialcast.org/sys-tmpl/animationsinternational/) [March 15, 2005].
Diamond Productions has devised as many ways as possible to take your money before you work. For an internet "marketing tool" or scrapbook, called a "magazine," you must pay $25. You can pay even more if you want to be featured on their website:
SUPERB MAGAZINE IS AN ONLINE MAGAZINE TO BE VIEWED BY SUBSCRIPTION HOLDERS ONLY. TO BECOME A SUBSCRIPTION HOLDER, YOU MAY RECEIVE ONLINE COPIES OF EACH MONTHLY ISSUE FOR THE AMOUNT OF $25 FOR 6 MONTHS. . . . 1 MONTH APPEARANCE FEE = $50.00. (http://commercialcast.org/sys-tmpl/scrapbook/) [March 15, 2005].
Consumers also report they were asked to pay DP for classes by video. This was highly unusual and self-serving, because the talent had apparently already been booked--before the training!
Why would an agent book talent if it had not been trained or it felt that training was needed? Obviously it normally would not do this, but in the DP case, it gets paid a nice chunk of change.
I am an aspiring actress and had submitted to this company who now says it will book me in a commercial for XXXXX.  All I need to do is come up for a preparation workshop to guarantee my spot.  They sent me an email with a contract that looks very good.  Please let me know about this as I have to sign up by XXXXX to reserve my spot.
DP's commercialcast website indicates they book talent in California:
Commercialcast New York is our Talent Booking Division for New York based talent. This division handles talent to be cast in the New York, New Jersey and the Washington, DC areas. A wide rangs [sic] of bookings are handled in the Los Angeles area of California as well. (http://www.commercialcast.org/sys-tmpl/door/) [March 15, 2005].
California law, however, is extremely strict with respect to advance fees charged to talent. Labor Code 1700, for example, prohibits talent agencies from charging any fees for anything before talent gets work. Talent agencies are not even allowed to collect fees, even if they keep none of them for themselves. The law is set like that because so many scams charged talent advance fees.
How the scheme works
Since DP is uncommon in its fee schedule, not charging commissions, you have wonder why. The only rational explanation is DP thinks or knows it can make more money from charging talent fees instead of getting commissions. What other explanation is there?
There is not enough information available yet to call DP a scam, even though it charges advance fees for registration and classes like many modeling scams, but there is an obvious scheme. The scheme is designed to get talent to pay them before they work and even if they don't work.
The lure is very strong when talent receives a "Booking Confirmation" notice. This makes it appear as if talent has already got a job. Excitement takes over. It appears as if they are so close to working as an actor or model, the hardest part is complete. Now all they have to do is show up or pay a little fee to guarantee a job. The fee seems so trivial in comparison to the mega bucks they could earn; it seems worth it. This has the effect of stringing talent along.
Then they are told about the acting seminar or video. Less than $200? Nothing compared to the big bucks they'll earn from commercials and residuals, right? Not so fast!
The fact that DP does not take commissions could mislead talent into thinking they are getting a deal, i.e., after they work, they keep all the money, nothing gets cut for the agency. If the payout, however, is very small, because the job was very minor, it does not help talent, and it is certainly not a "deal."
Money Back
If you want your money back, know that DP paid $7,000 into an "insurance" fund for those who feel they were misled, and you could make a claim for a portion of this money. (First-come, first-served.)
Other Sites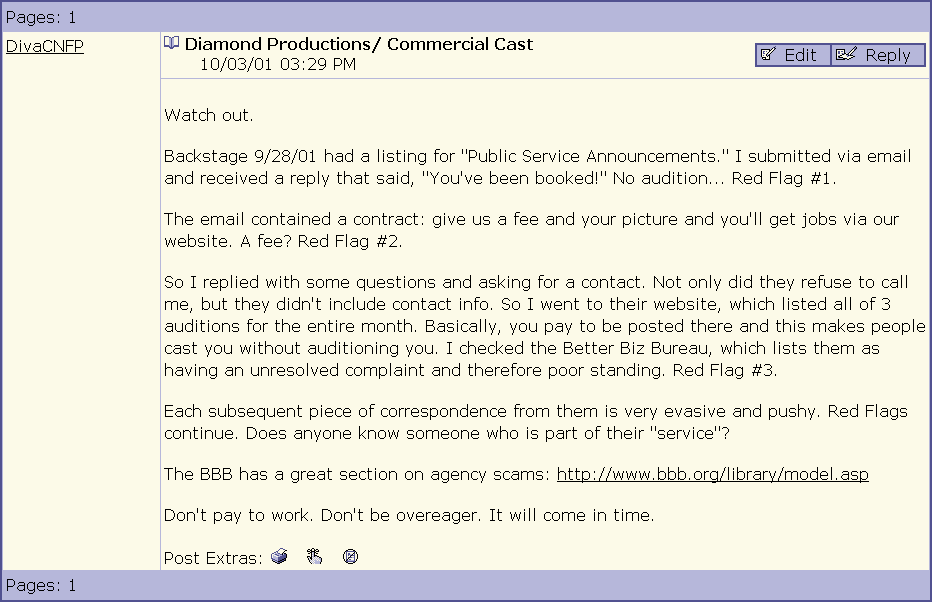 (bbs.backstage.com/showflat.php?Cat=&Board=UBB16&Number=70608&page=19
& view=expanded&sb=5&o=&fpart=1)
[March 16, 2005].
See also:
Further Research
Contact the Maryland Department of Labor to speak with a state attorney and discuss the advance fee of Diamond Productions in the context of the Maryland Employment Agency Act, whether it is legal or not.
Contact the company directly which Diamond Productions claims you were booked to represent. Find out if they have a contract with DP. If they do, ask for details on fees and ask them why they work with a company which does not even meet talent before they are booked.
Contact Easy Background Check to share your experience, concerns, complaints, etc., or to discuss Diamond Productions.
Previous Inquiries
I would like to get addition information about this company if you have it.
My young son is a model and after responding to a casting notice last week,
received a "Booking Letter" today.  The letter states that upon review of his
pictures he has been selected to appear in one of a series of magazine and
television ads for national products.  The letter goes on to say that his
position is reserved and indicates that Diamond Productions is not an agency
and will not take a percentage of the money made, but does require that I
pay a one-time fee of $75.00 to guarantee the position and get access to
future castings.  According to the booking letter all travel expenses will
be paid by the client, and not us.   When attempting to call and get more
information I got a "mailbox is full message".

Do you know if this company is legitimate?  Below is the contact information
I have for them:

Diamond Productions

Cristina

www.commercialcast.org

Mailing address:

Diamond Productions, Inc.
P.O. Box 68012
Baltimore, MD 21215

Production Office:

The Suburbia Building
5602 Baltimore National Pike, Suite 200
Baltimore, MD 21228

Any information you can provide will be appreciated.
---
I would like to find out any info on Diamond Productions and
comercial cast.org,  in Baltimore Maryland.

My daughter and I sent in her pictures to be considered for
castings. We received a booking letter asking us to go to Baltimore
next Saturday to participate in a spec commercial and print ads for
[MAJOR BRAND]. It indicates that the client will pay for travel expenses
and my daughter will be paid $50.00 per hour plus residuals of
$25.00 for each time commercial might air and and would run. They want
us to sign the contract by XXX. XX and we are required to attend a
3 hr seminar or order the video seminar for $198.00 which they will
prepay $100.00 as an advance, so we would now pay them $98.00. We
live in California and this would be traveling across the US for us.
Is this a legitimate company? I would appreciate any information you
have. Thank you, Concerned Parent, California
Contract
Fwd:
This is the Latest Contract Diamond Productions
(Commercial Cast Baltimore, Commercial Cast New York)

What They Do is send a "Casting Notice" For A vague Job --
(The last one was a "PSA to be Shown on Lifetime" Paying
$50.) Everyone that responds gets "Hired" and sent this contract.

The contract simply says We keep your money from the shoot
and you owe us either $148 More for our class or video of the
class  OR you can owe us only $75 if you take our Job Guarantee
instead. You will note the Guarantee does not state "Paid Work"
or a Time frame. So they get you an Unpaid Student film
in the year 2525 and they have completed their obligation to you.

This copy of the contract was used in an earlier Scam where they
had a "casting Call for Headshots to be Posted on a NYC website
( The Site was believed to be theirs as well) and you were to be paid
$25 per day your heads

Here is the Cover letter & Contract

***********************************************************************
THANK YOU FOR SUBMITTING YOUR PHOTOS !

BOOKING LETTER:

Upon review of your photos, you have been selected to appear in one of
a series of magazine and television ads based on Nutrition.   The
Production date is scheduled  for November 20, 2004.  The pay rate is
$50 per hour + residuals for each additional request of publication.
Full details are enclosed and must be confirmed by November 5, 2004.

THIS IS ACTUAL JOB PLACEMENT.  NO ADDITIONAL AUDITION IS REQUIRED!

BOOKING DETAILS:
Diamond Productions  has reserved a position for you to appear in
one of a series of magazine and television ads based on Nutrition.

Date: 11/20/04
Time: 10am
Location:  5602 Baltimore National Pike/ Suite 200 / Baltimore, Md.
21228.
Flight arrangements will be made for those that require long
distance travel.

Dress Attire:  Business Casual (slacks or dress) Blue, Beige, Black or
Rust related.
Children under 13 should dress according to the weather wearing
casual/colorful attire.

Pay: $50 per hour + residuals for each additional request of
publication.
You will earn $25 each additional time your ad will appear.
Details:
Commercials>>>>$25 per commercial spot
Speaking roles >>>> $30 per word
Magazine Ad>>>$25 per ad layout

Please Note:  The client has the option to use your photo for the
adlayout to avoid photoshoot attendance.  This pertains only to the
magazine ads.

Previous commercial and print projects include:

Nokia Cellular phones
Nickelodeon channel PSA's
Tori Skincare Distribution
Visa Charge Card
MCI long distance
Sony Electronics
Fashion Bug Clothing Store
Lifetime Channel PSA's
Exercise and Fitness Articles
Health Watch  for Teens
Anti Drug Awareness
Eating Habits for Children
Beauty Clips
Breast Cancer
And Many More

With the approval of our clients, Diamond Productions has selected
you to be cast through our Talent Booking  Division,  
"Commercialcast New York". As a Production company, Diamond
Productions is able to guarantee your participation in projects
produced by Diamond Productions and Associates.
Your first job is offered as an introductory to our "guarantee" program.
Since we are not an Agency, we will NOT obtain a percentage of your earnings.

Diamond Productions gives you first hand access to in-house
commercials, print advertising, Cable Program Series, Internet
Advertising, and Diamond Productions' very own magazine. . . SUPERB
MAGAZINE .   "WE CREATE WORK FOR YOU". You will have full access to
our "Upcoming Auditions" calendar found on
our website at www.commercialcast.org   to select from ongoing
projects involving: Television Series, Soap Operas, Commercials, Film,
and Magazine work located in various areas of the United States and
abroad.  ALL CURRENT AND FUTURE POSITIONS ARE PAID. On-the-job
training for those new to the Industry.

OUR GUARANTEE POLICY:
As a Production company, Diamond Productions eliminates the Agent
(middle man) and allows you to work directly with Production Companies
and Casting Directors in char ge of the selection process.   We
guarantee job placement to those selected.

PLEASE REVEIW THE FOLLOWING CONCERNING TRAINED AND UNTRAINED ACTORS:

1.  UNTRAINED TALENT

To uphold our guarantee and assure our clients that you are prepared
according to our policy, we require that you attend a 3 hour
preparation workshop taking place at our Baltimore location.  There is
a fee of $198 for the workshop.
This guarantees your job placement  and future opportunities or your money back.

TO REASSURE YOUR PARTICIPATION, WE WILL PAY YOU AN ADVANCE FOR YOUR
FIRST PRODUCTION APPEARANCE.  THIS WILL APPEAR AS A $50 DEDUCTION FROM
YOUR WORKSHOP FEE LEAVING YOUR BALANCE DUE OF $148.

Workshop date:  November 10, 2004
Time: 6pm - 8pm
Location:  The Suburbia Building in Baltimore County.
5602 Baltimore National Pike, Suite 200

PLEASE BE INFORMED:  If you are unable to attend the workshop, you
have the option to accept the workshop video instead.  You will need
to pay the same cost of $148 for the training video as you would for
the workshop.
Please specify.

2. TRAINED TALENT

If you do not wish to participate in the workshop, you have the
option to pay the GUARANTEE fee of $125.00.
Since you will receive an advance payment of $50 for your job
booking, the total due would be $75.00.

View further details of the workshop on our website at
www.commercialcast.org

This job placement has been reserved for you. If interested, please
review and sign the enclosed "JOB PLACEMENT GUARANTEE" form and return
with the required fee to Diamond Productions by November 5, 2004.
Once the Agreement and fee are received, a work permit will be issued
and a Representative will contact you to confirm your booking dates.
Scheduling dates can be viewed on
the " Auditions Calendar " of our Website.  At that time, you will
receive passcodes to the Xfiles Job Postings as well. This will give
you access to select for additional job opportunities for a lifetime!
Payment must be made by cash, money order, credit or debit card online
through  PayPal.com .  No personal checks are accepted.  YOU MUST
BRING A COPY OF THIS LETTER TO THE
WORKSHOP. THIS IS PROOF OF YOUR JOB BOOKING.

************************************************************************
********************

JOB PLACEMENT GUARANTEE

I, ____________________, do hereby agree to accept job placement
through Diamond Productions' Production Company.  I understand that I
will be guaranteed job placement  in one or more of the following
categories: TELEVISION (Commercials,  PSA's, T.V. Programming, Show
hosting, Infomercials) or  PRINT (Magazine Articles, Billboard,
Promotional, Online Ads). I am
aware that I am not obligated to accept each job that is presented to
me. Diamond Productions is not representing me as an Agent, therefore,
will not receive a percentage of the earnings I obtain through job
bookings.
I agree to receive payment directly from the Production company of
which I am assigned for work.
If job placement does not occur on the behalf of Diamond
Productions, I will be fully refunded.

___ I agree to accept a $50 advance payment for the first production
appearance.  This will appear as a deduction from the total cost of
the guarantee service.

TRAVEL Varied travel expenses will be paid by Client if extensive
flight arrangements must be required for booking, otherwise the talent
must pay for the expense of light travel.  Talent must NOT pay for
travel costs in advance.

WORK PERMIT  Talent, under the age of 18, must obtain a work permit to
work in select areas to be obtained through the Department of
Education.

Talent name (print)_____________________________  Date:
__________________

Signature: ____________________________________  Date:
__________________
              (must be signed by talent or adult over 18)

Email address:
_______________________________________________________
Mailing address:
______________________________________________________
City:  ______________________ State:  ______________ Zip:
________________

****************************************************************************
********************

TALENT RELEASE FORM

I, ______________________, HEREBY AUTHORIZE RELEASE OF ANY PHOTOS OR
VIDEO FOOTAGE PROVIDED FOR AN AD CAMPAIGN  FOR A PSA BASED ON NUTRITION,
FOR THE PURPOSE OF ADVERTISING OR PROMOTIONAL.  FUTURE USAGE OF PHOTOS OR
VIDEO WILL NOT BE PERMITTED WITHOUT TALENT'S PERMISSION.  ADDITIONAL
PUBLICATIONS ARE DETERMINED BY THE EFFECTIVENESS OF THE AD.

Talent's Name __________________________

Authorizing Signature __________________________Date_______________

Mailing address  ___________________________________________________
City_______________________State________________zip ________________

You may pay by debit or credit card online via  PayPal.com or mail a
money order to Diamond Productions.  No personal checks accepted

MAILING ADDRESS:
DIAMOND PRODUCTIONS, INC.
P.O.  Box 68012
Baltimore, Md. 21215

Production Office (No mail accepted)
The Suburbia Building
5602 Baltimore National Pike
Suite 200
Baltimore, Maryland   21228

PLEASE NOTE:  Due to our GUARANTEE,  all inquiries must be done in
writing for documentation purposes.  Please feel free to direct any info
requests by email.
The above information is pertaining to "GUARANTEED"  jobs only. If
you are interested in auditions for jobs that are not guaranteed, you may
select from one of the options on the  >>>Talent Registration  page.

Christina, Diamond Productions
www.commercialcast.org

Shop online with Diamond Productions
to receive namebrand merchandise at wholesale prices.
Contact Christina for details at
[email protected]

This week's sale

Compaq Pentium III 500MHz Laptop
Includes FREE leather carry bag!
Your Price: $549.99
---