---
Image Models and Talent (IMT) Sunset Gower Studios aka Talent Managers of Hollywood
(imagemodels.com) (talentmanagersofhollywood.com)

"Los Angeles has always been a place where people come to pursue their dreams, driven principally by Hollywood. And dreams can come true. But anyone who is out there tarnishing that image and prohibiting people from pursuing their dreams in the most appropriate way should be dealt with. And we're going to do that." -- Los Angeles City Attorney Rocky Delgadillo (August 13, 2001)
On September 18, 2002, the LA City Attorney's office issued a press release: "City Attorney Delgadillo Brings Curtain Down On Malibu Talent Company"
Call the City Attorney's Office to report ILLEGAL BUSINESS. Complaints - Call Mark Lambert, Deputy City Attorney, or Elizabeth Calles, Detective: (213) 978-8070
Los Angeles City Attorney's Office
200 N. Main Street, Room 800 CHE
Los Angeles, CA 90012-4131
Background information
Leif Soderling
This page contains an online IMT ad as seen at craigslist.org on June 22, 2003, followed by a review of the ad.
losangeles.craigslist.org> artists > ACTORS & MODELS NEEDED
last modified: Sun, 22 Jun 23:30
email this posting to a friend

ACTORS & MODELS NEEDED
---
Reply to: bookings@imagemodels.com
Date: 2003-05-22, 12:20PM


IMT @ Sunset-Gower Studios is seeking new faces.

New and Experienced.

all ages and races.

Please send a headshot or picture to:
IMT
Sunset-Gower Stuios
1438 N. Gower St.
#22
Hollywood, CA 90028
Attn: New Faces


it's NOT ok to contact this poster with services or other commercial interests
this is in or around IMT @ SUNSET-GOWER STUDIOS

---
Copyright © 2003 craigslist


---
Image Models and Talent (IMT) advertised online (see above) as if they are a talent agency. The contact email address implied they are not only a talent agency but also book talent (bookings@imagemodels.com).
The online ad also said: "IMT @ Sunset-Gower Studios is seeking new faces." The ad implied they had a New Faces Division (Attn: New Faces), like licensed talent agencies.
The company name implies they are a talent agency, for many modeling and talent agencies use the words "models and talent" in their business name.
The website address ending in models.com also implies they are a talent or modeling agency.
By each representation viewed separately, or all representations viewed jointly, consumers acting reasonably will conclude IMT is a talent agency.
However, it is illegal in California to operate a talent agency or book talent without a talent agency license (see Labor Code 1700).
Note: it is also illegal for a licensed talent agency to charge registration fees.
To check if they have a talent agency license, visit the California state database of licensed talent agencies:
BBB Record for IMT (December 10, 2003)
Image Model Talent
1438 North Gower Suite 226 Sunset at Gower Studios
Hollywood CA 90028

Business Started: 01/01/01
File Open Date: 06/03/02
Last Report Date: 12/01/03
Principal Contact: Leif Soderling

Phone: (323) 468-7900
Fax: Not Available
Email: Not Available
Web Address: Not Available

Bureau ID: 13174275




Nature of Business
This company's business is model & talent services.

Bureau File Experience

We rate this company as having an unsatisfactory business
performance record.

Some complainants allege the company makes unauthorized charges
on their credit or debit cards, and fails to credit or refund the amount
after the error is brought to their attention. Other clients complain that
the company fails to provide submission services, fails to find work, or
that photos taken are overpriced, and of poor quality.


The company responds to most complaints by offering explanations
for charges, crediting or refunding unauthorized charges, stating the number
of submissions and auditions clients are sent to, or, refering customers to
specific contract clauses which directly relate to their dispute. One
complaint is unresolved, meaning the customer is not satisfied with the
company's response.


We believe this company may be required to post a $10,000 bond
and register with the Industrial Relations Board (IRB) as an advance fee
talent service. As of our last verification, on December 1, 2003 we found no
record of registration with IRB for this company. Any company that requires
a fee in advance to procure or offer to procure employment, provide
management services, give direction or counseling to develop the artist's
career is required to be licensed with the Department of Industrial
Relations.


To obtain licensing information write to the Division of Labor
Standards Enforcement, Department of Industrial Relations Legal Section at
P.O. Box 420603, San Francisco, CA 94142 or call (415) 703-4846. The website
address is www.dir.ca.gov. The Labor Commissioner will also pursue claims
against model/talent agencies on behalf of customers.


California laws relating to " advance fee talent services "
allow 10 days to cancel contracts without penalty or obligation. In some
cases, refunds must be provided within 48 hours, or the company is required
to pay the artist an additional sum equal to the original amount of the fee.
Cancellation procedures should be outlined in your contract.


Our experience with similar offers, is that consumers enter into
agreements based on verbal representations and not the actual services in
the contract. We advise careful review of the contract. According to
licensed talent agents, portfolios are developed over the course of a
persons career and novices do not need expensive portfolios.


The Better Business Bureau does not endorse, recommend or
disapprove of any company, product or service.




Additional Phone Numbers

There are no additional phone numbers for this company on file.

Additional Trade names
Image Model Talent

Additional Addresses
There are no additional addresses for this company on file.
---
QUESTIONS FOR IMT
The following email was sent to a representative at the imagemodels.com web address. It did not bounce but received no reply. It is posted as a guide for consumers who should ask the same questions of IMT before payment. Do not pay until you receive answers.
December 11, 2003
Mr. Soderling:

You are named as the contact person for IMT in the BBB record for IMT.
You previously and publically identified yourself as a representative for
IMT in an internet forum:

"Our company bills the ad agency/production company generally within a week
or so of the date that the assignment has been completed (depending on the
current work load on our accounting department). The ad ageny/production
company then "usually" sends a check to us within a month (or sometimes two,
depending usually on whether they have to get the funds from their client).
The check goes via snailmail to us. We deposit, wait for the check to clear
and then pay the talent on either the 1st or the 15th, whichever is the next
closest date."

http://modelforum.com/wwwboard/messages/18186.html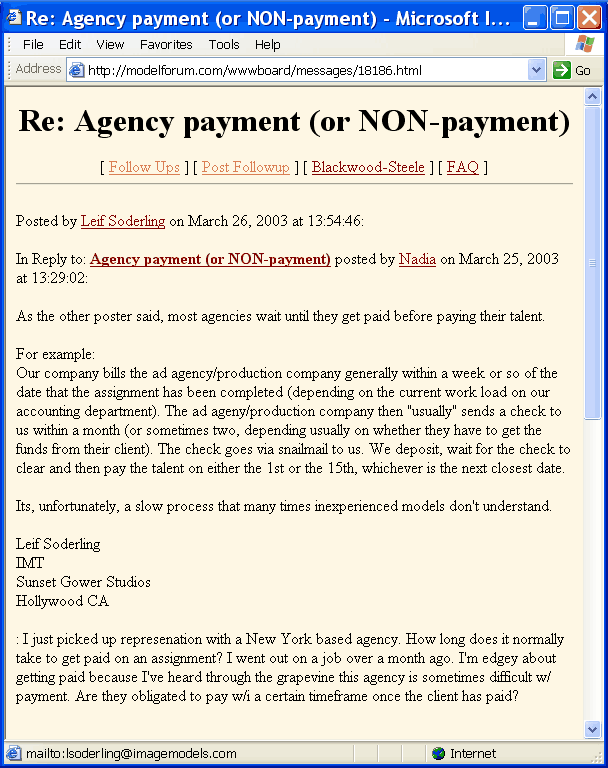 In the preceding post you clearly revealed you have booked talent. Do
you have a talent agency license as required by California state law to book
talent? If not, why not? The state database shows no listing for your
company. The BBB has also investigated IMT and determined you do not have a
talent agency license ("As of our last verification, on December 1, 2003 we found no
record of registration with IRB for this company.").

IMT, it is widely known, charges upfront fees. Do you understand, if you
have booked talent, not only do you need a talent agency license, but you
also must return all upfront fees within 48 hours of the talent's demand,
otherwise you can be dragged to the DLSE and forced to pay 100% penalties to
all talent? For every person who pays you $350, you must pay them $700. It
is illegal for a talent agency to charge upfront fees.

Is IMT in compliance with all California laws?
---
Note: If you have paid IMT, you may be eligible for a full refund plus 100% penalties if you can prove IMT meets the legal definition of a talent agency and/or an advance-fee talent service (as the BBB suggested). Under Labor Code 1700 and 1701, the agent/manager has 48 hours to return the upfront fees or else they must return all money and pay 100% penalties (see earlier cases).
---
Here is a link to the original posting on craigslist:


---
losangeles.craigslist.org > tv video radio jobs > Models for casual print
last modified: Sat, 28 Feb 15:20 PST
Models for casual print
---
Reply to: newlooks5000\\yahoo.com
Date: 2004-02-27, 7:53PM PST


Wanted: 10 East Indian and Caucasian female models for casual print. Age requirement: 21-28 years old. Dress size requirement: 3-6. Must be able to shoot for 4 hours straight.



Compensation: $150-250
Principals only. Recruiters, please don't contact this job poster.
Please, no phone calls about this job!
Please do not contact job poster about other services, products or commercial interests.
Reposting this message elsewhere is OK.
this is in or around Los Angeles area

25312898


---
Copyright © 2004 craigslist terms of use privacy policy feedback forum
---
Here are 2 emails that were sent to me before I realized who the company
really was:

FROM: Donna Martinez <newlooks5000\\yahoo.com>
SUBJECT: <no subject>
DATE: 3/1/04

Hello.

This is in regards to the craigslist ad posted 2/28/04. Just to remind you
this is what it said:

Wanted: 10 East Indian and Caucasian female models for casual print. Age
requirement: 21-28 years old. Dress size requirement: 3-6. Must be able to
shoot for 4 hours straight.

We will be conducting auditions Tues 3/2 from 12:00PM to 7:00PM.

If you are available please email me back with the time (at every ½ hour)
that you are able to audition, and your entire name, and your contact
number.

Please email me ASAP, limited availablities.

Because of the short notice, we are extending this audition for the entire
week.

The sooner we see you the better your chances are of making the cut, we hold
people who are diligent in high regards.

Thank you very much.

P.S. Please make sure you email the time, your entire name, and your contact
number or we will not bother to schedule you.


FROM: Donna Martinez <newlooks5000\\yahoo.com>
SUBJECT: <no subject>
DATE: 3/3/04

Your audition time is 12:00PM, Wed 3/3 at Sunset Gower Studios 1438 N. Gower
St. Building 70 Suite 226 Hollywood, 90028. Bring with you recent photo(s)
and resume if available. Do not sign in on IMT list and number sheet. Henry
will check you off as you come in. Just fill out IMT applications. You must
speak to Henry only. Dress cute but nice. Dress to impress but please don't
over dress. If you have any questions about the audition call (323)893-6109,
leave your name, number and your question and we will get back to you.

Thank you very much.
Consumer Comments
Mach 2004
i wasn't sure which addy to write to, but wanted to thank you so much for this site. I got a call from image models & talent to come in for an interview, and it seemed fishy. although i've been in the market for new representation, I did not recognize their name. when I asked the representative if they had a website I could check out (most good companies do these days), he seemed to get a little defensive with his "no, we don't".
when I asked how he got my information, he wasn't sure and sited a # of different places he might have gotten it. one thing that I find interesting is that he assured me that no $ would be asked for up front, that only 10% would be taken if jobs were booked, but it seems from your info here that this is not true.
anyhow, my time is valuable and I almost went in to meet w/them, but because of the info I found here, I won't bother. so, thank you again. i've been aware of companies like this scamming people for a while, and am definitely glad I did not waste another minute w/these folks!!! you rock!!
Conscientious Consumer
Apparently this company recruits "talent scouts"
Hello!

Thank you for showing interest in the talent scout position. I am interested in meeting with you to discuss the position in greater detail. I would like to schedule an interview for XXXX, May X, at 1:00pm. We are located in the Sunset Gower Studios, building #70, suite #226.
It is a working movie / television lot, so security is extremely tight, you will need to be on our guest list as well as show valid picture identification. Please park on the street and allow time for parking and traffic.
Timeliness is a crucial element to success in the entertainment industry, we expect that from the talent we represent as well as our employees, so please be prompt. Please email me to confirm that you are available and will be here to meet with me on this upcoming Monday.

Looking forward to meeting you, and potentially working with you!

Sincerely,

Alyssa D.
Talent Managers of Hollywood
Sunset Gower Studios
1438 N. Gower Street
Hollywood CA, 90028
"Talent Managers of Hollywood" advertised on craiglist:
losangeles.craigslist.org > marketing jobs > Talent Scout Wanted for Orange County Area
last modified: Tue, 20 Apr 15:40 PDT
Talent Scout Wanted for Orange County Area
---
Reply to: aXXX@talentmanagersofhollywood.com
Date: 2004-04-20, 3:37PM PDT


Established Model and talent managment company ( With offices on a major Hollywood Studio Lot) is looking for outgoing, energetic and self motivated individuals to scout for prospective models and actors in the orange county area.

This is a part time opportunity with flexible hours that is both well paying and FUN!


Compensation: Salary Plus bonuses
Hiring Organization: Talent Managers of Hollywood
Warning!
The corresponding domain name of the "Talent Managers of Hollywood" "organization," TALENTMANAGERSOFHOLLYWOOD.COM, is registered to the owner of Image Models and Talent!
Registrant:
Leif Soderling
Sunset Gower Studios
1438 N. Gower St., Box #5
Hollywood, California 90028
United States

Domain Name: TALENTMANAGERSOFHOLLYWOOD.COM
Created on: 19-Apr-04
Expires on: 19-Apr-05
Last Updated on: 19-Apr-04
At the time of review, there was no website at TALENTMANAGERSOFHOLLYWOOD.COM. The domain is evidently used only to redirect email (and so that people investigating the company do not find the information about Image Models and Talent online).
Consumer Comments
Yes, I have paid them.
What had happened was they had called me and said that I was referred to them by another agency, but that other agency they were talking about was one that I was never with; all I did was fill out an info sheet about myself to them.
Anyways, imagemodels, also known as talent managers of hollywood, said how they were interested in me and would like to meet with me.
So I had a meeting with one of the managers who had said that since I had never done anything before she could only offer me a submission contract and if I were to book a job then I would be taken off the submisson service and she would just be my manager and the only person I would deal with.
So she then offered me a contract for a year and that since she had a lot of faith in me and thought that I really have what it takes she would be willing to pay half for my photo shoot.
So I ended up paying $750 for the photo shoot then after the photo shoot I didn't have to pay anything for my website hook up fees but did have to pay for the printing of my zed cards and headshots so it was like 300 for 50 zed cards which I ened up paying more because I got 100 zed cards printed and then plus a couple more hundred for my headshots to be printed I only got 50 printed.
Well, I see that I get submitted every day but never any auditions, and, as time has gone on, I have started to wonder about this company and I think about how if I want out I will have to pay another $100 to these people to end my contract early which I think is stupid.
So if I were to want to get my money back what do I have to do?
Answer
File a petition to determine controversy with the DLSE. Very easy to get all your money back. Call the DLSE Legal Department in San Fran for more info and to get the forms. File a complaint with the police, too.
Talent Managers Association Code of Ethics
---