---
UPDATE: The District Attorney's Office has launched a fraud investigation of Penelope Lippincott aka Finesse Models, after her business was declared illegal by a ruling of the Division of Labor Standards Enforcement. Following mounting pressure by the DLSE, local media, and parents, Lippincott refuses to give money back and acts like she's a law unto herself. So many people feel they've been lied to, cheated, and robbed. She is not a reasonable person. She refuses to change her ways. She refuses to speak with people who want their money back. She even refuses to pay up when court judgments go against her. Parents are left with no choice but to file complaints with the District Attorney's Office. Contact Robert E. Nichols, the Deputy District Attorney of Consumer Protection at the Marin County District Attorney's Office, who is investigating Lippincott:
attn: Robert E. Nichols
Deputy District Attorney
3501 Civic Center Dr., Rm 130
San Rafael, CA 94903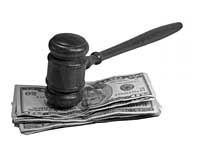 Penelope Lippincott fka Penny Clymer of Finesse Model Management and Finesse Creative Productions in Sausalito, California
July 30, 2004
[Last Updated: March 15, 2006 ]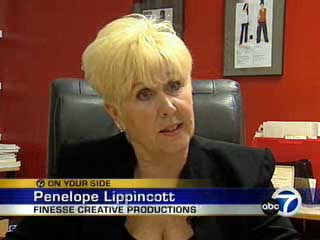 State Rules Penelope Lippincott Breaking Law
Parents Win Thousands of Dollars in Judgment
Criminal Indictment May Follow Under New Law
(Mary Reyes Valencia Indicted by District Attorney for Photo Mill Modeling Scam)
Background Check:

Previously Caught Using Different Name in Similar Scheme Selling Expensive Photos and Classes . . . Contract Void & Fined
| | |
| --- | --- |
| | |
| Called on the Carpet: DLSE Hearing | Wicked Fees for Pictures and Classes |
| | |
| --- | --- |
| | |
| I'm innocent, really, I'm innocent! | 7 On Your Side Investigation |

[pdf version]
Penelope Lippincott's advertising in the San Francisco Chronicle starts with a dollar-sign carrot: "Being a model can be a great way to earn extra money." But aspiring models and their parents have discovered signing up with Lippincott can lead to a loss of a lot of money; instead of making thousands of dollars, they lose thousands of dollars.
Consumers complain that they are the target of Penelope Lippincott who uses hard-sales pressure to sell extremely expensive pictures and classes. They also say she only calls when she wants money and when they call, she doesn't answer them. If they write her, she doesn't respond, either.
Penelope Lippincott used to be known as Penny Clymer. Under the name Penny Clymer she got in trouble with the Division of Labor Standards Enforcement (DLSE) for breaking the law. She sold pictures and classes which is illegal in California when done by a talent or modeling agency.
Consumers also say that Penelope Lippincott was the photographer, but nobody knows if she has any professional experience as a photographer, or even owned her own photo studio or photography business. If she is only an amateur, how are her prices justified and why are her rates so extreme?
Lippincott claims that she is not bound by California law with respect to her business practices of selling extremely expensive pictures and classes as a model manager. But, as revealed on the recent news broadcast, "Complaints Of Illegal Modeling Business," ABC News 7 On Your Side, July 18, 2005, it was only Lippincott and not an entertainment attorney who was making the claim. In other words, she may be misinterpreting California law, since she is not a lawyer, and doesn't have legal experience.
Dean Fryer, a spokesman for the Labor Commission whose attorneys interpret the law, indicated she may be breaking the law. The Commission has been investigating her for law violations.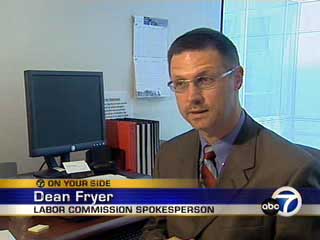 Lippincott says she is not a talent agency and that her clients sign a contract in which they agree she is not a talent agency. However, it's not quite that simple. The DLSE has ruled in cases in the past where companies which claimed they were not talent agencies and their clients even signed agreements saying they were not talent agencies, were in fact talent agenies, because they met the legal definition of a talent agency. It is the practices of the person/company, not a piece of paper, which is definitive. The contract was declared void, and all the money had to be returned.
While the DLSE jury is still out on whether Lippincott has broken the law, it should be noted the government in California has taken strong action against companies that sell classes and/or pictures in the past. The DA sued Maria Reyes for fraud and Labor Code 1701 violations; she is now behind bars on a three-year sentence.
Email for more information if you want your money back, especially if you paid for extremely expensive pictures and/or classes on the understanding you or your child would get work as a model, but no jobs were offered, and/or the value of the jobs was very low, and/or you worked but did not get paid.
There are new laws in California which are designed to protect parents and kids which were created after Lippincott started selling classes and photography. She may be subject to them. If so, you could qualify for a full refund and three times what you paid. If you paid $5,000, for example, you could be eligible for $15,000.
If you paid part of the full Lippincott fee, and she is pressuring you to pay the rest, please note if the contract is void, you don't have to pay any more. Last time she was caught, she was trying to enforce her contract, but the DLSE ruled her contract was void, therefore unenforceable.
Consumer Comments
May 28, 2005
My 15-year-old just interviewed with Penelope Lippincott of Finesse Model Management in Sausalito, California, today. Ms. Lippincott was very encouraging, but she said that my daughter would need all new pictures. Although my daughter is only [...] (short), weighing XXX lbs (light), Ms. Lippincott said that if my daughter went through the Pro Modeling Workshop series for $2,495.00, and the Fashion Marketing Program series for $1,295.00, that she would be able to get my daughter runway work.
She said that with the Zed card my daughter would get from the Fashion Marketing Program, she could get my daughter enough commercial print and runway work to pay off the cost of the classes. I am trying to find out if this is "for real" or just another scam artist profiting off young girls' dreams. If you can tell me anything you know of this company, please do.
Parent
May 2, 2005
One of my friends paid $6,000 to Penelope Lippencott's Finesse model agency.  This is for "photos and training". She thinks it is the price one has to pay to get trained and promoted. On your website you say to email for more information. Can you tell me about the agency please? Are they legit or what?
Friend of Finesse client.
Prices
Top New York agencies, whose models do major fashion show runway modeling, train their models free. Some professional photographers in California only charge $100-$200 for new models' photography. You can get 100 comp cards for $100-$150.
One online post by someone who said she's a former employee: "Penny charges thousands of dollars for photo shoots and then has the film developed at a one hour photo store across the street." Ask her for an invoice from the film processor.
Complaints
File complaints with the Marin County District Attorney
http://www.co.marin.ca.us/da/
Finesse Advertising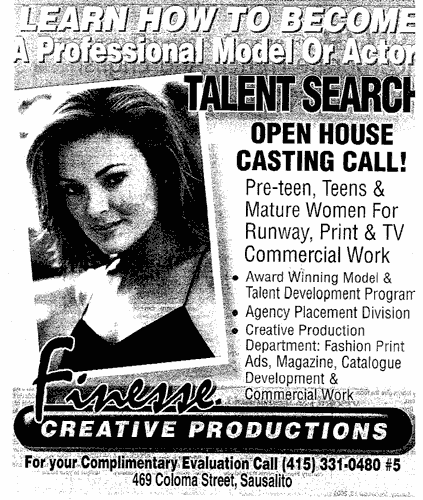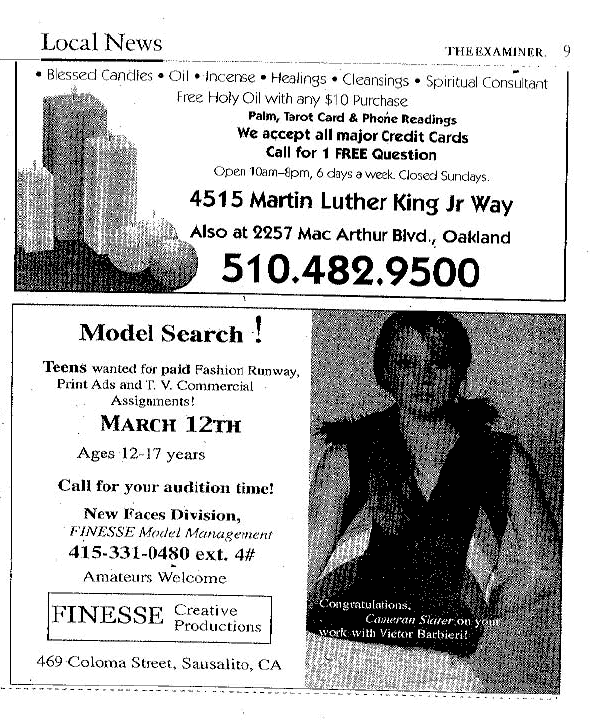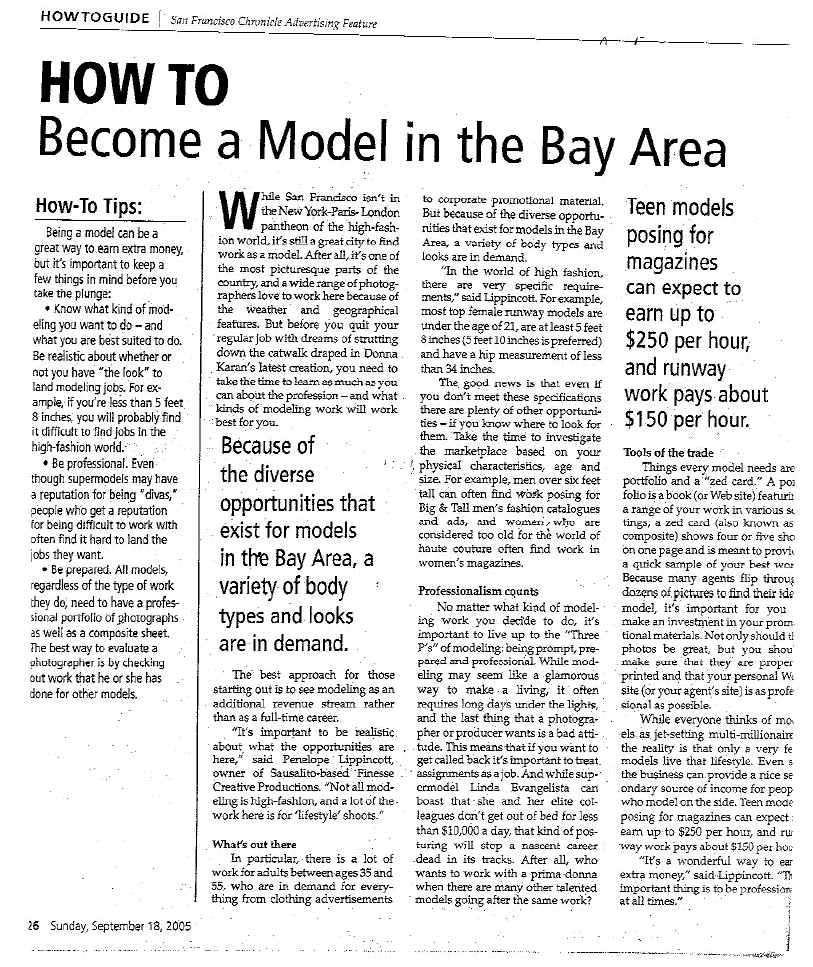 See also:Fuse Bay Area Productions (www.fusebayareaproductions.com) by Penelope Lippincott in Sausalito, California
---