---
Austin Models and Talent (AMT) in Austin Texas by Jeff Curley, President

Lingering Questions about Texas Talent Agency Photographers Follow Indictment
December 20, 2005
[Last Updated: July 06, 2006]
"Austin Models & Talent," reads an internet post on a website for new talent, "sponsors a free shoot for Texas models and actors/actresses. Free headshot shoots."
In an industry infamous for, and still plagued with photo mill scams, there is obvious appeal in the free photo offer. New models often do not have a lot of money and how often do they get offered a free photoshoot?
Jeff Curley, the president and owner of Austin Models & Talent, also known as "AMT," was a model photographer before he became a talent agent. Curley previously said he takes pictures of new aspiring models. Although this is not common--most agents are agents, not photographers and agents--he said he takes the pictures within the legal framework for talent agencies. Texas has strict talent laws; Curley does not charge models a photo fee.
Austin Models and Talent is not just a bricks-and-mortar agency. It is also something of an internet agency; it has a popular public internet forum on its website, www.austinmodelsandtalent.com, where models, talent, and photographers can post questions and comments, www.austinmodelsandtalent.com/forum. It is called the "TEXAS MODELS & TALENT FORUM," but AMT admits it is "Sponsored by the Austin Models & Talent Agency."
"TEXAS MODELS & TALENT FORUM," it boasts, "is the largest and most prolific talent networking board and online community in Texas! We are all about Models, Actors, Photographers, and other talent. This site is clean, fun, safe and productive for all ages."
Talent, however, are finding out it is not as clean, fun, and safe to associate with people who are involved with that TEXAS MODELS & TALENT FORUM board as they were led to believe. Bruce Miller, a photographer in Texas, who posted messages on the AMT board, and even received praises from talent there, was recently Arrested for Online Sex Solicitation of a Minor.
Bruce Miller had been a respected member of an online modeling community for a few years until he was arrested.
While nobody at the agency has been indicted, and there is no proof Miller worked for Austin Models as an employee on its payroll, there is growing controversy surrounding Austin Models & Talent and its photographers. Although there have been no complaints against Jeff Curley acting as a photographer, and Austin Models and Talent is a licensed talent agency, there are lingering questions about the screening process adopted by AMT in its choice of photographers and those it elects to market.
When a photographer on their website ends up arrested for sex solicitation of minors--and using the internet for that purpose--somebody has some answering to do. Obviously this created a public outcry; parents, models, and concerned citizens demand to know how this could happen, and now wonder if they or their kids are safe at that board and with AMT.
Is AMT doing enough to protect talent from predatory photographers?

Indicted Photographer Bruce Miller's Profile on Texas Models and Talent Internet Forum
It is not difficult for a photographer with ulterior motives to join the AMT board. On the surface there are virtually no barriers. Registration is free. The board itself has "4250 Registered Members" (Dec. 20, 2005); this high number includes many models and obviously attracts both legitimate and illegitimate photographers.
Jeff Curley, the owner of the site, has not been passive with his board. Indeed, he has been very involved. He has already posted a staggering number of messages there since March 2004: over 7,500! He has reached the level of "Forum-aholic." But he says he didn't know about Miller's arrest until contacted by Easy Background Check, and maintains he cannot police the entire board with its thousands of registered users.
Jeff Curley's relationship with Bruce Miller is documented on his own public board. Back on Apr. 11 2005, in his 7,551st post under his handle, austinmodels, Curley wrote: "To make the SA Group Shoot work, I changed a few things from the "original plan," but I left the date alone. Big mistake. The location we are using now turns out to be having a huge festivity planned for FIESTA. I'm frustrated over the planning of this and not sure if we should move it, cancel, or ? - some individuals actually already have hotels scheduled to attend this. It's supposed to be this coming Saturday. Any ideas? . . . . Okay ya'll... Bruce Miller and I just had a meeting of the minds and have decided to stick with the plan. I will caution everyone attending to show up early enough to avoid parking issues. If it's so crowded that you can't find us, just call my phone and we'll guide you in -- or just look for all the camera's! [sic]"
"My slide and film scanner is now in a new home," Curley posted (August 22, 2004), "with photographer Bruce Miller." Miller confirmed this, posting the same day, "Well I can tell you that your scanner will be in good hands, and I will find the time to scan in some of my work that I have on slides and share with also."
Later, as recently as July 28, 2005, Curley publicly announced the success of Miller in a photo contest.
"Look what I turned up through my secret spy network," he gushed. "CLICK HERE TO SEE THE WINNING IMAGES..! Yes, it's our own BRUCE MILLER who won the Park Family Photo Contest ... His photo will appear in the 2006 Park University Calendar..! WAY TO GO MR. BRUCIE!!!!!!!"
Various models in the Austin Models & Talent stable list Bruce Miller as one of the photographers who photographed them. One model, for example, in her online portfolio on the AMT website, listed among the photographers who had photographed her both Bruce Miller and Jeff Curley.
Bruce Miller, indeed, was endorsed by Jeff Curley. On his "Recommended Photographers" web page, Curley addressed models and talent. "The photographers listed here are recommended due to their previous exposure to the forum," he said, "their well known work with models in town, and/or their ability to work on a professional level with mainstream talent."
Down in the section for San Antonio, Texas, Bruce Miller was listed as a legitimate professional with two links to his personal portfolio. First to his own website, http://www.photographybybrucemiller.com; then to another portfolio site, http://www.onetalentsource.com/portfolio/731/.
As Curley scratched Miller's back, Miller scratched his back. Curley posted his "testimonial" following the announcement of AMT becoming an agency in 2004.
"Here is the response of what the local talent community had to say," wrote Curley, "when Austin Models & Talent Agency was announced in January of 2004..!"
"Congrads [sic] Jeff," said Bruce Miller, "and I am looking forward to seeing bigger and better things for the community." - Bruce Miller (Photographer)"
Bruce Miller, though not as involved as Jeff Curley on his internet board, was still very active; so often using the handle "SAPhotoman," he reached the status of "Gold Member," posting over 500 messages on the TEXAS MODELS & TALENT FORUM! Interestingly, Miller is listed as the 11th member of the forum, whereas Curley was the fourth. Curley joined March 4, 2004; Miller, the next day, March 5. From the beginning both photographers were involved with or posting at the board.
Miller, indeed, was trusted by Curley; he made him an adminstrator for the entire city of San Antonio on his internet forum. "Only Admin level or above members may MOVE, EDIT, or DELETE other people's messages," wrote Curley on Jan. 11, 2005. "Currently, this includes myself, Bruce Miller, Jon Rowader, Brian Combs, and Doug Durham."
"San Antonio photographer, our own SA Forum Administrator BRUCE MILLER," wrote Jeff Curley on July 27, 2004, "was on the local KVUE TV news last night here in Austin. Some of you may or may not know, but as a photographer one of the jobs that Bruce does is shooting for "Midget Wrestling." Last night the KVUE News did a feature on "Puppet," who is the little guy who puts the wrestling matches on. Well, I was watching the News and there was Bruce, standing there taking photos during the match! Too cool. Bruce, you're a TV Star!!!"
After all the gushing, Miller responded, "Thanks Jeff, I [had] seen the guy there while photographing the match, I also shoot matches here in San Antonio for the South Texas Extreme Wrestling. I had a blast at the match."
It was not just that Curley knew who Miller was: they worked together, setting up shoots. "I'm in discussions with Bruce Miller," said Curley to models on April 6, 2004, "regarding setting up another group shoot in San Antonio, or perhaps between Austin, San Antonio, and perhaps even Houston . . . ."
The public records of his own public statements on his own public board clearly establish that Austin Models president Jeff Curley not only knew who Bruce Miller was, and allowed him to post messages on his board, and be a board administrator, but he also worked with him, sent his models to him, sold him his equipment, and promoted him at virtually every opportunity.
Criticised for not doing enough to block photographers like Miller from getting involved with Texas talent, Mr. Curley wrote a defence of himself but didn't express any concern for the models whom the indictment says were targetted by Miller or models at AMT who could have been harmed by Miller in the last two years when supposedly he was just photographing them. Curley did nothing to distance himself from Miller until Miller was indicted.
The specific criticism is that Curley knew or should have known that Bruce Miller was involved in non-G-rated websites when he was involved with AMT and the AMT board. A simple Google search offered this information. Obviously not every photographer who is involved in adult sites is a child sex abuser, but the mere fact that Miller was already involved in those types of adult modeling should have sent up a red flag. What did Mr. Curley have to gain by standing by and continuing to be associated with Miller even after he found out about his questionable association?
Both photographers Curley and Miller have been involved in "glamour photography" that borders on soft core. Indeed, one of the images credited to Curley, with a copyright, on his agency's website, bearing the talent agency's full name, is a picture of a provocative, open-mouthed, greased young woman in a bikini, stretching her bikini bottom with both hands, getting ready to take it off.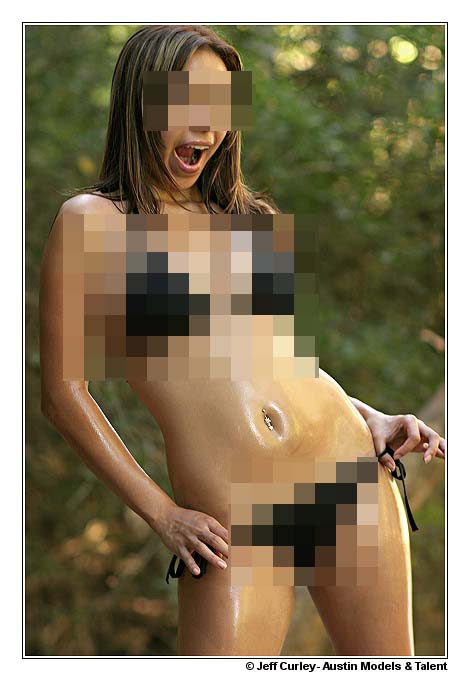 Is this "G-rated"? Even if you do think it's G-rated, should a talent agency owner be taking these types of pictures of his young models? Who was coming up with the pose ideas?
There were not obvious signs of Miller's photo bent in his portfolios before his arrest. They were not all provocative pictures of scantily clad young models. One of his portfolios on pbase showed pictures of a barn, goats, a bridge, and a fully dressed teen girl in jeans. On his own site he had various types of modeling samples, including special occasions and nature; only a few of lingerie and swimwear.
Miller was active on the internet, not just at the Austin Models forum. He had his own websites, www.photosbymiller.com and www.photographybybrucemiller.com, and posted his portfolio on various other sites and posted messages in many different modeling forums since 2003.
On the modelmayhem.com website, for example, Miller noted his location and described his interests: "San Antonio Photographer, working in portrait, and glamour." On the AMT board, his profile said: "I have been involved in photography for over 20 yrs, most of my early yrs was during my time in the Air Force just taking snap shoots at all the locations I was stationed at.
The last 3 yrs has been more focused on doing photography more then snap shots. I have attend [sic] many workshops here in San Antonio, and my photography crosses many types from general to glamour style. . . . I have taken courses from New York Institute of Photography. Attend many workshops held in San Antonio." (http://www.austinmodelsandtalent.com/portfolio.cfm?ID=77)
So far EBC has not found any public statements by AMT about Miller or any statements about how it screens photographers whom it recommends to AMT models or whom it gives leadership positions to on its internet board.
UPDATE
Since the above article was posted, it has been read and there has been a response. It is bringing people out of the woodwork. According to more than one source, "There is a very long list of people who have been banned from his forums." People who have criticised or even questioned Curley on his internet forum over his activities with models have been censored and banned in violation of the First Amendment.
Anyone who has been banned is welcome to email this site and share their story and stop the suppression of truth. Among those who have apparently been banned are legitimate photographers in Texas who do not agree with Curley's practices.
Curley, sources say, has a cult-like following, people think he can do no wrong. Their sense of discernment is blinded by devotion to him. This is apparently based in large part on his "philanthropic" free photoshoots.
By removing and blocking criticism, however, he has been able to keep a lid on the truth and keep his followers under his spell. At least on his board.
Rebuttal by Jeff Curley
Jeff Curley wrote

> First off, you are infringing upon my copyright and legally breaking
> the law by ALTERING and displaying, without my permission, a photo
> that I own. While there are no indications anywhere that I have
> done anything illegal, your own site is breaking a copyright law.
>
> Your discussion on your site indicates nothing except assumptions
> upon your part. I am not responsible for what people do in their private
> lives. There are over 4000 people who use our free public message board
> and I have no legal responsibility for what they do, right or wrong,
> in their own time.
>
> A woman playing agent without a license in San Antonio is eager to
> attempt to show otherwise, but there exists no indications of any wrong
> doing of my company and I am herein requesting that you consider that
> your website is making unfair assumptions associating someone to a
> company that he has not now or ever had any legal involvement with other
> than the fact that he, as with hundreds of other photographers in
> Texas, have attended photo shoots that take place on weekends.
>
> What you are doing is wrong. We operate 100% within the law and you
> may wish to do a little research into the other legally operating agencies
> in Texas that sponsor photos shoots, classes in their schools, etc.
> There are no laws being broken, but your site is attempting to imply
> there are. There are not, and you are doing a disservice to this
> industry.
>
> Jeff Curley

Rebuttal to Rebuttal
Curley:

You don't know much about copyright law, do you? Fair use covers criticism. But thank you for confirming you actually took the picture. That was one of the reasons for posting it. If your idea was valid, then you could copyright your name, and we wouldn't be allowed to talk about you.
The media covers over objectionable content, blurring, etc., all the time. You should know that, you watch the news. Would you actually prefer that your virtually obscene picture be clearly visible to all the world?

You tried to deny your association with Bruce Miller in your email, but the evidence found since that email shows you were much more involved, even by your statements on your own website.
You are not responsible for the actions of other people, but you are responsible as a leader of an agency for the decisions you make about whom you are going to associate yourself with and put in leadership positions with influence over models you recruit, sign, etc. You are responsible for whom you recommend to the public, photographers included, especially after you find out they are involved in highly questionable activities.
You'll have to be more specific and accurate if you want to rebut anything. Talking about "assumptions" or "implying" this or that doesn't cut it.

And, yes, there is more information that is not on the site. If you want to fight this, you can be rebuted with the documentary evidence. You want the email you sent to your talent mentioning Miller on the site, too? Is that what you want? You want proof?

Why don't you explain why you take those type of pictures of young models when you're their agent? You think that's ethical?

EBC
Supporter of AMT Writes
I recently ran across your 'article' concerning Austin Models and Talent and owner Jeff Curley.  Prior to this article, I had understood that the reported purpose of your site was to post legitimate scams that models have fell prey to, but I confess I am now confused as to what this site is for?
I've read this article several times and cannot for the life of me figure out what 'scam' he and his agency are being accused of?  Or are you implying that anyone who knew this other photographer is somehow responsible for his actions?  This article reads like someone who has a personal vendetta against the agency, and since they cannot find any proof of any wrongdoing, strings together a series of NOTHINGS to try to imply something that is not there.
So he sold a piece of equipment to someone who was arrested?  Since when did that become a crime or a 'scam'?   I read your disclaimers now and see that you indicate you do not verify the accuracy of what is posted there so I guess this is just a free for all for anonymous people who wish to slander folks without identifying themselves?
And for those parents out there, that leave their children alone with ANY photographer unsupervised, I don't CARE WHO the photographer is or who recommended them, please contact CPS and report them for not taking proper care of their children's safety.
I am a mother of small child actors, AND a proud member of this 'community' that you choose to identify as a 'scam', and will no longer refer people to this site for research purposes now that I see it is willing to post such unfounded implications against people.  And in a world and industry with so much 'bad', to attack one of the few avenues available to try to help people, is down right evil.
> Prior to this article, I had understood that the reported purpose of your site was to post legitimate scams that models have fell prey to, but I confess I am now confused as to what this site is for? I've read this article several times and cannot for the life of me figure out what 'scam' he and his agency are being accused of?
Read carefully. The title is "Easy Background Check," not "Scams." It provides background information so people can make informed decisions. Not everything is black and white. Parents have a right to know how well an agent or agency can be expected to screen "professionals" who are directed to their kids. They also have a right to know if an agent is going to take provocative pictures of their kids.
One Parent's Opinion
My two daughters have done some of the shoots with Jeff Curley, though they are not represented by his agency. They have other agents, but my daughters have been allowed to participate any time they would like to. They are both represented by highly respected Texas agents.
The shoots have been very nice and a lot of fun. Parents are not shut out and but invited to go right with the photographer as they shoot. One of my daughters in particular has done these often because she likes them. She has never been asked to do anything provocative or in bad taste. We have done the private shoots as well as the large group shoots.
The first time we went to a shoot we fully expected to be disappointed and find it to be a scam.  Instead we found a nice group of people, the shoot was set up very professionally, and they invited parents to be very involved in the process. As a matter of fact, I brought a book because I expected to be required to stay at a distance (within view) like with a film set. 
I did not get to read my book because the entire time I was involved.  I met other parents I really liked and we helped set up shots for the photographers like those in Teen Vogue etc.  There are often limited acting opportunities for teen actors in Texas so the shoots allowed my daughter to be active between auditions and film shoots. 
She was excited afterwards to watch the site as they started posting her work.  These photo shoots have been a really nice "filler" with results she can see immediately. We were very sorry to learn there was a predator involved in any way. 
We also recognize no organization can completely police people involved with it.   From what I understand it was not a child solicited through the group shoots, he did this on his own separately. I firmly believe it is always a parent's responsibility to protect their kids whenever they are involved in any of the facets of the entertainment industry. 
The industry itself draws those who would be inclined to unsavory tendencies. Teens need to be monitored and informed of all the dangers out there, on the web and otherwise.  Any internet  correspondence that doesn't come through their agent is directed through my email address only. It has been that way since they were preteens. They are now 16, & 18 and it is still that way. Finally, I resent the statements in the article that liken the parents to sheep in a cult like stupor.
When you find denials it is because we know your charges are not true. The "loyalty"  you describe is because TFP has been a way for our children to have fun doing something they enjoy. These shoots are a free activity, and our kids are rewarded for their work. They cost nothing more than time from the child and their parent, and the price spent to line up their wardrobe for a shoot. 
Furthermore, as most parents will agree, it is a boon when we find things our teens want that we can do together. My daughter and I have enjoyed the preparation, the shoots themselves, and the posting of shots afterward. It seems to me your comments were slanderous and generalized.
There are many ways in the entertainment industry to be predatory and this unfettered method of character assignation is an example. We say goodbye to these shoots sadly if you have indeed destroyed them.
> We also recognize no organization can completely police people involved with it.
That's obvious. The point is the source complained that Curley knew Miller was involved in adult sites but deliberately turned a blind eye and let him continue to be involved with models. If that is true, that put the models at risk of a predator.
Why would anyone not immediately dismiss Miller from being involved with their "legit agency" as soon as they found out one of their recommended ethical photographers was involved with adult photography--unless being involved in that type of photography really didn't seem questionable or objectionable to them? The idea of the source is completely plausible, given the fact Curley takes questionable pictures of models while an agent and has himself confirmed he took the above highly questionable picture.
Nobody is saying Curley is soliciting young girls like Miller or has committed any crime. It's a question of ethics. How many parents let their teen girls have pictures like Curley's get taken of them? Would you have stood by your daughter while the above picture was taken?
EBC
Subject:
News & Updates
Date:
3/3/2005 XXXXXXXXXXXXXX
From:
[email protected]
 
Sent from the Internet (Details) Return-Path: <[email protected]>
[ . . . ]
XXXXXXXXXXXXXXXXX
ESMTP id MAILRELAYINYH31-2b34227b975e9; Thu, 03 Mar 2005 XXXXXXX
[. . .]
  Thu, 3 Mar 2005 XXXXXXXXXX
From: "TM&T - TEXAS MODELS & TALENT FORUM" <[email protected]>
To: [email protected]
Subject: News & Updates
X-Priority: 3
XXXXXXXXXXXXXXXXXXX
Message-ID: <[email protected]>
XXXXXXXXXXXXXXXXXXXXXX
Date: 3 Mar 2005 XXXXXXXXX
XXXXXXXXXXXXXXXXXXXX
XXXXXXXXXXXXXXXXXXXX
XXXXXXXXXXXXXXXXXXXX
Hello Talent,

I wanted to send out this email reminder (automated mass emailing through the forum to Agency talent only) in order to remind you of the upcoming free photo shoot in Austin on the 19th of this month.  This is an excellent opportunity again to receive free photos, headshots, etc.  If you are in need of photos, please go to the forum and sign up to attend.

Please be advised, if you are not aware already, that Mr. Bruce Miller is now handling Austin Models & Talent Agency affairs on my behalf in San Antonio.  San Antonio models and actors may contact Bruce at [email protected].

Many of you know Bruce, as he has come out and volunteered many times as a free photographer at our monthly events over the past several years.  I have known him for many years and believe he will be a great asset to us going forward and as we expand our San Antonio coverage.

To centralize communication, please direct all urgent issues through me, I am available by email or phone 24/7.

I look forward to seeing some of you at the March group shoot in Austin (Round Rock)!

Jeff Curley
Austin Models & Talent

austin models and talent photog in news twice
In San Antonio on www.ksat.com and on their tv broadcasts [. . .] is supposedly a g-rated  agency...their photog Bruce Miller and agency administrator and online administrator for Austin Models and Talent and their other group FreeGroupShoots.com, was arrested for the solicitation of a minor online.  Only to be an off duty detective. Also a model from San Antonio spoke out against the photographer as well on a 2nd broadcast.
If AMT is g-rated and touts their shoots as such and even states they check out their photogs, how can this happen?  I was even told the owner of AMT and Free Group Shoots is Bruce Miller's best friends. The state has not done a thing about this agency.  I myself have filed a complaint and found out [ . . . ].
Hopefully this in print will protect others.  Especially when they are scouting for new talent and advertise on different websites as doing so.
Hot Info
When I mentioned the activities of Bruce Miller to Jeff Curley about his five other websites I knew of not being g-rated but easily Googled, Jeff told me to keep quiet.  I couldn't do this.  Some parents had already Googled him, and asked about him, and if it was okay for children to shoot with him, and how it would affect the children's reputation being shot by a non g-rated photog.
I then got an email from Bruce stating he would sue me if I told anyone else (which I didnt, except for Jeff) he shot other than g-rated. So Jeff knew 100% about Bruce and even before he was appointed booking agent for San Antonio. Investigation is being done by Texas  Dept. Of Licensing and Regulations and also been forwarded to the DA in Austin.
The state had to provide Jeff with statements of allegations made against AMT.  It just happened that after he read the statement with list of possible . . . There is another photog who is questionable on Jeff's forum and attends shoots.  A parent commented about inappropriate behavior and Jeff banned him until all was quiet, and now, according to the parent, the photog is back into the shoots again.
I didn't feel right about keeping mum as they wanted me to.
[ANON]
Subject: Slanderous E-mails
Date: XXXXXXXXXX
From: [email protected]
Reply To:
To: XXXXXXXXXXXX
CC:
BCC:
  Sent from the Internet (Details)

  Return-Path: <[email protected]>
  Received: from  XXXXXXXXXXXXX
  Received: from  lak-sf-03.lackland.af.mil
(lak-sf-03.lackland.af.mil XXXXXXXXXXXXX
  Received: from LAKMR003.lackland.af.mil
(LAKMR003.lackland.af.mil [XXX.XXX.XXX.XXX])
   by lak-sf-03.lackland.af.mil with SMTP id j58GgxMg013470
   for XXXXXXXXXXXXXXXXX
  Message-ID:
<90BB5C359D1A2[email protected]>
  From: Miller Bruce L GS-11 OC-ALC/LPERF-DML
<[email protected]>
  To: XXXXXXXXXXXXX
  Subject: Slanderous E-mails
  Date: XXXXXXXXXXXXXX
  Importance: high
  X-Priority: 1
  Return-Receipt-To: Miller Bruce L GS-11 OC-ALC/LPERF-DML
    <[email protected]>
  MIME-Version: 1.0
  X-Mailer: Internet Mail Service (XXXXXXXXXX)
  XXXXXXXXXXXXXX
  XXXXXXXXXXXXXX
  XXXXXXXXXXXXXX
  XXXXXXX
   I just wanted to let you know that I have heard from several
people about you sending out e-mails telling them about the types of photos
I do.  For your information, none of my work is in bad taste. So I am
telling you to stop this right now, or you will be hearing from my lawyer,
and by the way I have already checked with them, and I have a good case
against you.  So if you do not stop this I will be taking you to court and
suing you on slander, defamation of character.

  Bruce L. Miller
[Apparently the DA had a better case than he did.]
Jeff Curley Quoted
"Prove to me you are real.  If you cannot, shut up and mind your own business.  You are bordering on slander, though since I don't think you are a real business, it would be worthless to persue anything with you legally.  I don't want to have an attorney waste time in contacting you only to find out you're some 12 year old using his dad's computer or something!" -- Jeff Curley, April 23, 1996

Complaints
The Texas Department of Licensing and Regulation (TDLR) is the government agency in Texas responsible for granting agency licenses, and it can deal with formal written complaints. You can call their office before putting anything in writing. Otherwise you can email this site anonymously.
"Man is least himself when he talks in his own person. Give him a mask, and he will tell you the truth." -- Oscar Wilde
Model Comments
Hi, I just finished reading the article about the photographer Bruce Miller and how he was arrested for online solicitation of a minor. This creeps me out because I just signed a contract with Austin Models and Talent recently. Is there any other information that I could get for more information about this subject and agency and Jeff Curley?
It jsut creeps me out because I recently attended one of his free photoshoots. The photos that came out from everyone else's and including mine were very G-rated. Many parents were also there with their children while he took photos of them. I'm just very appalled at finding this information out.
Thank You,
XXXXX
---