Other Factors In Nigerian Advance Fee Fraud Scams
---
It appears that countries bordering Nigeria are now being used for posting the contact letters and even to meet potential victims.
To circumvent the expense of mailing the letters, these criminal enterprises use counterfeit postage which costs the Nigerian Postal Service hundreds of thousands of dollars each year in lost revenue.
Under Universal Postal Union regulations, Nigeria is charged a terminal dues fee by the delivering country for this foreign-originating mail.
U.S. Postal Inspectors are intercepting the scam letters on a weekly basis. According to Frank Umoski, USPS Operations Manager at the JFK facility, "Eight out of ten bags of mail received from Nigeria contain fraudulent letters."
Between August and November 1998, Australia Post (in Sydney alone) confiscated 4.5 tonnes of advance fee correspondence which had counterfeit postage, amounting to approximately 1.8 million items.
It was also reported that more than 78,000 such letters have been received in London in the past three years, costing Britain £150m a year.
In July of 1997 5 million letters were returned undelivered to Nigeria by a dozen nations, including US, UK, France, Germany, etc. for fraudulent or nonexistent franking ( postmarking at place of origin ). The Nigerian authorities say they have examined these letters and have found that most of them are 419 letters.
Officials of NIPOST in Lagos said at a March, 2000 burning that out of 150 bags of scam letters, 77% were shipped back to Nigeria by the German government.
Most were not posted in Nigeria but through Tanzania, Johannesburg, Cote d'Ivoire, and Madrid Spain, judging from the date-stamp impression on them.
The Secret Service, which operates The Joint Task Force on West African Fraud, receives approximately 100 calls and 300-500 pieces of correspondence per day from potential victims and has established liaisons with the Departments of Justice and State, and with the Government of Nigeria.
The United States Secret Service estimates that, since 1989, US$5 billion has been stolen from victims throughout the world.
By 1997, the US Secret Service had accumulated a database of some 60,000 proven 419 phone numbers out of the roughly 400,000 phone lines connected in Nigeria.
Some of the kingpins have also resorted to jumpering, or tapping into, telephone lines of foreign embassies and international companies both within and outside Nigeria.
Efforts to shut down lines by the phone service has occasionally disrupted legitimate businesses who have either had their lines tapped into or who acquired the lines after they were relinquished by the scammers.
The illegal interception of international phone calls and other telecommunication services has also been linked to a former executive director who was affected by a recent shake up in NITEL, the Nigerian Telecommunications Limited. (12/00)
He illegally approved the operation of a bogus exchange in Ikoyi, Lagos where the 419 scam is perpetrated. This main distribution frame (MDF) with an already installed capacity of 25 lines, used five different companies as fronts, so as to beat NITEL's directive of a maximum of five lines for companies as a way of controlling the scam.
They also cleverly installed an External Lines Plant (ELP) to make the exchange a parallel one to that owned by NITEL.
NITEL's intelligence team discovered the company and the exchange which contained sophisticated equipment, like computers, satellite antenna, receivers, transmitters, and a server which enabled them intercept, divert and refile international calls.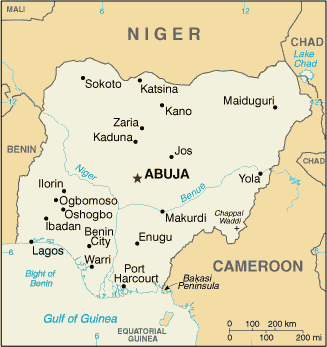 The Nigerian Response
Indications are that this advance fee fraud grosses hundreds of millions of dollars annually and the losses are continuing to escalate.
The large sums involved in financial criminal activity in Nigeria have resulted in a situation where criminals are better funded than the law enforcement agencies.
The Nigerian Government blames the growing problem on mass unemployment, extended family systems, a get rich quick syndrome, and, especially, the greed of foreigners.
The Advance Fee Fraud and Other Related Offences Decree of 1993 which prohibits any conduct carried out within and outside Nigeria, which resulted in any person or organization being defrauded, has been amended to provide that offenders can be tried in absentia, convicted and punished whenever they return to the country.
In addition it provides for severe penalties of up to 10 years imprisonment without an option of fine.
Officials stress a need for the Nigeria Police to invest in technological training for its investigative personnel because there will be an upsurge in computer-related offences in the near future.
A proliferation of cyber cafes in Lagos has slashed the start-up costs for digital fraudsters among Nigeria's teeming army of bright, young unemployed graduates, telecom experts say.
As virtually all fraudulent communication is carried out on communication facilities hosted by private telephone operators, the National Assembly, the Ministry of Communications and the National Communications Commission (NCC) have been asked to review the existing laws in relation to licensing policy of private telephone operators.
It is said that the Nigerian Police has failed to check criminal activities in the country because corruption has been ingrained in some of its officers to such an extent that they would not consider rendering a service without being bribed.
Both the Central Bank and the Federal Government of Nigeria feel they should not be held responsible for the bogus and shady deals transacted with criminal intentions against those misguided people who, in the quest to make easy money at the expense of Nigeria, are defrauded.
They continue to warn all recipients of fraudulent letters on bogus deals, that there are no contract payments trapped in the bank's vaults.
Nigerian criminal groups are actively involved in heroin distribution to the United States and Europe, cocaine smuggling and trafficking worldwide, banking, insurance, health care, welfare entitlement and advance fee fraud, illegal immigration, immigration benefit fraud, counterfeit document fraud, and money laundering.
Abacha's Billions
Yet, the biggest single thief in the world in the 1990s was almost certainly the late military dictator Sani Abacha, with $12 to $16 billion passing out of Nigeria in corrupt and tax-evading money during his murderous five year regime, most of this to the personal accounts of Abacha and his immediate family members.
In late 1999 Switzerland froze all Swiss bank accounts belonging to General Sani Abacha along with the accounts of his key associates after Nigerian authorities accused the former hard-line military ruler of systematically looting Nigeria's central bank and appealed for help in recovering the money.
Five Swiss banks are co-operating with the investigation, which could result in the return of billions of dollars in hard cash stolen by General Abacha and his cronies during their four and a half years in power.
More than £450 million has been recovered already, much of it from the vast sums of cash that General Abacha's family kept in their homes.
On one occasion, Maryam Abacha, the late general's wife, was detained while trying to depart for Saudi Arabia with 38 suitcases full of foreign currency.
The new government of President Obasanjo also seized more than 60 private properties illegally bought with public funds by General Abacha's henchmen.
Mohammed Abacha, the late dictator's eldest son and allegedly a principal profiteer, has spent most of the four years since his father's death in a high-security prison near Lagos, facing charges of murder, theft and money-laundering.
Other associates have proved more elusive - as has the stolen money, which was channelled through bank accounts and front companies abroad.
Less than half of the 'Abacha loot', estimated at $4.2bn (œ2.7bn), has been traced, and less still has actually been returned to Nigeria.
Most of the identified funds have remained frozen in bank accounts in London, Jersey, Switzerland, Luxembourg and Liechtenstein, while the Abacha family's lawyers fight their case in local courts.
Recently Nigeria reached a controversial out-of-court settlement which would have allowed the family to keep $100 million of the allegedly looted money in exchange for handing $1bn back to the government.
But it was reported last week that the Abachas had pulled out of the deal, leaving the government with no choice but to go back to the courts.
It plans to apply for court orders freezing funds in a number of new jurisdictions, including the United States, and to seek to confiscate about $1.25bn already frozen in mainland Europe.
In Britain, the High Court last year ordered 19 banks to freeze accounts linked to Abacha. However, Nigeria obtained this injunction only after serious delays, and it is thought that in the meantime the London accounts had mostly been emptied by their owners.
Nigeria is one of the principal suppliers of oil to the United States, the most populous country in Africa and pivotally important to the stability of that continent.
Nigeria is a former British colony, and many of the scammers speak and write English, so these rip-offs commonly target people in English-speaking countries.
---
09/19/02 - The Central Bank of Nigeria (CBN) has said that banks would henceforth be penalised for abetting advance free fraud, otherwise known as 419, a foremost financial crime in Nigeria which uses deceit to acquire assets from another person.
President Olusegun Oba-sanjo, however, said advance fee fraud is doing incalculable damage to the country.
The CBN deputy governor, Dr. Samsudeen Usman said at a conference on 419 in New York that the Central Bank has intensified enforcement of relevant laws requiring banks to prevent the use of their facility to perpetrate 419 or the laundering of money.
If a bank was found to have been careless in allowing a criminal to defraud another person, it would be made to refund the money involved, he explained.
He said the Central Bank had already made a commercial bank refund $400,000 that an American was defrauded of.
He said the information provided by the American victim was so detailed the Central Bank was able to trace the transaction to the bank involved.
Although the Central Bank wanted to return the money to the victim, Usman said the American embassy asked for a deferment until an investigation was carried out on their part.
The lady victim in this case was present at the conference.
Usman also said the Central Bank has established a task force on economic crime and extended its surveillance of 419 activities to other financial institutions, such as bureau de change, mortgage institutions and others.
He said the conference on economic crimes, begun two years ago by the Central Bank, has been institutionalised and will now hold every year as part of efforts to mobilise Nigerians to fight the crime.
Speaking at the conference, President Olusegun Obasanjo said advance fee fraud "is doing incalculable damage" to the country.
Obasanjo said the phenomenon was negating the government's quest for foreign investment.
He said that Nigeria's foreign missions are bombarded everyday with scores of scam letters from persons who receive them, adding that because of the trend, every document coming from Nigeria is regarded as suspect, particularly by intending investors.
"What is even more worrisome is the widespread perception within the international community, especially in the U.S., that our government is not doing enough to apprehend the culprits," he said.
He noted that given such perception, it was apparent that even the advertorials often used by the government to warn potential victims against the scam have failed both to achieve the desired result and to convince the international community of government's genuine efforts to combat the problem.
But he also pointed to government's recent response to the problem, including the establishment of a committee to investigate and prosecute offenders.
The President expressed government's desire to have cooperation arrangement with American law enforcement officials to crack down on the advance fee fraudsters.
Such cooperation with the UK has resulted in busting the syndicates that exist in Europe and Africa, he said.
Obasanjo expressed hope that the conference would lead to the adoption of a new strategy of cooperation between Nigeria and the U.S. in the pursuit and apprehension of culprits and confiscation of their ill-gotten gains.
Nigeria's ambassador to the U.S., Prof. Jibril Aminu said the involvement of a few unpatriotic and irresponsible Nigerians in the scams has stigmatised the country.
"The crooks do this alone and together with selfish and equally greedy foreigners who have more ambition than sense and more than the industriousness to afford a comfortable and honest existence," he said.
The ambassador, who chaired the meeting, said it marked the beginning of a long overdue intensification of the war on 419, urging the President to deploy enough human and material resources to sustain it.
With the government having already sent a bill on the crime to the National Assembly, Aminu called on the law makers to accelerate passage of the bill and appealed to the judiciary to deal firmly with the perpetrators of the crime.
He said Nigerian missions in the U.S. will continue to be helpful to advise those who receive solicitation letters from the perpetrators of the scam.
Mr. Jonathan Rusch, an official of the U.S. Department of Justice said "We welcome the opportunity to cooperate with Nigeria to deal with the crime."
Rusch said a study has shown that e-mails sent out by 419 scammers from Nigeria increased by 900 per cent from 2000 to 2001 alone.
The U.S., he said, has developed tools to investigate and prosecute the crime, including the use of statutes dealing with mail, wire, fax and phone fraud. The U.S. Secret Service has also established an office in Lagos to facilitate the sharing of information and trailing of particular cases, he said.
In dealing with the crime, the U.S. Justice Department has used undercover operations, using targeted businesses to identify as many of those involved in the crime as possible, he said.
An official of the U.S. Federal Bureau of Investigations in charge of economic crimes, Mr. Gary Dagan said the scammers have given Nigeria a bad reputation.
He said most of the letters targeting victims have a similar format, usually insisting on confidentiality and preying on peoples sense of greed or sympathy.
When the scam succeeds, he said, the chances of recovering the funds are usually almost nil.
---
12//01 -Nigeria's President Olusegun Obasanjo inaugurated a committee against the image-denting crime in Abuja.
The committee is headed by Ade Ajakaiye, the police commissioner in charge of the special fraud unit with additional members drawn from State Security Service, the National Intelligence Agency, NIA, various ministries, the Central Bank of Nigeria, National Drug Law Enforcement Agency, NITEL, NIPOST, Internet service providers, and the police.
---
Use of Fake Passports
Nigerian operations are now forging or fraudulently obtaining South African passports, which they use for overseas travel, primarily because many countries restrict the entry of Nigerians based on their notorious reputation for drug-smuggling. South Africans, on the other hand, often have a 30-day free entry to certain countries.
A first-world infrastructure and sophisticated air links with the rest of the globe make the nation an ideal base for international scams.
This increases the likelihood that 'South African' fraudsters could actually be Nigerians using South African passports because they often falsely claim to be South African when arrested..
One of the more ingenious methods of getting South African identity documents is to 'marry' a local woman - often without her knowledge - through bribing officials to process marriage documents.
There have been a number of incidents involving couples applying for a marriage licence who discover the bride is already registered as married to a Nigerian whom she has never met.
---
04/02 - West African crime syndicates, specialising in fraud, ( advance fee and credit card ) people smuggling, money laundering and small-scale drug trafficking, are now targeting Australia, claim Federal Police.
Most involve Nigerian criminals, but similar groups are operating from nearby countries, including Gabon, Cameroon, Ghana, Ivory Coast, Liberia and more recently South Africa.
In March last year, two West African organised crime members were arrested and charged over smuggling 2.6 kilograms of cocaine while in other operations, Federal Police have seized 17 stolen passports, 16 false credit cards and two false passports.
At their core, however, the frauds tend to be controlled by West Africans. The gangs are often based on family or tribal ties, and use local dialects, which make them impossible for authorities to penetrate.
The Nigerian gang structure is hard to understand, partly because it's not really a gang at all, more a loose affiliation of freelance criminals, who dip in and out of different scams as and when it suits them.
The syndicates are run as "loose cells", as opposed to the more typical pyramid structure, also seem to flourish because Nigerians are frequent travellers and possess "strong allegiances to the extended family who often reside world wide."  "We see them like worker bees, buzzing around all over the place, doing jobs everywhere," one official said.
Their cell leaders hold regular meetings in order to learn from their successes and failures. They also conduct research into various business and police methods and frequently use multiple identities and forged diplomatic passports.
The syndicates are presently active in other parts of the world such as London, Chicago, Islamabad and Johannesburg. In Bangkok, they were seen to be "actively targeting Australia as a lucrative heroin market".
A senior detective said that police concern was now focusing on the theft of confidential company information.
'The gangs are systematically stealing company mail from rubbish bins, postrooms and Royal Mail sorting offices, and trying to get hold of tax and National Insurance paperwork,' the detective said.
'Their aim is to identify a company's account number, sort code, and signatures.
They can then send a mandate to its bank manager, telling him to make a large payment to a numbered offshore account - which, of course, belongs to the gang's leader, and which he immediately empties.'
The scam has become known as the clearing house automated payment system, or 'CHAPS', fraud.
---
Window Dressing Websites
With the cost of a domain and site development running in only the hundreds of dollars it is no wonder that Nigerian syndicates are making extensive use of bogus web sites representing banks, law firms, diplomatic couriers and security companies as "proof" of their respectability.
Even if the sites are barely functional they will still set up the site so that they can send email with addresses from that domain name, instead of a more suspicious free service, to lend credibility.
They created what appeared to be an South African Reserve web site, with the domain www.sarb.org.za and have also set up web sites for two fictitious law firms - Sithole Attorneys at www.sithole-attorneys.co.za, and Moloko-Khosa & Associates at www.moloko-khosa.co.za, which even contained profiles of the lawyers who apparently worked at the firm.
---
With Pals Like These...
I can tell you first hand that if you want these Nigerian scammers to e-mail you, all you have to do is join an e-mail based penpal club.
They wait for new members to join and then send e-mails just like the ones I read on your site. When I was studying Italian culture I joined acepal, hatw.net and 4starpersonals looking for e-mail pals from Italy. Within a few hours my mailbox was full of letters from Nigeria proposing to share money.
At first I wasn't sure why I started receiving them, then I did an experiment and re-joined the clubs under a different name and e-mail address. Sure enough, I started getting the same letters to that address as well.
Kristina Grana, 10/07/02
---
On reading the name used by the scammers in a Dead Foreigner example, I realised that the name I have been researching for my family tree is listed, so I think they have gained my address through a genealogy site in the UK.
Sent in by Cheryl Martin, Australia 10/16/02
---
PLEASE TELL US A LITTLE ABOUT YOURSELF
I received, by post, a hand-written scam letter from Nigeria with all of my details after only 6 months from establishing a brand new company name and address.
The funny part is that the letter had my Canadian company name on it with my United States address.
The only time I had filled out something with those particulars was on a form I received by email months ago about a free international professional guild listing.
Charles T. Miller Complimentary Listing # 7715
Sent in by Daniel Ratté 05/21/02
---
Dear Candidate,
You have been selected as a potential candidate for a free listing in the 2002 Edition of the International Executive Guild Registry.
Please accept our congratulations for this coveted honor.
As this edition is so important in view of the new millennium, the International Executive Guild Registry will be published in two different formats; the searchable CD-ROM and the Online Registry.
Since inclusion can be considered recognition of your career position and professionalism, each candidate is evaluated in keeping with high standards of individual achievement.
In light of this, the International Executive Guild thinks that you may make an interesting biographical subject.
We look forward to your inclusion and appearance in the International Executive Guild's Registry. Best wishes for your continued success.
International Executive Guild Listing Dept.
Please fill out this form if you would like to be included on The International Executive Guild, For accuracy and publication purposes, please complete and send this form at the earliest opportunity. There is no charge or obligation to be listed on The International Executive Guild.
---
Dear Candidate,
You have recently become a candidate for inclusion in the upcoming Edition of The Metropolitan Directory of Executives, Professionals, and Entrepreneurs.
It is free of charge to be listed in The Directory which spotlights thousands of highly accomplished individuals from around the world.
If you feel that you have demonstrated achievement in your field, and would like to be considered for inclusion in The Directory so that you can gain exposure for your business, network with others, and be listed with other notable individuals from around the world please fill out the attached form and submit it back to our offices.
We look forward to your appearance in The Directory. Best Wishes for your continued success.
Regards,
Lisa Daly
Profile Coordinator
P.S. Remember, there is no charge or obligation for your appearance in The Directory.
---
International Communications Network's Professional Directory
Karen Landers / Charles M. Baker
---
Export to Africa
It is with great pleasure that we invite you to participate at upcoming major Trade Exhibitions in Africa...
Salman N. Inaam, Expolink Exhibitions Worldwide
Tunis, Tunisia; Nairobi, Kenya; Dar-Es-Salaam, Tanzania; Addis Ababa, Ethiopia; North Africa, East Africa
What we really mean is: Send your confidential info or confirm an active address by trying to remove your name from our lists or, even better, give the names and emails of fellow professionals we can spam.
---
Nigeria Pays High Price for Its Con Artists
03/03 - LAGOS, Nigeria  - Nigerian banker Anthony Owuye loses no opportunity to voice his bitterness after failing to clinch promising partnership deals with British banks.
He blames it all on Nigeria's legion of con artists who have gained worldwide notoriety for their 419 scam letters -- so-called after a section of the Nigerian penal code.
"The first British counterpart I spoke to warned me that this would not be easy, and that the likelihood of success was very low," recalled Owuye, chairman of Lagos-based Personal Trust Savings and Loans Ltd.
"Foreigners will always think first of 419 when it comes to Nigerians. The process can be a humiliating one," Owuye told Reuters in his office in the Surulere district of Lagos.
A photo on a wall of the modest office shows the banker in an embrace with Nigerian President Olusegun Obasanjo, whose declared war on corruption has apparently failed to deter those perpetrating the scams.
Nigeria's image took a further battering on Feb. 19 after a 72-year-old Czech who lost his life savings in an apparent oil investment scam shot dead a Nigerian diplomat in the country's embassy in Prague.
Czech police have not elaborated on the killing of consul Michael Lekara Wayid in the most high-profile murder linked to Nigerian white-collar crime.
Kojo Bedu-Addo, senior Africa analyst at the London-based Control Risks Group, says the need to screen potential partners is increasing the cost of doing business with Nigeria.
"There is no guarantee even if you do have an official company or government letterhead that you are dealing with the right people," Bedu-Addo told Reuters. "Only face to face contact and due diligence will prevent outright fraud."
As a result, foreign companies wanting to do business in Nigeria have to be helped by Nigerian consulates abroad who often have to set up special task forces in association with other international anti-fraud agencies.
According to the Special Fraud Unit of the Nigeria Police, only 22 convictions between 1993 and 2001 were related to 419 offenses. Roughly 30 arrests have been recorded this year.
---
Nigerian Government to step up war against 419, drugs, human trafficking, money laundering..
BY ANGELA NKWO 10/03
APPARENTLY in response to Nigeria's low rating by the global anti-corruption watchdog, Transparency International, the Federal Government has said it was renewing its war against advance fee fraud, money laundering and trafficking in narcotics and humans.
The disclosure was made by Vice-President Atiku Abubakar at the opening of a two-day conference on money laundering and Nigerian economy organised by the National Drug Law Enforcement Agency (NDLEA), in Lagos on Tuesday.
Atiku who was represented by the Attorney-General of the Federation (AGF) Akilolu Olujimi (SAN) said the present administration since assuming office in 1999, had commenced cleansing of the country's image dented by money laundering, adding that war has been declared on trafficking of narcotics and people, advance fee fraud, and money laundering.
Olujimi explained that the laws of the country have been revised to show the seriousness and commitment of the threat and tackle the effects of the crimes.
He noted that Nigeria's rating in the international scene has been improved, adding that more needs to be done, just as he declared that the country is prepared to do more in terms of proper and extensive dissemination of knowledge as well as practices in the fight.
He commended the NDLEA for its leading role in the fight against the drug scourge, as well as organising the conference, saying the war is one that everybody must embark upon, and co-operate with one another for it to succeed.
On his part, the chairman of NDLEA, Bello Lafiagi said the agency has renewed its commitment in the war against drugs and money laundering, adding that it the situation on called for collective effort.
The Minister of Finance, Mrs. Ngozi Okonjo-Iweala called on banks to imbibe the spirit of transparency and accountability to help in the war against money laundering, adding that it will be done in such a way to avoid ruining the customer-bank relationship.
---
Welcome to Nigeria: rich in resources, rife with corruption
By Tan Tarn How - http://straitstimes.asia1.com.sg/commentary/story/0,4386,225452,00.html
WE HAD been warned before going to Nigeria that things don't always work there the way one would expect them to. We did not have to wait long to find out why.
The very first night when we - myself, two other Singaporean reporters and a photographer - arrived in the capital Abuja, we were told by the hotel that there were no rooms vacant. Never mind that we had reservations. 'Sorry, I can't do anything,' said the receptionist.
It was past midnight and this being the week of the Commonwealth Heads of Government Meeting, every hotel in town was full.
Fortunately, we had also been told that the wheels of Nigerian bureaucracy usually need some financial lubrication. So, after 1 1/2 hours of ineffectual argument, we opted to do as the Romans do. Lo and behold, the manager pulled two rooms out of his hat.
Welcome to Nigeria.
Corruption is endemic in this West African nation. In fact, bribery is such a part of life that the 120 million Nigerians have their own term for it - 'dash'. The book How To Be A Nigerian, a guide for foreigners by a local author, explains: 'A tip is reward, dash is incentive.'
Almost everyone, whether in the private or public sector, wants some incentive. 'When a cop stops me, I know what he wants,' a Nigerian businessman told me.
It is no use complaining to a superior: The boss will have received kickbacks for hiring the underling in the first place. And so it goes, up the chain, right to the very top of Nigerian society.
Even schools have been tainted. According to The Citizen's Voice, published by the African Citizens Development Foundation, 'it is becoming impossible for students to pass their examinations without malpractice'.
Graft, of course, is not unique to Nigeria, as those who have been overseas - and they don't have to go very far - know. Still, when even a China journalist based in Lagos, Nigeria's commercial capital, can whisper to me 'you think it is bad in China...', you realise that Nigeria is special.
Take a survey last year by Transparency International, the Berlin-based non-governmental body devoted to combating corruption.
Singapore is ranked fifth most corruption free, Malaysia 37th, China 66th, India 83rd and Indonesia 122nd. Out of 133 countries, Nigeria is ahead only of Bangladesh.
Corruption stifles economic growth: Significantly, a country's position on the corruption table is closely correlated to its poverty ranking.
The sad part is that Nigeria, Africa's most populous country, is flush with natural resources. It is the world's sixth largest producer of crude oil.
Yet, most of its petrol is imported. Nigeria also has reserves of bitumen, tin, bauxite, iron ore and gold, as well as the potential to develop a vibrant tourism business.
But graft, mismanagement, a high crime rate and widespread ethnic and political unrest - 10,000 people killed since 1999 - have deterred foreign investment.
The country is among the poorest in the world. Most Nigerians are subsistence farmers, making do on less than US$1 (S$1.70) a day. Though the economy has been growing at around 3 per cent annually in the last few years, little has filtered down.
Blessed by nature, but undone by man, Nigeria has been aptly described as the Cinderella who never made it to the ball.
Sad, too, is the fact that Nigerians are entrepreneurial. They even lead the world in one unfortunate category of 'business' creativity - scams, specifically the 'advance fee fraud' where victims are conned into handing over money with the false promise of a huge pay-off.
Even when the government helps out, the poor don't benefit. Ms Iyefu Adoba, 32, a journalist with the newspaper This Day, told The Straits Times: 'The money set aside doesn't get to people as it is hijacked along the way.'
Those in official positions squeeze the people, while many of those who aren't become panhandlers. Quite often a friendly chat with a Nigerian will, disconcertingly, end with a request for something. Hotel security guards will come up to you and unabashedly ask for money.
The despair is evident. Miss Agnes Martins, 24, a shoe salesgirl earning 6,000 naira (S$74) a month lamented as she waited for customers outside her shop: 'The government has not done anything for us. Our country is so rich, but... we have nothing.'
Mr Amos Egoli, 30, a barber who earns the same amount, nods in agreement. He asks how much a haircut costs in Singapore, then adds: 'I will leave if I can.'
Things used to be worse.
Only in 1999, after 15 years of repressive military rule, were free elections held. President Olusegun Obasanjo won and was re-elected this year.
A leading member of Transparency International, he has pledged to fight corruption. 'He's clean,' a diplomat from a developed country told The Straits Times. 'So are his finance and foreign ministers. But it's tough. The same bureaucrats that I saw 10 years ago are still there - only they have gone up the ladder.'
Reporter Ms Adoba agreed: 'He has good intentions, but they are foiled by people around him.'
Can Mr Obasanjo convert Nigeria into a Botswana, the southern African nation that has become a model of good economic management?
Botswana is 30th on the clean government league, above nations like Italy, and has a per capita GDP four times that of Nigeria and higher than Turkey, Russia and Thailand. Time will tell. For some, the pace of change is too glacial.
Citizen's Voice editor Moses Owopade Olurombi says it is a myth that poverty breeds corruption: 'Nigerians are poor because they are corrupt.'
But barber Egoli doesn't care about this chicken-or-egg debate. He says bitterly of the newer leaders: 'They are all from the same bunch. I don't see any difference.'
Other Nigerians can only hope that he is wrong.
---
South African Advance Fee Fraudsters - article
---