---
John Robert Powers Talent Agency Consumer Scam Complaints and News Reports

Extreme Prices: $9,900 for "Lifetime" "Elite Program"
Check Complaints at the District Attorney's Office
Sample Complaints from John Robert Powers San Diego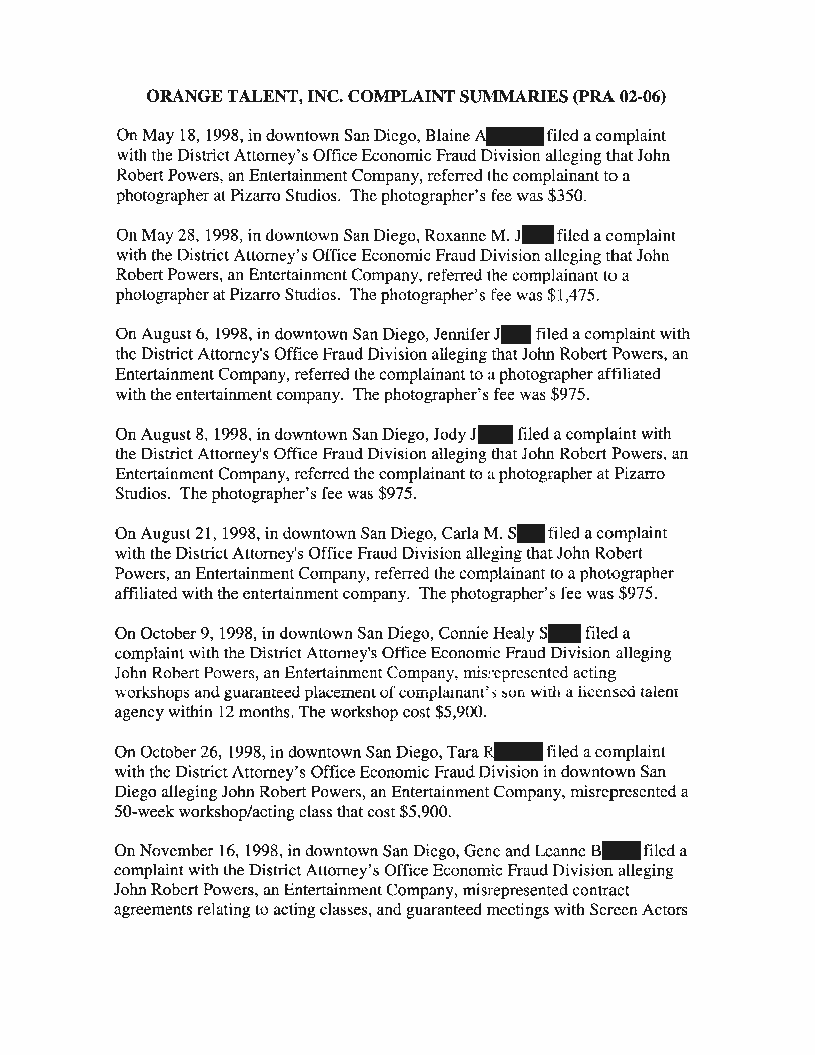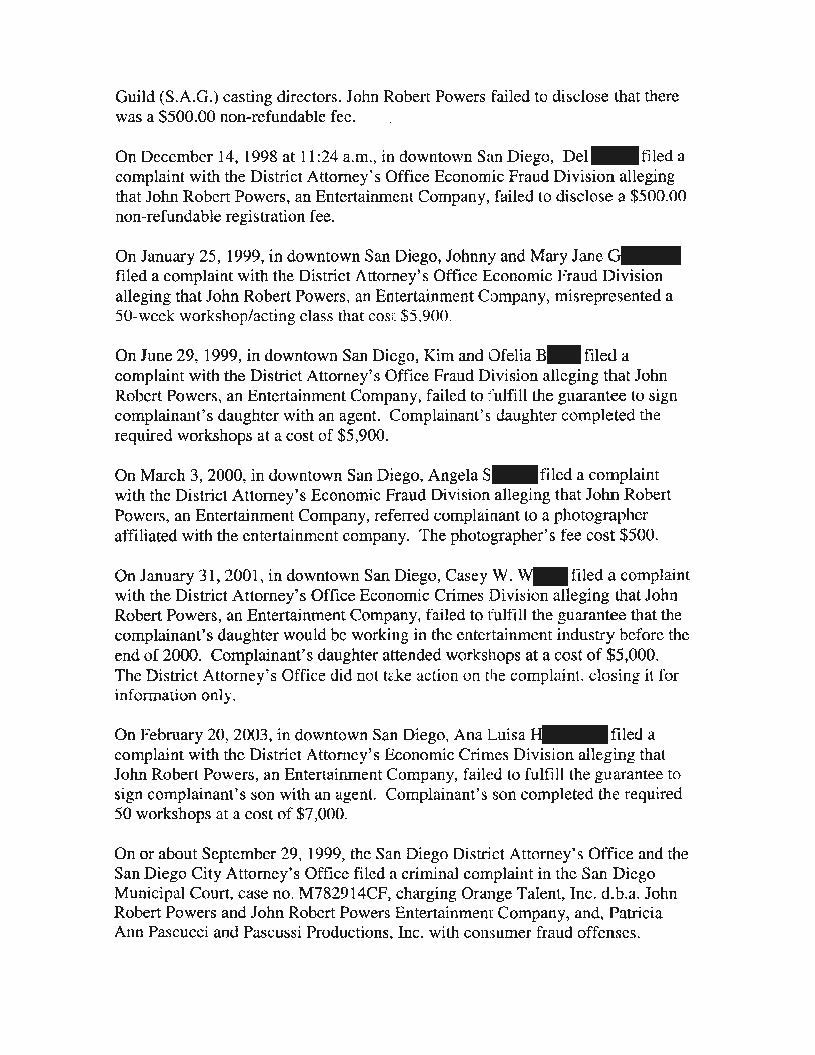 Modeling Scam News Reports
A) Star Struck
C) Preying on Kids Who Long for Fame
A) Star Struck Model Hopefuls
Channel 4 News obtained an internal company memo from a Powers School in Ontario, Calif.,--a sales and marketing pitch that is read to prospective students.
Teacher: "All the pictures on the walls are of graduates of JRP. We've had Lucille Ball, Marilyn Monroe, Heather Locklear."
Two of Marlene Rodriguez's children attended Powers. "It's a big scam...I mean that's how they draw you in," said Rodriguez.
Mitchell added, "They're putting these classes on credit cards and paying thousands and thousands of dollars."
Paul Moyer: "Marlene, how much are you out?"
Marlene Rodriguez: "Five thousand nine hundred dollars."
Moyer: "Five thousand nine hundred dollars."
Mitchell said letters came back from a variety of famous people who said they never went to Powers and didn't give permission to the school to use their names. But, we didn't take his word for it. We checked, too.1
1. "Star Struck," NBC-4 Los Angeles, May 25, 2004.
http://www.nbc4.tv/team4reports/3346302/detail.html
(John Robert Powers)
"Angry former employees and clients say the local John Robert Powers school charged high dollars for a promised ticket to professional modeling and acting careers, but used phony 'talent scouts' and high-pressure sales tactics."1
1. Traci Hukill, "Powers That Be," Metro Active, Dec. 9, 1999.
http://www.metroactive.com/papers/metro/12.09.99/powers-9949.html
(John Robert Powers)
C) Preying on Kids Who Long for Fame
Sitting at an outdoor table on the Santa Monica promenade, whistle-blower Rick Espinoza Jr. calls over the young waitress, just to illustrate his point.
"Have you ever modeled before?" he asks. The woman's face brightens like a Klieg light. "Oh, I've always wanted to," she gushes. "But I guess I'm too short, at least that's what my mom tells me. But I'm taking acting classes. Anything is better than waitressing."
Across Southern California, Espinoza observes, are legions of star-gazing youngsters like the waitress, dreaming of a career as an actress or model--many pushed by their parents to try to strike it rich with a lucrative performing contract.
Waiting to pounce on these people, he says, are too many fly-by-night operators posing as talent agents who operate for only one reason: to sell overpriced acting and modeling classes and picture shoots.
These operators make wild, unethical promises of movie roles and magazine modeling jobs that are rarely, if ever, delivered.
Espinoza, who says he once nearly fell into this trap as a 14-year-old, decided to do something about it last year:
He'd write a book about the secrets of these fringe show business operators. He got jobs at two local talent companies to learn firsthand how the system works.1
1. John M. Glionna, "Preying on Kids Who Long for Fame," Los Angeles Times, July 26, 1998.
(John Robert Powers)
They have been around since the twenties, since Hollywood first began.
The late John Robert Powers wrote several books on beauty and success, before starting his original acting and modeling school.
Some consumer advocates have a problem with a few of the John Robert Powers franchises. The Better Business Bureau says complaints have come in consistently over the years at many JRP franchise locations.
Consumers are warned to look before you leap--especially when it comes to signing big contracts. You could end up paying a big price in your search for Hollywood success.1
John Robert Powers is a school steeped in tradition and entrenched in Hollywood history, but several of the company's franchises have earned an unsatisfactory rating with the Better Bureau.
Here are a few reasons why they have earned an unsatisfactory rating:
According to Bill Mitchell of the BBB, "This modeling and talent business generally makes people believe that they are really talent agents or that they have talent agents sitting in the wings back there looking for fresh faces--and what they are really after is just that check."
Most JRP student[s] take a class that teaches everything from goal setting to social graces. It costs around $1,200. Modeling and acting classes at JRP are by invitation only.2
Melody Martin say[s] a JRP rep at the Agoura Hills location convinced her to sign up two or [sic] her daughters for classes.
Melody was sold on the impression they were headed for stardom. Martin says, "She said with our connections we could have you auditioning by tomorrow.
Then she said but they need to take the classes so that they know how to audition."3
President of the Casting Society of America Gary Zuckerbrod points out--promises for auditions is a major red flag. Zuckerbrod says, "Classes should not be taught with the idea that you will be meeting casting directors with the idea of getting a job from that class."4
1. "Warning Bright Lights, Big Bucks," Eyewitness News, ABC-7 KABC-TV Los Angeles, Nov. 17, 2003.
2. Ibid.
3. Ibid.
4. Ibid.
http://abclocal.go.com/kabc/features/CONSUMER/111703_fs_bright_lights_big_bucks.html
(John Robert Powers)
"Gabriella's mother, Roxanne Joven says, "They gave us a pamphlet saying you need to invest money into your career. People spend that on college. You should spend that on pictures."
Consumer Bob says, "Roxanne Joven is talking about the high pressure tactics she faced when she took her child to John Robert Powers."
A Penny Saver Ad said the company was looking for kids. They told Roxanne that Gabriella was one of 600 they were looking at. Roxanne says, "Just bring some snapshots in there and the baby and they looked at her and called the next day and said she was the one."1
"Sierra's mother Gina says, "She said she'd been auditioning 300 kids and it was a hectic week."
Consumer Bob says, "Gina Rutz got the same line when she took Sierra to John Robert Powers. And like Roxanne the modeling agency said the 10 month old needed professional photographs."
Gina Rutz says, "They said she had to have a portfolio before she could do anything in the entertainment business she had to have it."
Consumer Bob says, "But the photos didn't come cheap. John Robert Powers turned the mothers over to Pascucci Productions, a talent agency owned and operated in the same office.
And their charge for photos? A whopping $1475.00.2
1. "Is Your Baby The Next Super Model?," Consumer Bob, KFMB TV CBS Local 8 San Diego, 1999.
2. Ibid.
http://www.kfmb.com/bob/baby_model.htm [Oct. 3, 1999]
(John Robert Powers, Pascucci Productions)
Bob Hansen says, "It's called a vanity racket because as parents we're not always objective when it comes to our children. That's why an unscrupulous business or school can milk us out of thousands of dollars, telling us the whole time our kids are on the brink of stardom. That's how it works at John Robert Powers. I know, I've talked to the victims and that's not all, we went undercover."
Woman says, "It's very glamorous and very exciting, but it's not for everybody."1
Bob Hansen says, "Three months ago I showed you how John Robert Powers was charging parents thousands of dollars for unnecesary photo packages in clear violation of state laws. Our undercover investigation showed they've switched from selling pictures to selling classes.2
Bob Hansen says, "Toward the end of our meeting Staci tried to close the deal. Pressuring us to hand over a $500.00 deposit."
Woman says, "Do I have to do that now?
Woman says, "Well this is the thing, we're making all the decision tonight. Do you want to call your husband?"3
1. "Beware, If You Want Your Child To Be A Model or Star," KFMB TV CBS Local 8 San Diego, 2000.
2. Ibid.
3. Ibid.
(John Robert Powers, Pascucci Productions)
http://www.kfmb.com/bob/kid_model.htm [Jan. 18, 2000]
"The audition for prospective models, advertised heavily on the radio, featured a Los Angeles casting director.
Although it's unclear if anyone landed a job from the outing, they all heard a sales pitch for training.
"It's just like swim class. If you want to be a great swimmer, you have to have a great coach and get into the pool," the visiting talent scout told the crowd. "Whether here at John Robert Powers or somewhere else, it's important to get trained."
That is how many of Minnesota's aspiring models and actors find out that they're not at an agency that may help find them work, but rather at a school to train them. That training usually costs thousands of dollars."1
"George Caceres is the president and owner of the John Robert Powers school in Bloomington, which opened in 2001 and offers training programs that range from $2,000 to $8,000 for a lifetime membership."2
"Sometimes it can be good, but a lot of times you pay a lot of money and you don't get anywhere," she said.
"One of her sisters was in it for a year -- she did the classes and never got anything. "I would do anything -- anything that she wants to try.
Of course you think your kid is smart, beautiful and talented. But everybody thinks that about their kid, too."
Later, Jamilah learned that she made the call-back list for classes at John Robert Powers, which would cost nearly $2,000 for 20 weeks.
Her mother decided that it wouldn't be worth it if the school couldn't guarantee that Jamilah would get an acting job by the end of her training.
For now, the 12-year-old plans to keep trying out for parts at a children's theater company and perhaps audition again at a John Robert Powers event in the future. Her goal is not to qualify for classes at the school, but to land an acting job through the auditions."3
"What's so interesting is all that business has gone from this market, and what's risen in its place are training centers," Wehman said. "There's no place for them. They cannot train you. Yes, they can give you tips. But for thousands of dollars?"4
"To date, Donna Harris has spent $20,000 on her daughter, Kristin's dream of becoming an actress.
Her expenses include $8,000 for a lifetime membership to John Robert Powers for classes and access to auditions with visiting casting directors, and $12,000 for a trip to New York City to attend a modeling convention.
Although she said she wouldn't invest that kind of money again, Donna Harris says her 16-year-old daughter has benefited from the auditions and from some of her acting classes.
"The problem is it's an industry where people are milking you for your dreams," she said. "It's so easy to go in and spend a lot of money because you think this will make my child famous."5
1. Allie Shah, "Not always a pretty business," Star Tribune [Minneapolis], Aug. 2, 2004.
2. Ibid.
3. Ibid.
4. Ibid.
5. Ibid.
#Delete [Aug. 29, 2004] Google Cache
"St. Louis has several modeling agencies and modeling schools. Ads run on the radio for model searches almost every weekend. National agencies such as John Robert Powers have offices in St. Louis, advertising for jobs with clients such as Coca-Cola and Nike.
Those jobs don't really exist. Read the fine print of a recent Powers ad in the Post-Dispatch and see that they need models for "companies like" (italics added) those above.1
"Tracy's a beauty, all long arms and legs that curl around her on the white ottoman in the Dupilkas' orange living room. Before they met Klobe, that beauty got taken.
At age 11, Tracy attended classes at John Robert Powers. "They made you pay money every time you went there," Mary says bitterly.
Tracy says one course consisted of each student taking a walk down the runway, stopping, saying her name and walking back. That lesson cost the Dupilkas $75.
By the time they were done with the John Robert Powers education, they'd spent $4,000, yet Tracy had gotten no work. . . . When called for a comment about this story, a representative for the local John Robert Powers agency said, "We're a 'character' agency," supplying the entertainment industry with character actors -- not a modeling agency.
Yet an ad in the Post-Dispatch reads: "We're looking for models/actors. Accepting applications for our new Faces Div. of John Robert Powers Entertainment Co. with placement by Images Agency."
The ad calls for "all sizes, heights, ages (3 mos.-75 yr.) for ads, catalogs, films for companies like Sears/CPI, Anheuser-Busch, St. Louis Zoo, Six Flags, Gateway Computers, Bugle Boy, Coca-Cola, Nike, First Foto, etc." The key word in the above sentence is like.2
"One former model with 10 years in the business, who began her career in St. Louis, chooses to speak anonymously.
Like Tracy, she experienced the modeling-school scam at the beginning, shelling out $3,000 for classes at the now-defunct John Casablancas school when she was 13.
She moved to John Robert Powers when she was 14, she says: "They got me a job -- a fashion show in a bar."3
1. Eddie Silva, "Field of Schemes," Riverfront Times, May 8, 2002. http://www.riverfronttimes.com/issues/2002-05-08/feature.html [Aug. 29, 2004].
2. Ibid.
3. Ibid.
"Eleven-year-old Kaitlin Chappell of Hamlet is good at sports, but wanted to try her hand at modeling. He[r] mother, Tammy, took her to try out for modeling at John Robert Powers Modeling Agency in Charlotte.
The company told her she was selected. Tammy then paid $2,900 with her credit card, but canceled the next day after Kaitlin decided the classes didn't fit into her schedule.
"They called back and said that they would reimburse the money. But they weren't going to give us the $500 fee that you have to pay," Tammy said.
Tammy agreed to that, but didn't receive a check as promised.
Action 9 contacted John Robert Powers Modeling Agency. The company blamed the refund delay in part on not knowing how to credit refunds to credit cards.
Also, they said they were in the process of moving their offices. After Action 9's contact, they credited $2,400 back to Tammy's account.
Modeling jobs are typically hard to find so beware of the costs of modeling classes.1
1. "Modeling Mess," Action 9, WSOCTV Eyewitness News 9 [Charlotte, NC], Aug. 16, 2004.
http://www.wsoctv.com/action9/3657826/detail.html [Aug. 30, 2004].
(John Robert Powers)
See alsoComments on John Robert Powers in the News and Consumer Complaints
---