---
Studio Kidz aka StudioKidz (Tracy Hartland) aka/in association with The Hollywood Group (www.hollywoodgroup.com) aka Hollywood Handbook (Carlos Becerra) in Los Angeles
12/07 - Studiokidz is now posing as TVkidz
I was approached in Porter Ranch by Jessica Baslow, whose card now reads TVkidz.  I had been approached about a year ago by someone from Studiokidz so I immediately tried looking up TVkidz on the web when I got home.  The only info I found was an acting studio in North Hollywood so I sent an email asking if they were affiliated.  I don't think they are even aware that someone else is using their name.  Then I found all the complaints about Studiokidz and Jessica Baslow.  So be aware people, new name-old game. Thanks.
NEW: Criticism from parent with kids who were in Spiderman,Malcolm in the Middle, and 7th Heaven (see July 7, 2005 letter)
"I went to the 'interview' after the 'screen test.' The interview was OK, but they were looking for a commitment of $1,395.00 (!) for photos with "FotoWorks" and to "supplement" the cost of training classes so that the co-pay is just $10-25 each with Gray Studios and classes with Chris Apodaca."
Parents keep asking about this company, so earlier information is now posted online. Please send any additional information to confirm, update, or develop existing info, or send your review. (Info is posted anonymously.)
A quick check at the California Secretary of State website (June 3, 2005) showed no business by the name of Studio Kidz registered either as a corporation or an LLC: (See http://kepler.ss.ca.gov/list.html.) This is a cause for concern. Parents are advised to find out if the company is in fact registered or not before proceeding.
A criminal background check done on June 3, 2005 of "Tracy Hartland" in California provided two records, one of which was a "H 11350.A" Offense; the other a "032 487.2" offense. Without the StudioKidz owner's birthdate, it's impossible to know if it is her. If you can provide her approximate age or middle name, you can be provided more information.
Parents are mistakenly under the impression or misled to believe Studio Kidz has agents. Every talent agent in California must have a talent agency license. Studio Kidz does not have one; therefore they cannot book jobs.
Based on the information provided, Studio Kidz talent "scouts," whose qualifications are not known, "scout" or solicit parents in stores like Wal-Mart (illegal) or grocery stores (!), malls, etc., and invite them to a "screen test." This socalled scouting and invite for TV commercials happens before the child has even been tested for acting ability (red flag).
At the socalled screen test, which may not be a legitimate screen test, they are told by people who may not even be qualified, they are qualified to do commercials, etc., or have been "selected."
This is a game, of course; if they think you have potential to pay them, your child has potential. Studio Kidz tries to make parents think they are selective by saying they only select a small percentage. (You don't know if they are just saying that to string you along.)
Then the parents are passed off to another company called The Hollywood Group.
The Hollywood Group
2050 S. Bundy Drive, Suite 202
Los Angeles CA 90025
The Hollywood Group may still be selling a book they think is worth $595!!! It's called the Hollywood Handbook. (Or is it just the associated workshop that comes with the little book that is so valuable.) Easy Background Check is aware of no mainstream publisher which has published this book and sees no justification for the price. It may be worth $5.95, not $595. Maybe less. If it is so valuable, why has no mainstream publisher picked it up? They sell products and services that are supposedly a discount.
The BBB complaint records for The Hollywood Group include complaints about overcharging and not being upfront with respect to the money that is involved. Certainly the socalled child talent scouts do not tell parents they will be asked to pay hundreds of dollars when they are invited to the "audition."
This company or these companies together act like a talent agency with their "scouts," "screen tests," "interviews," and "final interviews." This can have the net effect of misleading parents into thinking or feeling their child is being accepted or about to be accepted by a talent agency. Neither Studio Kidz nor the Hollywood Group have a talent agency license, however. If you want your child screened by a reputable, licensed professional and signed with a talent agency that has a license, is legal, won't charge you a dime, and only gets paid after your child works, call or go to a licensed talent agency in Los Angeles.
Parents say their children were "scouted" in stores like Wal-Mart and Target. However, it may be and probably is illegal for anyone to solicit or do business in another business's store. (In Virginia, at least, in the Model 1 scam, for example, security was called when their scouts solicited at the mall, and the scouts were kicked out.)
Below are comments and questions from concerned parents who emailed.
Parents Comments and Questions
---
Individual/Company: Showbiz Kidz
City/State: San Jose, Ca 95112
Web address: http://www.showbizkidz.org
Advertising/referral by: Jessica Baslow
Amount solicited/paid: $0
Date: October 26, 2007
Comments: Last night I was shopping in Wal-Mart and a woman approached me about my daughter, saying she should come to the free screen-test on Sunday 10/28/07 between 1-4pm.
At first I was very impressed, because just like all parents I am very biased and think the world of my daughter. Today I thought I should do a little investigation on the is company. I have found that the website address is still available for purchase. The BBB does not have a listing for this company and it is not listed at the Secretary of State Web site.
I am very skeptical about the legitimacy of this company. I have found no Yellow Page Listing for this company. I googled the address and it looks to be in a residential part of San Jose. I would like to thank you for the extra info your site has provided. I had no intention of taking my daughter to this screen- test, but now I can pass info to others I know who have been approached by the person.
MH
---
Today 8/10/07 I was approached at Target in Poway, CA (San Diego County) by a woman whose business card for "TV Kidz" stated her name as VALERIE MUIR 818-679-8660.
She asked me if those cute children with me were mine. She asked their ages, names and interests and stated they had "great energy". She said they should come for a free screen test, and if they were chosen one commercial could "pay their way through college."
She also claimed this was her own experience with her daughter. There was at least one other woman working the store, as I saw her talking to another mother on my way out the door.
The address for the screen test is 7220 Trade St., Suite 230, San Diego, CA 92121. The card also listed a website of www.tvkidztalent.com
---
June 3, 2007
Thanks for having the information posted concerning Tracy Hartland and her affiliation with StudioKidz / TVKidz.

Individual/Company: Chris Hart (perhaps an AKA for Tracy Hartland)
City/State: Sunnyvale, CA
Web address: http://www.commercialkidz.com
Advertising/referral by: Approached at Sunnyvale Art and Wine Festival 060207
Amount solicited/paid: $0.00
Comments: See notes below

Based on the information I found on your site I believe I and my family were approached by this woman this afternoon at the Sunnyvale Art and Wine Festival in Sunnyvale California.

The following description:
" She looked the part also : Older, in a hurry, fake [. . .] (has to be an old hollywood actress right - wrong). "
This fits the approach and description of the woman "To a T".

If this is in fact the same individual she is now using the name "Chris Hart" (amazing how similar) and has moved to using a company name of "CommercialKidz".. (again.. what a coincidence on the similarity to the names of StudioKidz and TVKidz)

The card is much the same as described in some previous letters.. using a gold sticker with name.. the movie screen, the colors, and the references to specific placements on "That's So Raven", "Boston Public", "Toys "R" Us"...etc.

There is a link on Craigs List looking to hire "talent scouts" that refers directly to "CommercialKids" and has the name of "Tracy" as the point of contact with a phone number in the 310.


I have attached a copy of the page as a pdf. in the event that the ad gets pulled before someone has a chance to look at it. CommercialKidz Scout Ad
The phone numbers provided both on the card and the Craigs List ad go to a message and are not picked up.. at least on the single calls I made to each. Both numbers are unlisted as to ownership of the account, but I believe a more in depth search that can be paid for would result in validating my suspicions.

This appears to be one of those very reprehensible individuals that doesn't mind taking advantage of people and their children and are simply predators that should be stopped and remanded to the custody of their peers in the appropriate penitentiary.. preferably something that has hard labor involved and involves some form of abuse being inflicted on a daily basis to remind them of their offense. I know, a little militant, but being the father of a beautiful autistic son and normally developing daughter I tend to be a bit over the top when it comes to people attempting to utilize a child in an effort to line their pockets without regard for the impact on that child and their future development.

Again, my thanks for posting the information and I hope you include some or all of the text of this email to ensure that anyone seeking information about the name of Commercial Kidz will come to the same conclusion I have.. simply put, that it appears to be the current front for the previously noted scam.
---
October 27, 2006
I was in Wal-Mart (Union City) on October 27, 2006, when a lady, Sue Alayuz, from StarKidz approached me about my 11 yr. old daughter and my 7 yr. old twin daughters. She went on and on about how beautiful my girls are and how she scouts kids for commercials and for shows like, "That's So Raven". Right away my girls get all excited and this lady kept going on about, if I could bring my girls down for a free screen test. Luckily, although I entertained the thought, I google this woman's name and found out about the scam. In hind sight, someonelse from StarKidz had approached my 11 yr. old in June 23, 2006 while at Southland Mall (Hayward). Beware parents, they prey on the fact that we already feel are children are beautiful.

Mama Bear
---
On Sept 23, 2006 my wife, daughter in law with my grand daughter was
approached in Wall-Mart, Paramount CA 90723 by Alisa Poplofsky. She ( Alisa
Poplofsky) said that my grand daughter was beautiful and asked if she could
come in for a screen test on Sunday between 12PM and 3:00 PM. They were also
told to leave any monies at home that the screen test was free. I have
enclosed scans the business card they gave my daughter in law.
310-864-2273
8670 Wilshire Blvd, Suite 112
Beverly Hills, CA 90211
www.tvkidztalent.com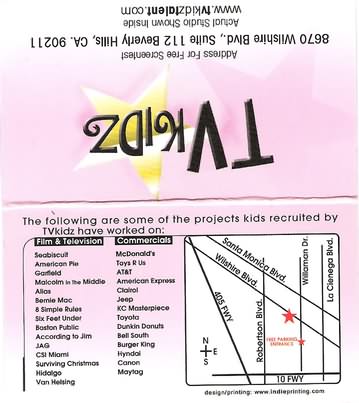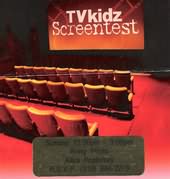 ---
I was approached 9/13/06 5 pm at the Best Buy in Thousand Oaks, Ca, about my kids regarding being screen tested for holiday season commercials.
They handed me the TVKidz pink folded screen test card for Sunday 9/17 at 8670 Wilshire Blvd. Ste. 112 Beverly Hills, Ca 90211. Same story, 2 commercials can put them through college etc.
Val and Jess were the reps, nice enough girls, but like the others on your site, after we were pitched, Val and Jess rushed out to their car and that was it.
Nothing wrong with what they did so far, but we won't race out to be screen tested by them. Thanks.
TF,
Thousand Oaks, Ca
a concerned parent.
---
July 2, 2006
Yesterday my family was approched by a woman who represented herself as a talent scout in Khols in the Bayfair Mall in San Leandro. She started by approching our 13 year old and wanted her to come in for a screen-test. She said her company had gotten kids hired for "That's so Raven" and where looking for kids to appear in a "Gap" commercial. "One or two commericals can pay for college"

She invited us to a screen test in Emeryville today and handed us her card:

A pink double card folded in the middle for StarKidz. Address for screentest: 5900 Hollis Street, Suite R2, Emeryville, CA 94608
Directions: www. starkidztalent.com

" Kids recruited by Starkidz have worked on: "That's so Raven"; "ALIAS"; "CSI Miami"; "Boston Public"; "The Bernie Mack Show"; "According to Jim"; "American Pie"; "JAG"; "Seabiscuit"; "Garfield the Movie".

Commericals: "McDonald's"; "Toys R Us"; "Berger King"; "American Express"; KC Masterpiece"; "Dunkin Donuts"; "Toyota"; "Hyundai"; "Maytag"; and "Clairol"

The reverse side of the card showed a theater with screen and chairs and said "StarKidz Screentest"

At the bottom is a stick on label which says:
Sunday 12:00pm - 3:00pm
www.starkidztalent.com
(Bring Photo)
R.S.V.P. (415) 567-5485
Bella de Barros

The web site says "Congratulations! If you are reading this then its likely you have been approached by one of the top talent finders in entertainment..."

The cite is set up to direct propects to the screentest (also at 4th Floor Studios, 2325 3rd St., Suite 434, San Francisco, CA 94107). The site does not provide any real company information or contact information.

Needless to say thanks to the information I found at your site, my family will not be attending this "screentest".
---
June 26, 2006
I was approached by Tracy Hartland at the Northridge mall on June 22, 2006. I was stupid enough to take my 5 year old down to the "screen test" today. I was told exactly what everybody else is being told.
Luckily my 5 year old told them she didn't want to be in any movies or be an actress. Thank God!
I am just so worried that they have my address, phone number, email and most of all my daughters picture. They also ask you what income bracket you are in. They take back the card they gave you at the mall.
One of the emails says if they had more info on Tracy they could give the parents more info. Well, she is probably in her late 40's or 50's with long blonde hair and skinny. I am so ashamed that I wasn't a more alert parent about this and didn't look up this web site before I went.
Is there anyway I can get my daughters photo back? I don't understand if this company is known by law enforcement to be a scam why is they still "in business"? If they do these auditions in the same place on Sunday why don't they stop them.
---
May 27, 2006 - Scout named Bella de Barros active at the Serramonte Target in Daly City.
---
May 18, 2006 - We were in Wal-Mart in Union City, CA and my daughter was approached by Bella de Barros and told how beautiful she was and that she could possible star in a commercial that would pay for her college education! The screen test would be on a Sunday afternoon and everything is free, even the on street parking!
---
Rebuttal - April 27, 2006
What is being displayed on your website is completely unprofessional and has caused an ongoing avalanche of comments in regards to TV KIDS and the scouts that work for the company.
It is importaint to check out the company/facility that a child might partake in, It is part of being a parent-and I, as a parent give respect to all the parents who are concerned for their children.
However-the fact that the names of these talent scouts are being posted on this website is slander. Many children have had success through workshops, showcases and classes. Many have not.
When anybody is approached with a business card, nobody is forcing the parents to take their children, and nobody is forcing the child to partake in classes.
Have I been a scout in the past? Yes. For TVKIDZ? No. But I must say that to post the name of an individual on a website that states it is a "Background Check", to post names of people and to make them out to be mean, and money hungry is beyond unprofessional-it is unconscionable.
I hope you will consider removing the names that have been posted, especially since the comments posted on this website are competely one-sided and it is obvious that all it takes is one comment from an angry parent, or business competitor, and suddenly parents are posting remarks and speaking about something they know very little, if anything about.
Like I said before, I give credit to any parent to investigate something they are considering their child to partake in. But it is also importaint for the parents to think for themselves, instead of believing everything written on a website that has been created and has had remarks posted by "people" that aren't even courageous enough to sign their names-yet have absolutely no problem when it comes to being a slanderer.
I encourage everybody who reads this website, or a website of similar content, to think for themselves.
Sandra Illisannia
---
On 4/27/06 I was approached and given a card by a woman claiming to be Bella de Barros in the South San Francisco Costco Store.
As previously reported, the so called 'talent scout' claimed that my child looked right for several commercials that are shooting screen tests this Sunday.
She specially mentioned a Gap commercial and the possibility that my child could make $48,000.00 for a single national commercial.
Because my child has been working at legitimate in Bay Area theater, we have learned a few things about agents, agencies, talent scouts, etc., I felt this (Starkidz) pitch was a scam.
It didn't take much looking to determine that Starkidz is not a legitimate talent business (it is not a licensed talent agency) and that it likely operates by playing on the hopes of parents and kids for the sole purpose of getting money in the form of over-priced headshots, acting lessons and/or books.
On 4/27/06 the Starkidz web site (actually it's a single page with no meaningful information) (www.starkidztalent.com) contains these ominous words "The companies that we refer the best talent to may require certain marketing materials/training that will need to be budgeted for, BUT we won't send you to anybody unless they give you a professional referral at wholesale prices…and that's a promise!"
My personal opinion is that Starkidz is a rip-off. My experience with my child is that there are acting opportunities available with hard work, determination and the support of talent managers who make an investment in your child in return for a future payoff (and that is a whole different story / experience)
---
April 8, 2006 - I am 11 years old and I was approached by someone with the name Bonnie A. that had talked about being a talent scout for That's So Raven and McDonald's when I was with my friends and one of my friend's mom.
She told me go to 8670 Wilshire Blvd.,Suite 112 Beverly Hills,CA. 90211 on Sunday from 12:00 pm-3:00 pm,bring a photo of myself and to r.s.v.p. at the number (310)864-2273.
---
April 7, 2006 - My husband was approached today at Target in Hayward, CA. He was shopping with our son who is 10 years old.
She handed my husband a pink business card with StarKidz printed on it and a white sticker on the back that states Sunday 12-3pm (Bring Photo) RSVP 510 459-4264 Deidra George.
Obviously, my husband and I were skeptical and tried to look online for StarKidz' website. To no avail, I came across your information about the same scam other people experienced in stores.
These con artists must not have any conscience. It's appalling to know how desperate they try to scam on innocent people just to get a few extra dollars.
Watch our parents!
---
March 17, 2006
Subject: StarKids (StudioKidz, TVKidz) sighting
Individual/Company: "StarKids" (you list it as TVKidz, StudioKidz)
City/State: San Bruno, CA

Comments:   I was in Claire's inside the Tanfaran Mall tonight with my 9 yr old little girl. I got the exact same line "Oh my god your daughter is Beautiful!!" and the "leave your purse at home" line, "2 commercials will put her through college" etc.... The same pink folded card... the image on the inside, the sticker with ALISA POPLOFSKY's name within.

Luckily I told my little girl on the way home that I would take a look online and do the research and if they were a reputable company we would go. But I also told her that many companies like this were scams and they would get you in the door and ask for a HUGE amount for pictures, etc.

Thank goodness I primed my daughter. I did a Google search on this woman's name and this was the first hit.

Thank you so very much for this informative web page. You are an invaluable resource.   I wanted to write because they are using a new name "StarKidz" no California Corporation or LLP/LLC listed, no website, no listing even for the studio in San Francisco. The information given is as so many say on your site:   Sunday 12:00 pm - 3:00 pm (Bring Photo) R.S.V.P. 415-596-0033 ALISA POPLOFSKY

I hope these people can be stopped. Thank you again for your invaluable information.

Concerned Parent
February 25, 2006
Thank you for this most helpful website!!
I was just approached at a Target store in Van Nuys on 2/23/06 by a woman regarding my twins.  She told me that their college education could be paid for by simply being in one commercial.  All in needed to do was to take them to a screen test in Beverly Hills the following Sunday.
I was suspicious when she rushed away after giving me her speech.  I have seen this happen also with other companies in the life insurance business that illegally conduct business in various retail stores. They simply vanish into thin air after they seek you out.
This time was different because it involved my twins who are only 5 1/2 years old.  My kids were very excited and now I have had to tell them that these are bad people in our world that like to hurt others for their own gain.
Using children in this way in absolutely the lowest life forms there can possibly be!!!
These people need to be stopped and I can only hope that by letting my experience be known that it will educate other parents.  Groups like TVkidz need to be shut down and closed for good.
I have informed the Target store management and security about my experience and they informed me that these people will be prosecuted when caught doing this illegal practice.
My best advice to all parents out there is that as soon as they pull out that pink card with the white sticker with their name and the RSVP# simply walk away and go directly to a SECURITY PERSON at the FRONT DOOR of the store and inform them of that person with a description of what they look like.  Most stores like WalMart, Target, Costco and the Malls etc. have a security guard at the door.
Thanks again for your website and for letting me express my anger and disappointment with regards to these extremely dishonest people.
Regards,
A MOM OF BEAUTIFUL TWINS
---
ReL: TVKIDZ
February 12, 2006
I'm very happy to have found this web page.My daughter(age 6) was also approached in a Walmart in Norwalk Ca. by a "Amy Buzin".As I researched the name TV KIDS I came up empty and was a bit concerned,but a friend suggested I Google the name and sure enough all the info. I needed was on your web site. I am also glad to have all the letters from others posted so I can copy them to show to my daughter because I wasn't sure how I was going to explain to her what exactly a scam was. I know her little heart will be broken but with all the info. that you gave in some of the letters we can now go the correct route to getting her to where she wants to go, SAFELY!!
A suggestion is to post all the A.K.A names on the web somehow so it will be easy to find your website, if it wasn't for a friend and a suggestion I might have had to wipe more than just a few tears from my innocent daughters eyes! How do we stop these horrible people from crushing little kids hearts and possibly there dreams?
Thank You Very Much!!!!
Mom
Re: TVKIDZ
January 14, 2006
My daughter and I were shopping at Pavillion Market in Culver City this evening when we were approached by a very outgoing, and enthusiastic woman named ALISA POPLOFSKY.
She asked me if that gorgeous girl was my daughter. She told us that my daughter was the most beautiful girl she had seen in a long time. She also told us that she was a talent scout for many tv shows and commercials such as That's So Raven and McDonalds.
She gave us her card which listed many tv shows. It was a nice-looking glossy pink card with the logo TV KIDZ. She asked me to bring my daughter to 8670 Wilshire Blvd. Ste. 112, Beverly Hills, CA 90211 on Sunday to their movie theater and told my daughter, "If you bring that smile you just showed me you, can earn your college tuition in two commercials." She then told me: "Leave your purse at home!"  She also asked if I had any other children.
Needless to say my daughter was estatic. She was so thrilled. She was singing, "I'm going to be a movie star!!!"
However, my daughter is not only beautiful but smart. She came home and looked KIDZ TV up on the web and what she found broke her heart. :-(
Mom
January 8, 2006
I was so happy to find this website. I was shopping at Cerritos Mall with my boyfriend, my boyfriend's mom and my little sister and then a lady named, AMY D. BUZIN approached us.
Amy started complimenting my sister: "She is very cute and can be in a tv commercial."
Then, she told us to come to a free screen test located at Beverly Hills. She gave us a card, which was folded in half with a white sticker information saying Sunday 12-3PM, Bring Photo ID RSVP 818-720-9440 and her name was included.  TV Kidz was printed on the front of the card with their address 8670 Wilshire Blvd., Suite 112 Beverly Hills, CA 90211.
At the back of the card their map location was printed and the list of the supposedly projects kids were recruited by this socalled agency (such as McDonalds, Toys R US, American Express, AT&T, Clairol, Toyota, American Pie, Seabiscuit, Bernie Mac...etc etc).
We got so excited and even bought my sister new clothes, so she will look more presentable on the screentest. I even told my dad about it and he was very willing to accompany my sister to the audition. We were even practicing some dialogues already (Oh! My poor innocent sister!)
Good thing, my boyfriend told me to do a research about this company and I found this website.  Thank God! I found this relevant information and save ourselves from wasting time.   I wonder how could  socalled agents (like Amy D. Buzin) sleep at night? I mean... Aren't they bothered? Do they have conscience?  Do they feel guilty? Aren't they afraid of BAD KARMA?
She was such a good actress and a big LIAR! She was so good in giving false hope to any innocent families. I just wish these fake agents/scouts will soon realize how they will feel if this is done to them. Whatever they do to others will return to them!
Thank you to all the parents who were unselfish in sharing their thoughts and comments about this agency. I hope the authority will do some LEGAL actions to stop this company exploiting parents and kids with false hope and high prices.
Concerned Parent
=========================
November 22, 2005
Thank you so much for all this valuable info. My children were shopping at the Ontario Mills mall and as with many of your letters the gal that approached us also claimed to be the owner ALYSA POPLOFSKY was her name.
She ran up to me and said, "OHMIGOD ARE THESE YOUR BOYS!???!!! They have such a unique look," and then went on to say, "I WANT THEM!"
"Bring them tomorrow," she quickly added, "from 12:00 - 3:00 to 8670 Wilshire BLVD. Suite 112 Beverly hills California 90211. And bring a photograph."
Finally, she added, "OH, yeah, one more thing: LEAVE YOUR PURSE AT HOME: this is absolutely free!"
How is it that they have not been STOPPED, and why is this not illegal? My oldest son said he felt suspicious from the start, so he was not let down to much after all was said and done, but this definitely got my younger son excited about acting.
So he was let down quite a bit but he is definitely a tough cookie and his statement to me was, "MOM, I AM DISAPPOINTED IN THEM!"
With some encouraging words we did go on to brush it off as just a lesson learned. Although they did go to the screen test, our wasted time & money was minimal. Thanks to this web site!
Concerned Parent
=========================
November 4, 2005
Yesterday, my mom and my 8-year-old daughter were approaced by Jessica Baslow while shopping at a fabric store in the Porter Ranch area of Northridge.
Jessica implied that she "liked the looks of" my daughter and invited her to an audition on Sunday 11/6/2005.
Needless to say, my daughter was soooo excited and sure that this was her opportunity to be discovered. Jessica really did seem authentic and genuine.
Thank goodness I decided to search this company and this person or we would have wasted an entire morning and worse yet, had to deal with more disappointment.
When my mom informed my daughter today about this [. . .] and showed her the printout of letters from the website, it goes without saying that she was extremely disappointed. She even went on to say that Jessica Baslow ruined her dream!
If this helps even one other child from being disappointed by this socalled company, then this letter is worth it.
An angry and concerned parent, grandparent and child
========================
October 15, 2005
Thank you very much for this website. I was approached today at TOYS R'US in Culver City, CA . I was shopping with my daughter and a lady walked up to us and asked how old my child was and told me she was gorgeous. She told me about the free screentest and gave me a pink card that says TV Kidz screentest with a picture of the inside of a theater.
The address read 8670 Wilshire Blvd, Suite 112 Beverly Hills, CA 90211. The gold sticker on the pink card read the name of Jessica Baslow, Sunday 11:45-3PM (Bring Photo) RSVP 310-570-3095. I am so thankful I decided to research because we called her and she told us to come in at 11:45 and my daughter would be one of the first kids to complete the screentest at a real live studio. She insisted that I didn't come too early because they had to set up the studio. I asked why they needed the photo and she said because they were placing my child on film. My daughter and I were very excited but we are even more excited we don't have to go out in the rain for nothing.
Thank you so much,
Concerned Parent
=========================
September 17, 2005
Thank you so much for this website! We were approached by a Studiokidz's lady today at Southcoast Plaza mall (Costa Mesa, CA). The lady who gave me the pink card was named Amy D. Buzin. We were so pumped up and were about to come to their place tomorrow. It is very fortunate that we found your website and read the comments from all the parents.
Thanks again,
Concerned Parent
=========================
September 10, 2005
Oh my gosh! Thank you for this website!!! You saved me
Oh my goodness, well, where to start? Well, I was in the store with my mom and this lady approched us. She claimed that her name was Jessica Baslow and she asked my mom, "Is this your daughter?" and "How old is she, because we are looking for kids age 5 through 16."
So then she gave me here little pink folded card that says Studio kidz and in the inside it says Jessica Baslow, bring photo, and RSVP AT (310)570-3095, and in the front below it said 8670 Wilshire Blvd., Suite 112 Beverly hills CA 90211.
Well, I called and she told me, "Oh, yeah, come on Sunday, 12-3pm."
"Well, the day before, on Saturday, which is today, I did a background check and, well, THANK GOD I FOUND THIS WEBSITE!! It gave me all of the information I needed. So i'd just really like to thank you. So if anyone needs to talk to me before they waste their time in going to beverly hills, email [. . .].
Teen
=========================
August 26, 2005
Today, as I was shopping with my two daughters at the Target Store in Culver City, I was approached by Tracy Hartland, she asked how old my kids were and showed interest in my 5-year-old, saying that she was in the right age bracket, and had the right look!
My baby is too young, she said! She gave me her card, and asked me to bring her to a screening test on Sunday. She said that she would help her read lines, and they would make a decision on whether or not she was going to be offered a part is something or not.
I asked about fees up front, and whether or not the kids were going to need to enroll in their school for classes, she said, "NO, they don't work that way. The kids come for a screen test, and it is decided there, if the child has a natural talent, and is cast, or if the child has potential they may refer you to someone, for some acting lessons, or they may decide not to work with the child at all."
I was skeptical, and decided to research the company before wasting my time driving to Beverly Hills. I'm glad I checked them out and found this website!
Here is the information that was on my card
It's a fold open pink card, and says StudioKidz on the front. The address on the bottom is 8670 Wilshire Blvd, Suite 112, Beverly Hills, Ca 90211
On the inside of the card there is a picture of a theater with a screen, and has a sticker with Sunday 12:00 -3:00 pm
Bring Photo
RSVP – 310-621-3100
Tracy Hartland
On the back of the card is a map and a list of projects they claim kids recruited by StudioKidz have worked on:
Film & Television Commercials
Seabiscuit
McDonalds
American Pie
Toys R Us
Garfield
AT&T
Malcom in the Middle
American Express
Allias
Clairol
Bernie Mac
Jeep
8 Simple Rules
KC
Masterpiece
Six Feet Under
Toyota
Boston Public
Dunkin Donuts
According to Jim
Bell South
JAG
Burger King
CSI Miami
Hyndai
Surviving Christmas
Canon
Hidalgo
Maytag
Van Helsing
Concerned Parent
=========================
August 13, 2005
Today while shopping for back-to-school items at the Target store in Moorpark, CA, I was approached by a Jessica Baslow of Studiokidz.  She asked the ages of my three children and then explained that she wanted to invite me to bring them in for a screentest.
She stated that their company had placed children in movies, tv and commercials (and in fact the name of many movies, tv shows and companies that "kids recruited by Studiokidz have worked on" are listed on the glossy business card presented to me by Jessica).
She told me that screentests are done on Sundays between 11:45 am and 3:00 pm and the address and RSVP phone number were listed on the business card (8670 Wilshire Blvd., #112, Beverly Hills CA  90211 phone #310-570-3095.
She told me that my youngest (4 years) might be too young, but to bring her in anyway because she may be deemed mature enough.
Am I ever glad that I choose to check the Internet prior to scheduling a screentest.  Your website has been VERY INFORMATIVE.  Thanks to all the parents who have taken the time to share their stories so that some of us can be spared the time and expense of being caught in this [...]. I, for one, will now not bother calling Studiokidz and I will also let all of my friends and acquaintances know about this.
A Thousand Oaks mom
=========================
August 13, 2005
I see that many other parents have complained about this company.  We already know many of these sort of companies are [...] and just ask for money later.  We were stopped today (Friday Aug/12) in our local Wal-Mart and this 'scout' named Jessica Baslow asked us to come to their screentesting on Sunday 12-3 PM and to bring a photo.
She came up to us saying, "Is that your daughter?  She's beautiful.  You could try out for commercials, very few get calls back," etc.
I'm sure after reading all the other complaints that probably everybody gets called back so they could make money from everybody.
We got a glossy, thick, and pink/red card which has the address of 8670 Wilshire Blvd., Suite 112 Beverly Hills, CA. 90211.  Luckily we found you and we're not going to waste any time.
Concerned Parent and Daughter
=========================
August 5, 2005
While in the restroom at the Del Amo Mall in Torrance, my sister and my daughter were approached by one of the "scouts" from Studiokidz. The number provided on the card she gave us is 310-650-2771 and the address for the free screen test is:  8670 Wilshire Blvd. Suite 112, Beverly Hills, CA 90211.
The woman raved about how adorable my daughter was and how she had a great personality. She asked my daughter if she'd like to be in commercials and immediately my daughter said "Yes."
She gave her some "pointers" for her screen test, like wearing something bright and being ready to answer questions or tell the testers a little bit about herself.
When my husband found out, he was ready to jump right in. Luckily, I'm always paranoid about stuff like this and luckily, I found this web site.
Thank you for posting these messages! I also have a friend whose daughter is modeling and I remember her telling me that if an agency asks you for money up front, it's not legitimate. Dependable agencies will market your son/daughter and they will not ask for money until they have booked and completed a job for them. They will then take a percentage of the earnings.
Again, thank you for having this web site and for all the people who have contributed to it!
Anon Parent
=========================
August 1, 2005
Wow! After reading the page I realize how big this [...] is. In fact I was stopped at Ontario Mills mall by none other then Tracy Hartland on 07/30/05 and was told to bring my daughter in at Wilshire blvd for the screening on 07/31/05. And everything went as was told by so many parents on this website.
I am glad to read this website and now will say no to them when they call. I think the catch is the income bracket in form you fill: higher it is the more chances are they will call you.
Thanks for putting this site up.
Concerned Parent
=========================
July 7, 2005
Re: Studio Kidz The Hollywood Group Hollywood Handbook
For all of the parents wanting to know about this company, I can tell you EXACTLY what you are in for as my husband and I signed our two daughters up a couple of years ago.
After speaking with several other parents over the years who also used this company, I have come to find out that the payment you are required to make is entirely based on what they feel they can get out of you.  In other words, if you balk too much, they will begin to offer "discounts."
I can't remember exactly what we paid, but it was probably $800 or $900 for both girls.  This is what you will get for your money...
You will receive a binder which is organized into "steps" you must follow in order to get your child into show business.  The steps include:
forms and instructions for obtaining a work permit
detailed instructions on setting up a "Coogan" account for your child so that he/she can be paid for film work
instructions and contact information for headshots which cost about $75.00 more
instructions and contact information on acting classes
instuctions and contact information about working as an extra
instructions and contact information for various agencies, SAG, etc.
instructions and contact information for their "workshops"
Our family followed the steps and instructions to the letter and this is what we got:
The forms to obtain a work permit are available at your local labor board. They require a signature and approval from your child's school (easy to do on your own).
A Coogan account can be obtained at most banks, but a lot of banks don't know what it is; it's basically a blocked trust account (easy to do on your own).
I was told by several agents and others that the headshots that are provided by their contact are not very good (which I could tell by looking at them); they're basically only appropriate for background work, but you don't need photos for that.
The most valuable contact we received was to Kids Background.  This is the largest background talent management company for kids in the area. When Hollywood Group tells you their kids have worked on Spiderman, etc., it is Kids Background kids who have worked on these feature films, not "Hollywood" Kids. 
Hollywood Handbook only provides the contact information to Kids which YOU CAN DO ON YOUR OWN!
Kids Background is located at 207 S Flower St in Burbank across from Central Casting. Central calls Kids when they need kids for shows.  You need only to call Kids, set up a time to apply. (You need a Coogan Acct., and work permit, and they will take a photo of your child in their office).
They then require you to attend their one-day information seminar so that you can learn the rules of set behavior and how to fill out vouchers, etc. (very easy).
Through them my kids have worked on Starsky and Hutch; the new movie Rebound; Malcolm in the Middle; 7th Heaven, etc., etc.  Through Kids my daughter has earned her SAG eligibility, and every time they work they are paid a minimum of $115.00 a day.
Kids is a very reputable company, wonderful to work with, but you do not need Hollywood Handbook to contact them! [They would love for you to think you do!]
The other thing we received was the Gray acting classes which took place in a little "hole in the wall" type theater. (We could have gotten the same thing at any local community theater.)
We also received the classes with Chris Apodaca (these also cost extra). [Not the Convicted Child Sex Offender.] Chris's classes were worth every penny in terms of valuable information.  He is a wonderful man who genuinely loves what he does and knows what he is talking about.
The kids each got camera time and Chris was VERY honest in terms of evaluating the kids' potential. Sadly many of them had been pulled from the Mall and Target and had NO potential.
Unfortunately, the parents find this out AFTER investing in the HANDBOOK. [The scheme in a nutshell.] Chris gives contact info on agents, which ones are good and which are bad; he teaches the kids about commercials and auditions and on and on.
We never did go so far as "Hollywood's" so-called showcases. We had learned so much already from talking to other parents on movie sets we worked on. They told us the showcases usually had one or two agents who were scam artists as well. Plus you have to pay extra for them too!
All in all, I do not completely regret investing in the book. I had looked into the whole "acting" thing before through library books and whatnot and the information just seemed so overwhelming.
The one thing the Handbook gave us was a simple step-by-step way to get started and we were more motivated to follow the steps because it cost so much! LOL!
My kids have easily earned the money back through their background work, but again, we could have done that on our own if we had known how.
As far as actual money saved? May have been the classes with Chris Apodaca.  I am certain that any comparable classes would have cost far more than the $25.00 we paid him.  Did those classes make my kid a star? No, but they were helpful.
The pictures were a waste (check the internet for options) as were the Gray classes.
So, use your own judgement. If you want to spend a LOT of money to avoid doing the legwork yourself, then this is the way to go, but if you want to save money, you can get just as far as we have for a lot less $$$.
Good Luck,
Showbiz Parent
=========================
June 26, 2005
I was approached yesterday, June 25, 2005, at Ontario Mall, California by a person claimed to be the owner of StudioKids, Kelly Naciri.  Of course, my daughter and I were told that she was interested for regular kids with no agents for television and commercial.
I was told no costs involved for going, for parking or just trying out for the screen test.  And to please bring a photo.  She gave me her card with the info of 8670 Wilshire Blvd., Suite 112, Beverly Hills, Ca 90211 RSVP 310-621-3100.
I knew when I was to get home I would check with any complaint website since, when my child was six months of age at the time, 8½ years ago, I answered to a PennySaver ad stating the same information before.  So I believed it was the same scam, and they are truly looking for persons who "qualify" (with your personal information, of course, your net worth) to pay for the $595.00 back 8½ years ago, and I am sure more money now, to sign you up,  but get nowhere.
Of course Kelly Naciri, owner of StudioKids, mentioned the most famous series of That's So Raven to get my child and I interested.  But for parents that do not live nearby Hollywood, forget it.  Perhaps, maybe in a one of a 300,000 chance your child may get a little bit background commercial, or movie scene for, who knows, $50.00 pay or so, but either way, it would cost you more time, and gas to go out to auditions continuously--not worth the effort.
So for all parents who get approached by StudioKids or an ad like in the Pennysaver, beware.
Thank you for posting info on this company,  so I would not have wasted my entire day, driving two hours down and back and waiting in their room another three hours.
Parent
=========================
June 12, 2005
I was approached by a scout from STUDIOKIDZ at the mall and wanted to do some research on them before I wasted my time and my child's time. Thanks to your web site and all the info we passed! Thanks again for posting this site and warning us. Thanks to the parents who shared their stories and are getting the word out there.
Parent
=========================
June 3, 2005
I just wanted to add a complaint to the many other parents who have complained against this company, and to shed a little light on those who are seeking information on this company.  I was approached this past Wednesday 6/1/05 in Target by someone who said they were a scout. They were interested
in having my son do a screentest.  The Person who approached me is named Alison Foran, and she provided a telephone number (914-224-6509) for me to call or bring my son to (the address: 8670 Wilshire Blvd. suite 112 Beverly Hills, CA 90211 on Sunday 6/5/05 from 12:00-3:00 pm for a screen test.
They also tell me to bring a photo.
I have been approached by this type of company before and took my son for an screentest.  The company was called Slate Management.  Once inside I learned quickly that this was a scam when they asked me for $1000.00 for a book they had put together.  They wanted the money right then and there.
Thank God I have had my son in commercials before when he was a baby and know what type of information is needed.  Most of the information contained in the books is free information that a reputable agency will tell you about and how to obtain without asking for money upfront.  Most reputable agencies know that if they can provide jobs for your child they will receive their percentage that way, not asking for anything up front.  Most will even go as far as to pay for your pictures until you receive the first check from that job. These companies need to be stopped!!!!!!
My husband told the person (Alison) that we would not be able to attend.  But I asked her for a card anyway. I wanted to check the company out through the Better Business Bureau.  I did not pull up any information directly on this company.  They are not registered with the BBB under Studiokidz. So I tried to pull up a website on them and lo and behold I was directed to this website.
Please warn Parents if you want to get your kids in modeling/acting etc., go to the Screen Actors Guild.  They give a list of reputable agencies who will not try to sell you a book of free knowlege or charge you for anything up front.
Concerned Parent
=========================
June 3, 2005
I'd like more information on Studio Kidz.  A representative by the name of Tracy Hartland was scouting for them. Do you have anymore information on them?
Thank you,
Concerned Parent
=========================
May 28, 2005
BBB has nothing good to say about them and backs up your statements.  We luckily called them up and cancelled our session with them where they'd sell us stuff -- only "lost" 2 hours time for initial screen test.
Concerned Parent
=========================
May 28, 2005
We were approached by representatives from Studio Kidz on behalf of Hollywood Group Inc. to screen test our kids. We got a call back and have scheduled a meeting with one of the representatives.
Simple question:  is Hollywood Group Inc (and Studio Kidz) legit?  If they ask for "up front" fees, should we be willing to pay?
Concerned Parent
=========================
May 8, 2005
This group has scouted my two children and did a screen test... Now say they love them and would like to have come back for the final interview... are they a waste of our time?
Concerned Parent
=========================
April 28, 2005
I was approached by a "talent scout" at a local Target store. She told me that my daughter was very cute and would I be interested in having her take a screen test on Sunday? She gave me a glossy double-sized business card folded in half with all the pertinent information. They are located at 8670 Wilshire Blvd., #112, Beverly Hills, CA 90211.
The talent scout's name was not imprinted on the card but rather it had a small label affixed on the card with her name, Sue Alayuz, an RSVP number and Sunday, 12pm – 3pm (bring photo) printed on the label. I'm assuming it's a scam, but I would like to make someone aware of this if it is a scam. Also, I'm wondering if there's anything else I can do to keep these kind of people out of circulation.
Concerned Parent
=========================
March 14, 2005
Met with the Hollywood Group on Saturday (Carlos Diaz was our "agent"). About a 45-minute movie on how kids from their agency have gotten jobs. We are told photographs are "free" but we have come up with $87.00 for half of the pictures (apparently the free part is the sit-in fee that is waived). They then push for a $595.00 registration fee. The only thing they do is give you a handbook on how to obtain a work permit and names of other agencies and acting schools.
Can you give me some background on this company?
Concerned Parent
=========================
March 2, 2005
Can you please give me any information on Studio Kidz aka Hollywood Group?  I was approached by a scout for my 5-year-old daughter, and was told it was for TV commercials and movies.
Concerned Parent
=========================
February 28, 2005
Last week, a "scout" saw my 11-year-old daughter at a grocery store in Santa Clarita, CA, and handed my wife a card for the Hollywood Group. They asked if she could come to a kind of audition (I'm not sure it that's the word they used) the following Sunday in Beverly Hills.
My wife and daughter went to the session, along with a large group of other children and parents. She did an interview and was videotaped reading some commercial lines. We were told we'd get a call back if someone saw potential in her.
We got a call back today, from one of the "agents," saying that they saw a lot of potential in XXXXXX (my daughter), and requesting a meeting with her and both parents.
The agent said only about 30 percent of the kids who tried out on Sunday got a callback.
My wife was pretty excited about this, but I urged caution, and did some internet checking and found your site.
Concerned Parent
=========================
February 23, 2005
Thanks for help you have saved us a lot of wasted time. We have received another message today from an annoyed "Anice" on my cell. We have promptly chosen to ignore it again. Luckily we have a forgiving child!
Concerned Parent
=========================
February 23, 2005
A "scout" spotted us in Wal Mart (Friday) and invited us to a screen test in Hollywood (Sunday). After standing in line and having 30 seconds in front of a camera, we received a call today to come back for another interview since they [supposedly] only chose about 30 or 25% of who they saw.  When we couldn't come tomorrow, she said they might be able to schedule something Sunday and they would get back to me.
Sounds fishy and I think they are going to want money for nothing much.  What can you tell me?
Concerned Parent
=========================
February 21, 2005
Can you please check this company out? My child was scouted at the Mall for a free screen test. Along with another 40 kids lined up she was screen tested. A message was left on my phone that she had done a "beautiful job" and to arrange a interview with us this Friday at 2.30pm.
The address is:
The Hollywood Group
2050 S. Bundy Drive, Suite 202
Los Angeles CA 90025
Tel: 310 662 7602
Regards,
Concerned Parent
=========================
February 11, 2005
My wife & daughter were approached at Babies R Us in Torrance, CA from someone from Studiokidz. They went to a screentest at 8670 Wilshire Blvd., Suite 112, Beverly Hills CA.
We got a call back today for them to go to an office on Bundy.
I think it's a scam. Do you have any info?
Thanks,
Concerned Parent
=========================
May 3, 2004
They are very good at guaranteeing people that if they just fork over the $1000 or so up-front fee that their children will become movie stars.  There is no talent selection process, they just take anybody, good, bad or ugly who can pay the fee. They have been making a mint during the past few months because people think Studio Kidz is some kind of new company when it is really just another name for Pacific Scouting, Hollywood Group, March Hare Management, Kids and Teens Casting and about a half a dozen other names these same people have gone through over a short period of time.  What is going to happen in a few months when Ms. Tracy Hartland takes her money and runs while these poor, unsuspecting families get left with nothing but broken hearts from false promises?
Anonymous
=========================
May 2, 2004
I have been trying to find out more info on Studiokidz before I take my child to a screen test. I cannot seem to find anything on the net.
Concerned Parent
=========================
April 29, 2004
I have found out through a private investigative service, www.collintel.com that Studio Kidz is owned and operated by a [...] [...] who has been [.....................................................................................................]. I have the complete four-page [...................] that I can fax to you later, if you want.  You should link the BBB record for Studio Kidz on your website so parents are aware that it is just another new name for Pacific Scouting and Hollywood Group.  Companies like that, run by [....] [...], should not be allowed to get away with changing the name again to avoid detection.
Anonymous
=========================
April 27, 2004
Do you know if they are a legitimate agency or a mill trying to sell their photo's, classes, etc.?
We've been asked to bring in our kids for a meeting. I don't want to waste my time if it's a scam.
Studio Kidz
Suite 202
2050 South Bundy
Los angeles, ca 90025

Thanks,
Concerned Parent
=========================
March 28, 2004
I would like to know if this place is true. Free as they say.
Concerned Parent
=========================
February 20, 2004
I've been approached on three separate occasions in the last year about screentests for my two children 13 and 10.  I have been unable to find information on for Studiokidz on the web.  I'm not convinced that this is anything more than a scam.  Do you have any information?
StudioKidz Screentest
8670 Wilshire Blvd.
Suite 112
Beverly Hills, CA 90211
Thank you for your response.
Concerned Parent
=========================
February 7, 2004
I WAS APPROACHED BY A TRACY HARTLAND (310/621-3100) WITH MY SON IN TORRANCE TWO WEEKS AGO. I WAS QUITE APPREHENSIVE ABOUT HER AS I HAVE DONE CASTING MYSELF AND WORK WITH THAT INDUSTRY. IS THIS COMPANY AND PERSON LEGIT AS THEY WANTED MY SON TO DO SOME SCREEN TEST ON SUNDAY AT 8670 WILSHIRE BLVD #112 B HILLS CA 90211.
THANK YOU,
Concerned Parent
=========================
April 20, 2004
FYI Studio Kidz is Pacific Scouting
& AKA:
Kids & Teen Casting 
Kids and Teens, Inc. 
Los Angeles Kids & Teens Casting 
Pacific Scouting 
Premier International 
Talent Casting Network 
Young Entertainment Artists

They rent a screening room at 8670 Wilshire in Los Angeles.

Still using the 2050 Bundy offices....
Concerned Parent
=========================
January 26, 2004
I went out of curiosity yesterday to StudioKidz with my 6 year old daughter. What I saw was shocking. There were all these families being escorted into a screening room for an on camera review. They made everyone complete a Screening form, which reminded me of a Time Share application, I kept a copy for future reference if you need it. On the screening form, they wanted to know how much the Household Income was!!
I couldn't find out who actually runs this what appears to be a total scam, but they should be stopped from doing any further business, and taking advantage of innocent victims. I guess the person they hired the screening room would be able to tell you who booked the room etc, here is the contact:
Michael S. Hall, President
Wilshire Screening Room
8670 Wilshire blvd, Suite 112
Beverly Hills, CA 90211

(Cell) 310 701-8925
Cell: (213) 926-5726
Fax: (310) 861-9005
Phone (310) 659-3875


www.studioscreenings.com.

I hope the above information helps you track down the owners, so they can be STOPPED before they take advantage of families looking for a break, but will ultimately be scammed.
Sincerely,

Concerned Parent
=========================
January 25, 2004
The only name that appears on this card is that of SHEILA SMITH, she is the person who scouted my daughter, she called me to say that there was absolutely NO FEES INVOLVED whatsoever, I think we'll take your advice and pass. I don't like scams especially when it involves kids.
I appreciate your time and courtesy.
Concerned Parent
=========================
See also:
Parent's Comments about Tracy Hartland
Parent's Review of The Hollywood Group
---